6 min read
Google Certified Educators: What's Next?
So you've passed the Google Certified Educator Level 1 exam -- congratulations! (If you haven't, no worries -- we've got an FAQ page that will help you get started.)
At this point, you might be feeling super inspired to apply your Google knowledge, our you might be feeling all 'Googled out'. But either way, it's important to make the most of your certification -- whether that's by testing your knowledge, or just keeping up with new developments to sharpen your skills. Here are a few things you can do now as a Google expert.
Show off
You earned it! Be sure to display your Google Certified Educator program badge in your portfolio, email signature, social sites or teacher website. Find out how to add an image to your signature, or learn more about badge display guidelines.

Go for Level 2
Consider taking the second exam as soon as possible while you've still got Google on the brain. The Level 2 certification exam is designed to prove your expertise as a 'super user and enthusiast of Google tools in the classroom'. You'll use advanced skills like pivot tables and functions in Sheets, research and translate tools in Docs, and interactive instructional video creation in Slides (and much more, of course). The second test is structured the same way as the first, with both multiple choice and practical skills assessments (note that it's also pricier, at $25). You can do it! Register here, or start with Google's advanced training course.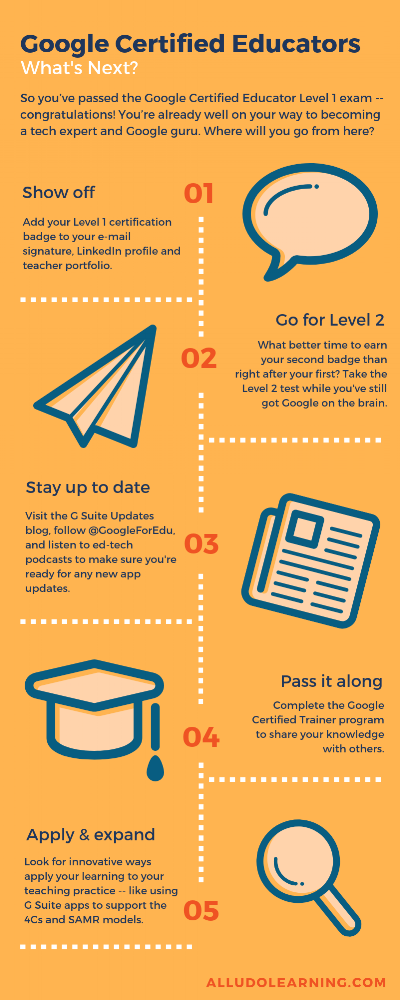 Stay tuned with podcasts
If you're into podcasts, check out Google Teacher Tribe. Hosted by Ditch that Textbook's Matt Miller and founder of Shake Up Learning's Kasey Bell, the podcast provides teacher's with innovative ways to integrate Google in the classroom. They have episodes devoted to individual Google tools, and in-depth discussions around G Suite for differentiated instruction, special education and blended learning.
Improve teaching and learning with G Suite, SAMR & the 4Cs
Alludo districts know that G Suite is about much more than increasing productivity or delivering information to students -- the apps support the SAMR model (applying tech for substitution, augmentation, modification and redefinition) and the 4Cs (focusing on communication, collaboration, critical thinking and creativity). We've got a few professional development programs and activities that will help you get started, like SAMR & Google Apps for Learning.
Look out for app updates
When it comes to Google certification, it's important to frequently revisit and review your understanding because the app landscape changes fast: from user interface redesigns to exciting new features. Fortunately, Google offers a lot of ways to keep you up-to-date:
Note: These resources are intended for G Suite admins, but include plenty of information about new, basic features that impact users.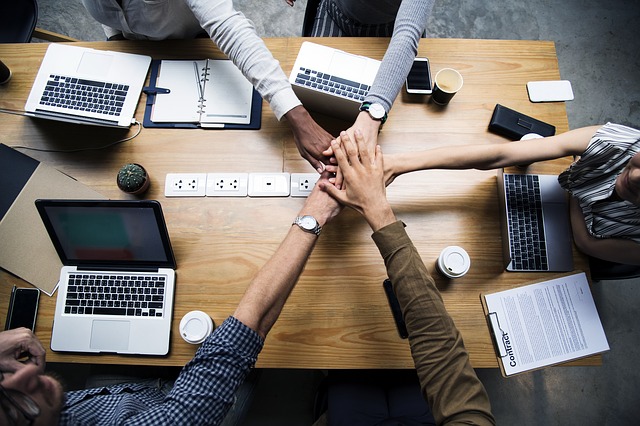 Pass it along
If you've completed Levels 1 and 2 and you want even more Google knowledge and skills (and want to share them with others), then the Google Certified Trainer program might be right for you. As a trainer, you'll "combine your expertise in Google tools with your love of helping others. Become a Certified Trainer to support educators as they redefine learning with technology."
To become a trainer, you'll need to complete certification Levels 1 and 2, film yourself putting your Google knowledge into practice, then apply for the trainer skills assessment program. Check out this guide to Google certifications to learn more.

Become a Microsoft Innovative Educator
If you want to expand your toolkit to include other platforms, you can check out the Microsoft Innovative Educator program. To become an MIE, teachers complete activities and courses on the Microsoft Education platform, earning points and badges along the way. 1,000 points earns teachers their MIE title, but there are more ways they can earn advanced titles, like MIE Trainer, MIE Expert, and Skype Master Teacher. Click here for more information on all of the available MIE programs.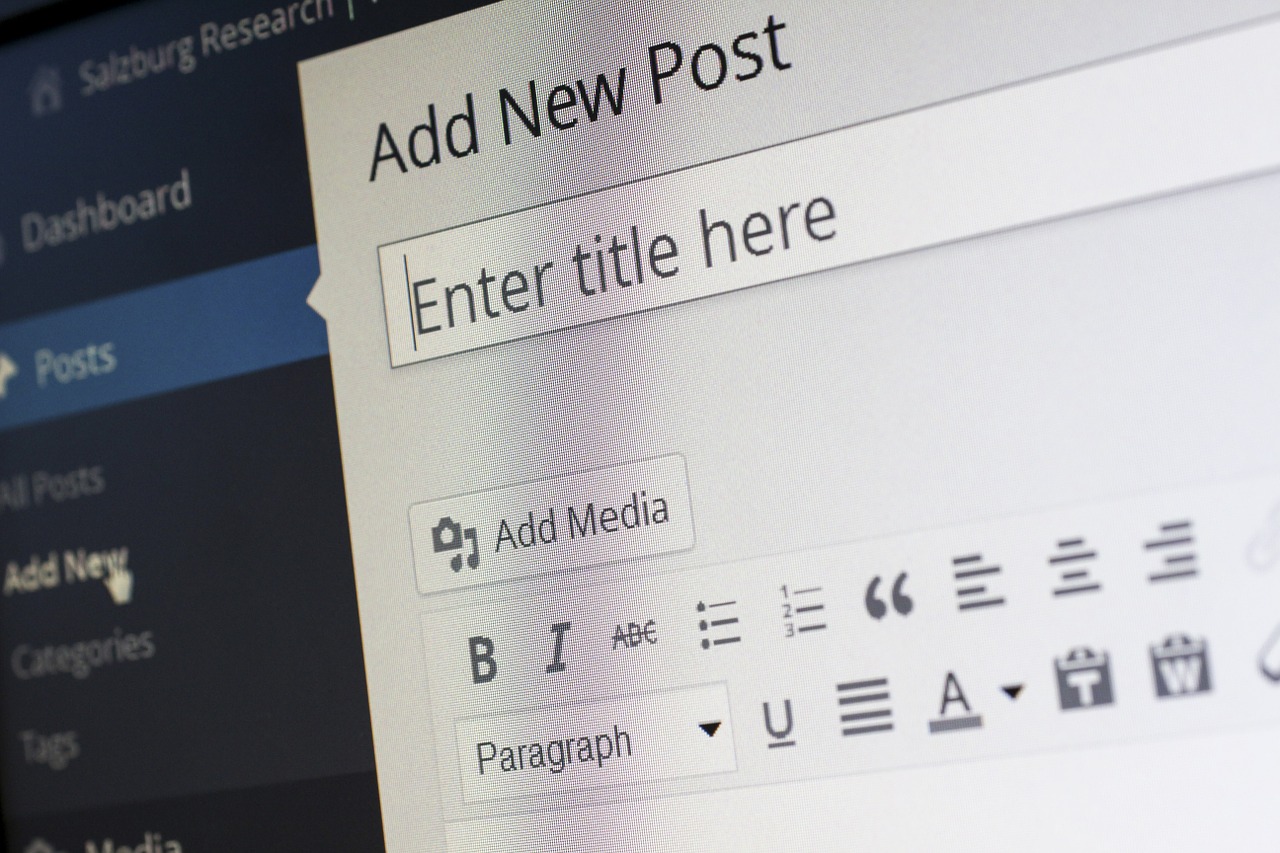 Start a blog or vlog
Consider chronicling your Google professional learning adventures on your own blog or vlog. It's a great way to share your learning with others, and document your strategies and progress. Check out Kasey Bell's popular Shake Up Learning blog for inspiration, and try publishing with Blogger and Sites to keep putting your Google skills to the test.
Build your PLN
Find other Google Certified Educators from around the world and learn more about innovative ways to use G Suite by following the Google for Education Twitter account, or join in an edchat to share your new ideas!
You're already well on your way to becoming a tech expert and Google guru. Where will you go from here?