10 min read
Are You Using These Collaborative Professional Development Learning Strategies?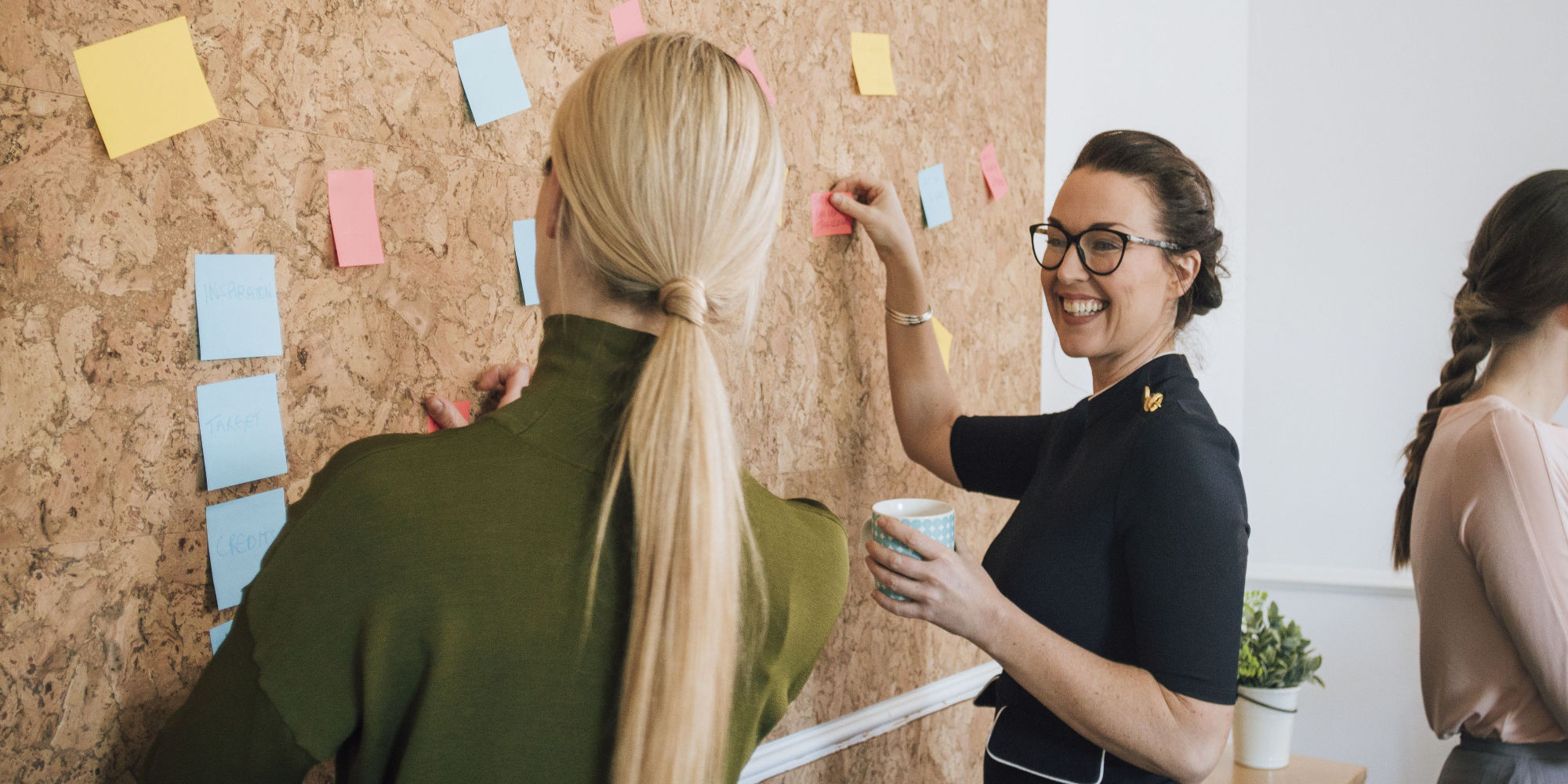 "Alone we can do so little; together we can do so much." ~ Helen Keller
At times, teaching can seem like a solitary profession. So much of teachers' time is spent working with students and not with peers that some may feel isolated and unsupported even when school districts provide regular feedback and recognition.
At Alludo, we understand the importance of collaboration in professional learning because we collaborate with school districts every day to launch professional learning environments that suit their needs, support teachers, and help to achieve district goals.
Collaborative professional development can reduce teacher turnover and lead to better student outcomes. Here are our thoughts on collaborative professional learning strategies that school districts can implement to support and elevate teachers.
Table of Contents
What is Collaborative Professional Development?
Collaborative professional development can take many forms. What they all have in common is that they turn what can be a frustrating and time-consuming experience for teachers into something that combines learning with peer support, providing teachers with ongoing feedback and guidance that they wouldn't be able to get with traditional professional development opportunities.
Here are some common types of collaboration that may be useful within the framework of any professional development program:
Discussing learning development of students. Teachers can benefit from talking about students, particularly those who may be struggling. They can share observations, ideas, and strategies to help each other connect with the student in question and improve their learning outcomes.
Exchanging teaching materials with colleagues. Whether they obtain teaching materials as part of their professional development or from their own research, teachers in collaborative relationships can exchange materials and ideas for using them.
Observing other teachers and providing feedback. Classroom observation is helpful for both the teachers being observed and for those doing the observing. Shared time in the classroom can give teachers new ideas about how to connect with students as well as allowing observers to identify potential issues and offer solutions.
Team teaching. Team teaching is not as common as some of the other types of collaboration, but it can be useful for newer teachers as well as for experienced educators.
Collaborative professional development. Most often, teacher professional development is an individual pursuit. However, in some cases, PD may be collaborative and require teachers to work together to learn new teaching methods or technologies.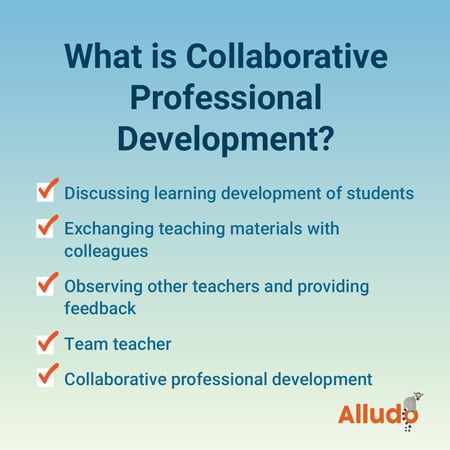 Teachers who participate in collaborative activities such as the ones we've listed here report higher job satisfaction and higher self-efficacy than those who are engaged only in solo PD activities.
How Can Collaborative PD Help Teachers Develop Professionally
Collaborative professional development for teachers helps educators improve their effectiveness in the classroom, allowing them to connect with and engage their students and ultimately, deliver the best possible student outcomes. Here are the ways in which collaborative PD can help teachers develop professionally.
Teachers Learn More From Each Other Than in Traditional Training/Workshops
Learning in traditional PD training sessions and workshops is unidirectional, meaning that teachers learn only from instructors and not from one another. While instructors may have deep knowledge of the subjects they teach, they can't offer the same perspective and experience as other teachers, particularly those in the same school district.
Teachers who participate in collaborative PD receive bidirectional instruction and feedback that allows them to grow professionally and better engage with their students.
Teachers Who Collaborate Are More Innovative in the Classroom
No two teachers are alike. While all teachers receive important education and training, each individual teacher has the autonomy to try new things in the classroom and see what works with their students.
With teacher collaboration, educators can share ideas, strategies, and experiences to encourage innovation.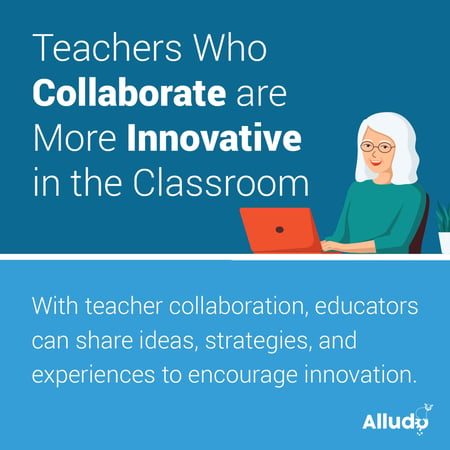 Teachers Who Collaborate Have Higher Job Satisfaction Than Those Who Don't
Collaboration and job satisfaction for teachers are inextricably linked. A common complaint of teachers is that they feel unsupported and overworked. Collaboration in teacher education adds a new dynamic to the learning experience, ensuring that teachers know that their work is appreciated and that they have support from their peers.
Teachers Who Collaborate Improve Subject Knowledge and Learn New Strategies
Finally, teachers who engage in collaborative learning improve their subject knowledge and learn new strategies that they can use in their classrooms. Any new topic they study in PD can be fleshed out with collegial discussions and observations, thus leading to a deeper knowledge of the subject and a higher likelihood of teachers using what they learn in the classroom.
What Are Examples of Collaborative Learning Strategies to Enrich Teachers' Practices?
Each school district should implement collaborative learning strategies that align with the needs of teachers and students as well as with district initiatives and goals. Let's explore three teacher collaboration examples that may inspire you to implement collaborative learning in your district.
#1: The Labsite Model
The Labsite Model is a collaborative learning model that takes place in a real classroom with students in the course of their regular school day. As you might guess from its name, the classroom serves as a lab to learn and model a specific teaching strategy.
A school district's ability to implement the Labsite Model may depend upon the availability of substitute teachers. Here are some pointers if you want to try this model in your district:
Choose a relevant teaching strategy to explore. You may want to ask teachers what the most pressing issue is for them. Then, you can use their responses to choose a teaching strategy that will help them address the issue with their students.
Select someone to facilitate learning. Ideally, you should select a person who has a pre-existing relationship with your teachers. For example, some school districts have a designated curriculum coordinator who could fill this role.
Develop materials for teachers to use during the lab. For example, you may want to provide teachers with written outlines or checklists. You should also think about how teachers will receive feedback in the course of the lab.
Schedule debriefing and discussion. After the lab is completed, give teachers time to discuss what they learned and how they will use it in their classrooms.
Providing teachers with their next steps can and should be part of the debriefing process, as should follow up to ensure that teachers are implementing what they learned.
#2: Book Study
A collaborative learning strategy that can take place within your existing PD system is a book study. Here are the key components:
A book that is relevant to teachers' time in the classroom and aligned with district goals.
A clearly-defined deadline to read the book.
A schedule for small group discussions of the book.
A facilitator to direct discussions.
Opportunities for open discussion of the book and how what teachers learn from it may be implemented in the classroom or in their practice.
We suggest getting educator input on which book to read and providing a realistic timeframe to read it. Any strategies that emerge from the book study should be documented and then given to teachers with clear expectations of how they will be used.
#3: Analysis of Student Work
Analyzing students' work is another way to bring collaboration into professional learning. It can be a useful tool for schools wanting to standardize curricula, clarify standards of achievement, or ensure that students understand what's expected of them.
Here are some pointers if you want to try adding analysis of student work to your PD:
Discuss the process ahead of time.
Determine what information is needed to evaluate the work, i.e. copies of assignments and rubrics.
Choose guidelines for the conversation about the work to be evaluated. (It is important to make sure that teachers are not being evaluated here; this is not the framework for individual criticism.)
Agree on how work samples will be collected.
Create a framework for discussion and collaboration.
This type of collaboration may be most useful when it engages educators who teach the same subject.
#4: Learning Communities
Learning communities may consist of a few teachers or a large group who are given the opportunity to establish connections inside and outside of the classroom.
The participants may be teachers, but a professional learning community may also involve parents, learners, and school leaders and administrators. Each of these parties has something to offer when it comes to engaging students and delivering optimal outcomes.
The group's participants can use their time together, whether they meet in person or remotely, to reflect on their existing strategies and practices, share approaches to student learning, and even take online courses together.
This type of collaboration can be facilitated with a robust online learning environment with built-in communication. That's what we do at Alludo.
#5: Learning Walkthroughs
Learning walkthroughs have a lot in common with evaluating student work in that the process is not meant to be evaluative of teachers but rather, to provide a framework for teachers to learn.
Here are some tips for designing a learning walkthrough, which is a form of classroom observation that involves walking through several classrooms at a set time:
Identify the purpose of the walkthrough.
Determine a clear rubric that includes the length of the walkthrough and what will happen in each classroom.
Schedule the walkthrough and schedule a pre-walk orientation.
Conduct the learning walkthrough and make sure that all elements of the rubric are met in each classroom.
Allow time after the learning walkthrough for participants to discuss what they learned and how it might impact their time in the classroom.
Share results with guidance about school improvement efforts.
Used properly, learning walkthroughs can provide teachers with practical information to use in their own classrooms.
#6: Lesson Study
Lesson study is commonly used in Japanese schools and can be extremely useful in developing lessons through an experimental process that allows teachers to collaborate. Here are the steps to follow:
Issue an inclusive invitation for volunteers.
Teachers collaborate to develop a lesson plan.
One teacher leads the lesson while other teachers observe.
The group discusses the lesson and revises it based on observations.
Another teacher leads the revised lesson.
The group continues to revise and repeat until they have a lesson that works the way they want it to work.
#7: Charrettes
A charrette is a format for discussing an issue with colleagues. This type of collaboration is useful when a teacher needs peer feedback to overcome a struggle in the classroom:
An individual or group requests a charrette.
Another group looks at the issue and a facilitator is chosen to lead the discussion.
The group requesting the charrette presents information about the solutions they have tried and what the desired outcome is.
The group discusses the issue while the requesting group listens
The requesting individual or group gets ideas for how to resolve the issue, concludes the process, and summarizes what they learned.
Charrettes can easily be used in conjunction with any other strategy here to provide targeted feedback and guidance to address a specific problem.
Alludo's Take
We designed the Alludo professional learning platform to be learner-driven. That means giving teachers a voice and a choice in what they learn. It also means finding ways to encourage teachers to collaborate and share what they have learned and experienced.
Our new Message Boards have been designed to encourage teachers to communicate and collaborate within a system of professional learning that drives teacher engagement and helps school districts achieve their goals. Here are the essential elements:Providing microlearning activities that can be completed in 10 minutes or less.
Gamifying learning so that teachers earn badges and rewards for their participation.
Bringing an element of fun to professional learning.
Fostering communication, collaboration, and healthy competition.
Alludo school districts are experiencing record levels of teacher engagement and low teacher turnover, something that saves them money while delivering optimal student learning outcomes.
Implement Collaborative PD Learning in Your District
Collaborative professional learning gives teachers the best possible chance of success by providing them with peer support, mentorship, ongoing feedback, and a feeling of community that reduces burnout and improves teacher retention while also helping students.
Experience personalized learning for all levels of educators with a free trial of Alludo's professional development platform. You'll enjoy:
Hundreds of core topics
Asynchronous microlearning activities
Timely and specific feedback
Analytics that show learning impact
Access anytime, anywhere