8 min read
Cost of Teacher Turnover vs. Cost of Professional Development for Educators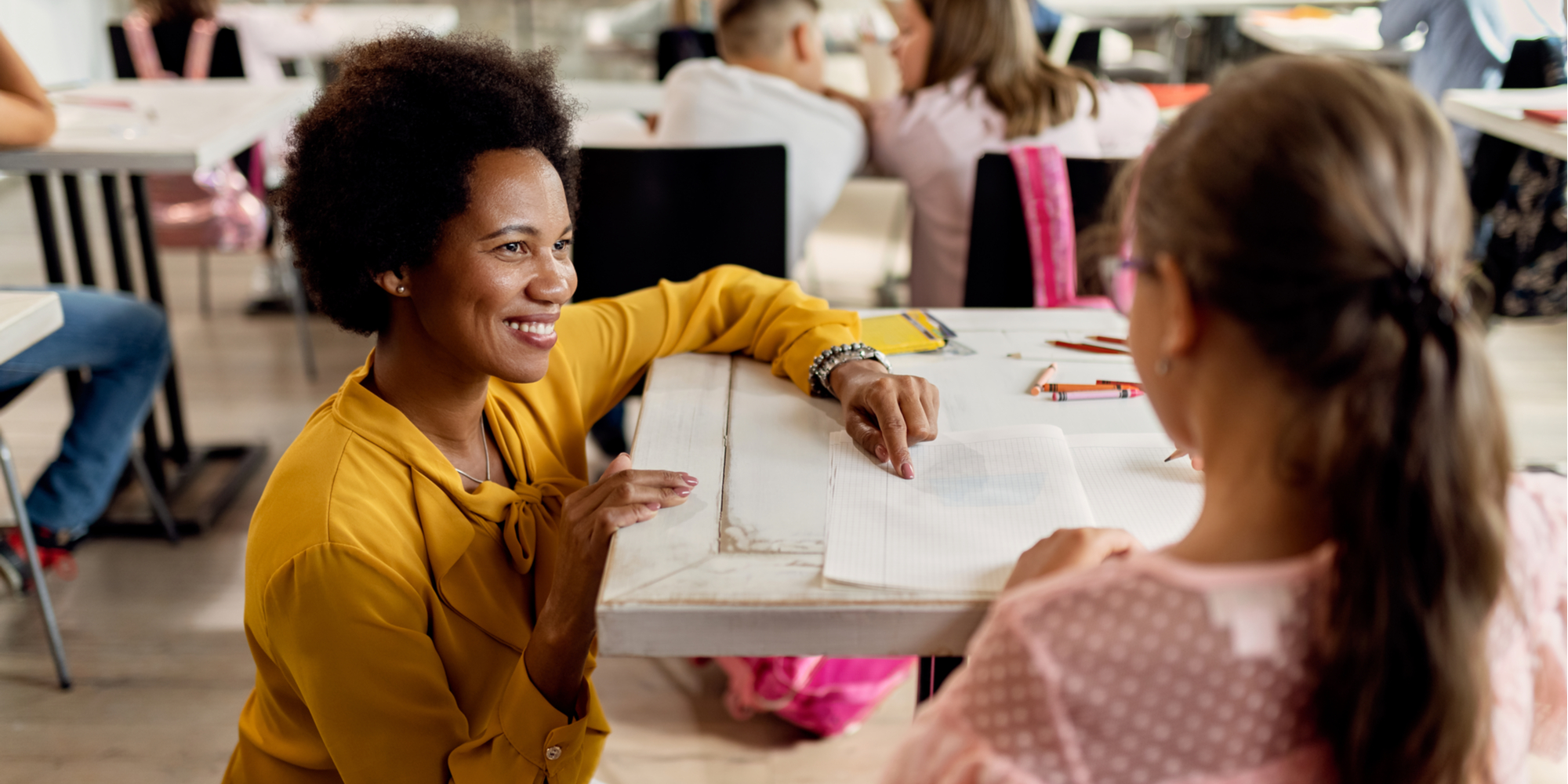 The art of teaching is the art of assisting discovery. ~ Mark Van Doren
Teaching is a difficult job and it's not surprising that many teachers feel the weight of their responsibilities to parents, school districts, and – most of all – their students. Even when teachers feel supported by their peers and school administrators, they may still struggle. It's one of the reasons that the teacher retention rate is currently so low.
At Alludo, we understand the cost of teacher turnover both in monetary terms and the way turnover impacts student outcomes. In this post, we'll explain what causes teacher turnover, what the costs are, and how school districts can reduce teacher turnover costs by implementing a robust and rewarding system of professional development.
Table of Contents
What is the Biggest Reason for Teacher Turnover?
There are several things that can contribute to high turnover, but the one most frequently cited is stress and burnout impacting not only the teacher workforce but student learning as well. That was true even before the COVID-19 pandemic but the number of educators who report feeling stressed about their jobs has skyrocketed to 84%. That high number is a clear indication that teachers are feeling overwhelmed.
While stress is the most common reason for a high turnover rate, it is linked to many of the other issues that teachers mention when they leave jobs. For example, low pay can lead to financial stress. Many teachers carry high student loan debt and may leave to seek higher paying jobs. Our Teacher Happiness Survey found that 41% of teachers were not satisfied with their overall compensation.
Another factor is isolation or lack of peer support, something that has become a big issue as a result of the pandemic. Teachers who don't have the option to collaborate with their peers may feel isolated and stressed. Special education, science, and math teachers are the most likely to leave. When we asked what type of professional development is most effective in our Teacher Happiness Survey, 51% of teachers selected collaboration with a colleague.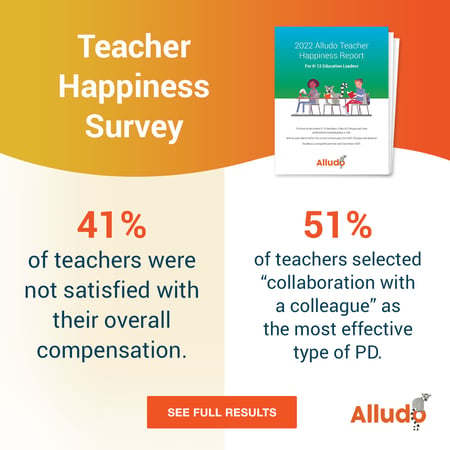 The takeaway here is that if school districts want to reduce turnover rate, they must provide teachers with the support they need to reduce stress.
How Does Teacher Induction and Mentoring Affect Teacher Turnover?
As we mentioned in the previous section, teachers who do not feel supported and encouraged are more likely to leave their jobs, or leave the teaching profession, than teachers who receive adequate support and mentoring. There's evidence to support this finding.
A 2018 study from The Educational Forum found that mentoring builds resilience, especially in beginning teachers. They began to build resilience when they felt accepted and welcomed by the school community, which points to a need for peer support and collaboration. The study also found that both formal and informal mentoring were effective in helping teachers prepare for their time in the classroom.
Administrative support is equally as important as peer support. In a 2019 study published in the Journal of Educational Administration, researchers found that when teachers felt they had full administrative support, they were less likely to leave their jobs. Ten percent of teachers from our survey said they don't believe their district enables them to have an impact on students.
We should note here that this study evaluated administrative support outside of professional development. That said, there are many studies that confirm the importance of professional development in teacher turnover, including this one from 2018 that examined the role of professional development in retaining teachers of color.
While many school districts do offer comprehensive induction and mentoring for new teachers, the availability of mentoring dwindles as teachers become more experienced. A study from 2018 found that even experienced teachers desired mentoring and valued any learning they could acquire to help them succeed in helping their students. Specifically, they noted that the availability of post-induction mentoring encouraged teachers to make a full career of teaching.
From our Teacher Happiness Survey, the top four PD topics that best support teachers in their role include:
Social emotional learning (63%)
Positive behavioral interventions and support (59%)
Instructional technology (57%)
Curriculum (55%)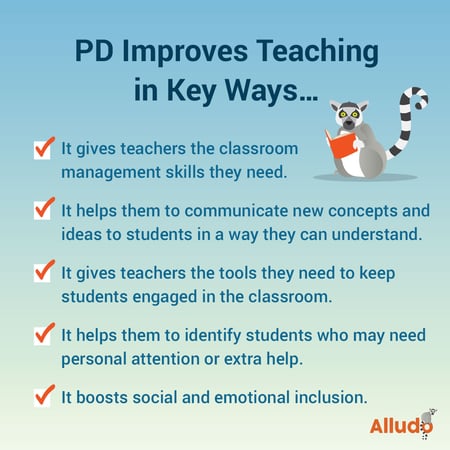 Providing induction and post-induction mentoring can provide teachers with support, helping them to feel more comfortable in their classrooms.
What is the Cost of Teacher Turnover?
We've talked about why teacher turnover is high. School administrators and school districts must acknowledge that the issue of turnover is likely to worsen. In July of 2021, the National Education Association released a study that indicated that 32% of teachers reported that they planned to leave the teaching profession earlier than they had originally anticipated. The numbers were highest among teachers of color and teachers with more than 20 years of experience.
In 2017, the last year for which numbers are available, the average cost of teacher turnover was $20,000 per teacher. That number has almost certainly increased in the five years since those figures were reported. We should note that the cost of turnover includes separation for the departing teacher, advertising and recruitment of new teachers, hiring, and training. When teachers leave after only one or two years, the costs of turnover are not recouped.
A 2020 study reviewed two decades of teacher turnover information for language arts and math teachers. It found that turnover had significant hidden costs. The two biggest costs were these:
Decreased quality of instructional staff. When new teachers leave the profession early, they never get the chance to become experienced. And, when experienced teachers leave, they are often replaced by teachers who are new to the profession and while they may have the potential to become skilled teachers, they may have a long learning curve to get there.
Negative impact on student achievement. Students do best when they have skilled teachers. When the overall quality and experience level of teachers is negatively affected by turnover, students pay a price in the form of less engagement, lower test scores, and lower college enrollment rates.
Another study from 2020 found that teacher turnover occurring in the middle of a school year was more harmful than end-of-year turnover. Students whose teachers departed mid-year experienced, on average, test scores 7.5% lower than students who had the same teacher for the entire year.
Why is the Teacher Shortage a Concern?
We can't talk about teacher turnover without also discussing the ongoing teacher shortage. According to a PBS report from 2021, school districts across the country are struggling to fill vacant positions.
When teachers leave the profession as opposed to moving to a new school, their departure shrinks the pool of available teachers, making hiring challenging for school districts. With heavy competition for a veteran teacher, it may take longer than anticipated to fill any vacancy at any level.
The shortage of teachers has also led to issues with student outcomes. Class sizes are larger than they would be if schools were fully staffed and as a result, students are getting less personal attention and guidance from teachers. That leads to lower test scores, lower grades, and less student engagement.
Finally, the shortage has likely increased the costs associated with hiring a new teacher. Some school districts are offering signing and retention bonuses and with heavy competition, they may need to spend more money on advertising and recruiting than their budgets allow.
How Can Professional Learning Minimize Teacher Turnover?
Professional learning is a requirement for teachers in every state and school district but it should be more than that. When teachers have access to a well-designed, learner-centered system of professional development, they are more likely to be happy in their jobs and less likely to leave.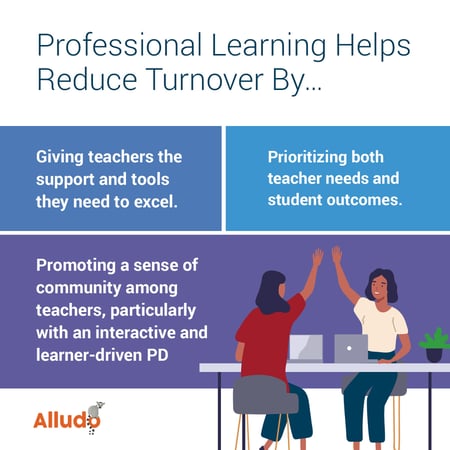 Best of all, investing in teacher development costs less than hiring new teachers and delivers better results in the long term. With Alludo, you can pay as little as $3 per adult learner per month. To put that in perspective, you could give 555 teachers access to professional learning for an entire year for the price of one new hire, using the $20,000 figure we cited earlier in this article.
Alludo's Take
At Alludo, we know that investing in professional development for educators is an effective way to reduce teacher turnover and save money. We work with school districts every day because we recognize that professional learning leads to the best possible outcomes for students. Teachers need and deserve high-quality support and mentoring. Here's what our PD learning environments offer:
A learner-driven model that gives teachers agency in what they learn and how they learn it.
Focus on giving teachers tools and methods they can use to connect with students and deliver positive outcomes.
Gamification to make learning fun, foster healthy competition and collaboration, and encourage teachers to get and stay engaged with professional learning.
We have seen the results with our clients as teachers engage, complete courses, increase peer collaboration and support, and watch their students soar.
Invest in Professional Development to Minimize Teacher Turnover
The cost of teacher turnover is high, especially when you contrast it with the low cost and high rewards of investing in a robust, learner-centered professional development program for your district.
Want to reach up to 100% PD in your district? See how Alludo can help make it happen with our free professional development platform trial, including:
Hundreds of core topics
Asynchronous microlearning activities
Timely and specific feedback
Analytics that show learning impact
Access anytime, anywhere