9 min read
13 Tools & Instructional Strategies to Engage Students with Technology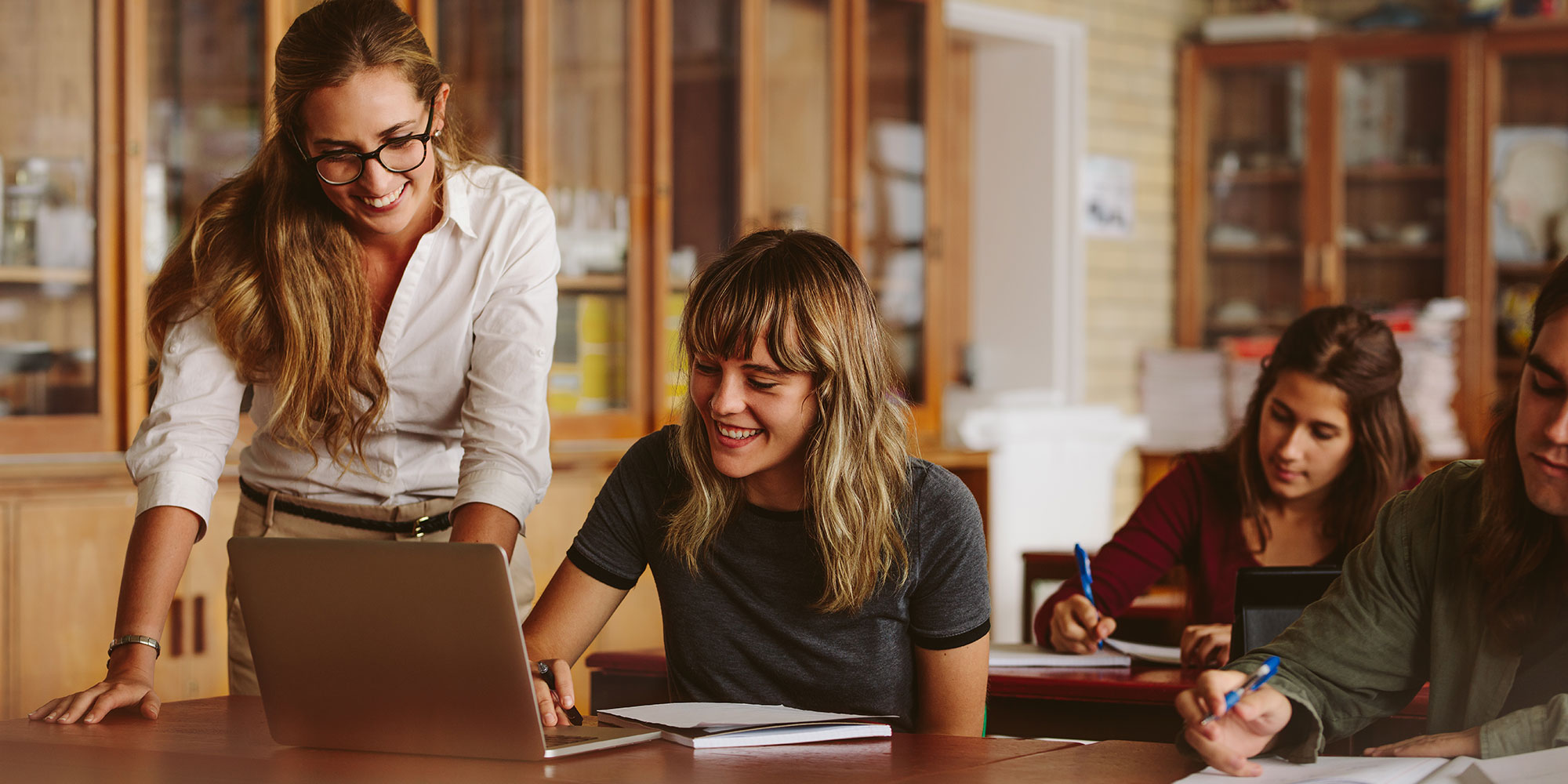 "Technology will never replace great teachers, but in the hands of great teachers, it's transformational." ~ George Couros
One of the most important things a teacher can do is to pay attention to students and meet them where they are. Teaching can't and won't be effective if the starting point is out of alignment with the student's progress and abilities, and just as importantly, students won't be engaged with what they're learning.
At Alludo, we're big believers in bringing educational technology into the classroom. Teachers can do a better job of engaging students if they find creative tools and instructional strategies to engage students. That's why we've included them in our professional development content catalog. Here are 13 that we think are useful to engage students with technology.
Table of Contents
How Can Technology Be Used to Motivate Students?
As digital natives, today's learners are accustomed to digital and interactive tools that provide an immersive experience. It's unlikely that they'll be engaged by traditional learning materials, particularly if they're the only option presented.
Educators can take advantage of students' exposure to technology to motivate their students to learn. There are different ways to accomplish this task, but we believe that understanding how digital tools can motivate students to learn is more than half the battle.
The key is understanding how to create a learning environment that sets students up for success. Said another way, technology shouldn't be brought in haphazardly or with the expectation that existing lesson plans won't need to change.
Teachers can curate course materials from many sources, including printed material, video, images, and interactive technology. They can even customize it in some cases, put it together in a way that suits their needs, and present it to students.
There are tools that can be used in the planning stage to improve classroom organization, collate research and resources, and work out strategies to incorporate technology in the classroom. Teachers will need to determine which technology is available with the understanding that it may not be available to all students at all times.
The strategies for using technology are not the same as they would be with traditional instruction, so it's essential for teachers to have access to learning that will help them master the technology and give them the tools they need to use it effectively in the classroom.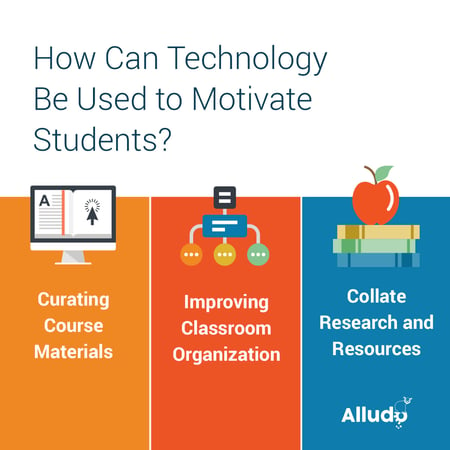 13 Digital Instruction Tools and Strategies for Your Classroom
Setting up a classroom to incorporate digital tools requires careful selection of technology, including which elements of classroom time can be enhanced with technology. It also requires strategies for how to incorporate technology. Some of the potential ways to incorporate digital tools in the classroom include the following:
Messaging
Screen sharing
Audio
Polling tools
Feedback
At the same time, teachers should be using technology to help them with classroom management. Here are 13 tools and strategies for using them.
Classroom Management Tools
The digital classroom starts when the teacher chooses a classroom management system. The key is having technology that makes it easy to distribute assignments to students, collect students' work when assignments are due, and grade their work.
Here are some tools to consider:
Teachers should choose a classroom management system that provides all the functions they need to run their classrooms. It's important to keep technology integrations in mind. For example, many teachers prefer Google Classroom because it integrates seamlessly with the Google Suite.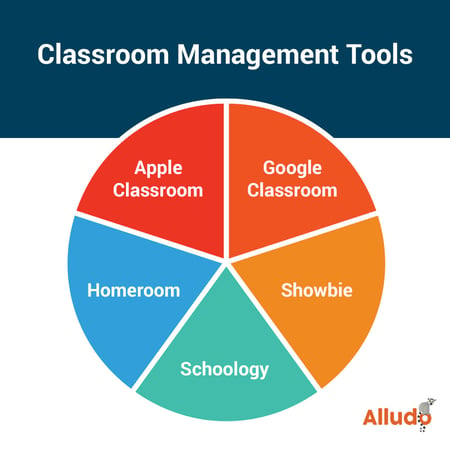 Class Management Tools
The next step is to choose class management tools that will allow you to track student discipline and rewards. Here are two to try:
Class Dojo encourages teachers to use technology to turn their classrooms into communities. Teachers can use them to set goals for students in academic and non-academic areas and have students create portfolios of their work.
Sharing Tools
One of the best things about using digital tools in the classroom is that it simplifies the process of sharing learning and completed work. Here are some tools to help:
Some of the Google for Education apps also have journaling tools. Teachers can encourage students to share what they've learned with classmates or with their parents.
Digital Assessment Tools
Finally, teachers can use digital assessment tools to evaluate students' learning and provide constructive feedback to students immediately after work is completed. Here are some tools to consider:
One of the strategies we like is to ask students to explain a concept they've learned. As every great teacher knows, figuring out how to teach something is one of the best ways to master the information or concept being taught.
What Are the Advantages of Engaging Students with Digital Tools?
Using digital tools to engage students has some significant advantages.
More Engaged Learning Environment
Because today's students have never known a world without technology, it should come as no surprise that using digital tools in the classroom can help to increase student engagement and build enthusiasm about learning.
With the right technology, teachers can create a multimedia learning experience that's immersive and captivating. Students can engage with the material they're learning in a variety of ways depending upon their learning styles and preferences. When students are engaged, they're more likely to retain what they learn.
Prepares Students to Use Digital Tools in the Workplace
When kids use technology, they often do it for fun. They're engaged in building new worlds or playing games, but they're probably not thinking much about the functionality of what they're using and how they might use it as adults.
Using digital tools in the classroom shows students the potential of technology to help them complete work efficiently. While technology is constantly evolving, many of the tools that are available today will still have some relevance after students are finished with school. Using technology to do schoolwork lays the foundation for using technology in the workplace.
Helps Teachers Connect with Students and Encourage Collaboration
It's not unusual to hear people gripe about how technology has divided us. That might feel true when you're with a group of people who are all looking at their phones, but the truth is that technology has connected us, too.
Bringing technology into the classroom keeps teachers connected with students, making it easy for students to ask questions or request help when they need it. It can also be useful for building connections between students as they collaborate on projects or help each other with assignments.
Boosts Accountability
Technology has the potential to make students more accountable for their learning by giving them freedom to find their own path when completing assignments (when appropriate, of course.)
Students can use accountability to track their work and teachers can use it to make sure that students are staying on track with their assignments.
Easy Tracking of Student Progress
Finally, technology streamlines the process of monitoring students' progress throughout the school year. There's no need for manual tracking when you have the right tools.
Tracking tools can be used to monitor student attendance, test scores, and even self-evaluations that teachers use as formative assessments to determine whether students are learning what they need to learn.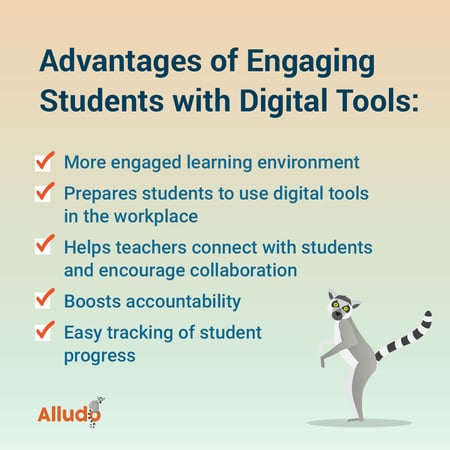 What Are the Challenges of Using Digital Tools in the Classroom?
Of course, there are some challenges of using digital tools in the classroom, whether you use them in person or in remote learning:
Technical issues. Students may have issues with connectivity and software or hardware may malfunction, and the same goes for teachers. Teachers should have a backup plan in place.
Student accessibility. Not all students have access to the same technology at home and some students may be slower to pick up on technology than others. Teachers should provide one-on-one guidance as needed and find out what limitations students face using technology outside of school hours.
Distractions. Technology can do a lot to enhance learning but it can also be distracting. Teachers who taught remotely during COVID-19 learned how easy it was for kids to be distracted by siblings, pets, or toys. Other distractions may interfere when students are using online tools, so it's important for teachers to outline expectations for the use of technology.
Challenges are to be expected but with the right planning and strategy, teachers can overcome these issues and engage students with technology.
Alludo's Take
Here at Alludo, we use technology to bring dynamic and engaging professional development to faculty and staff in districts across the United States. It should come as no surprise that we've included instructional strategies and tools in our professional development content catalog.
We have microlearning activities to help teachers learn how to use tools such as Google Forms, Class Dojo, and Google Classroom. We've incorporated elements of gamification to make professional learning fun and engaging, and the result is that teachers in our districts have the tools and training they need to put technology to work for their students.
Inspire Teachers to Innovate and Engage with Instructional Tools & Strategies
Using digital tools in the classroom can transform learning, making it more accessible to students and more engaging, too. The 13 tools we've listed here can help teachers in your district do a better job of connecting with students and providing them with multidimensional learning experiences.
Experience personalized learning for all levels of educators with a free trial of Alludo's professional development platform. You'll enjoy:
Hundreds of core topics
Asynchronous microlearning activities
Timely and specific feedback
Analytics that show learning impact
Access anytime, anywhere