7 min read
3 Ways to Gather Evidence of Learning in Professional Development for Education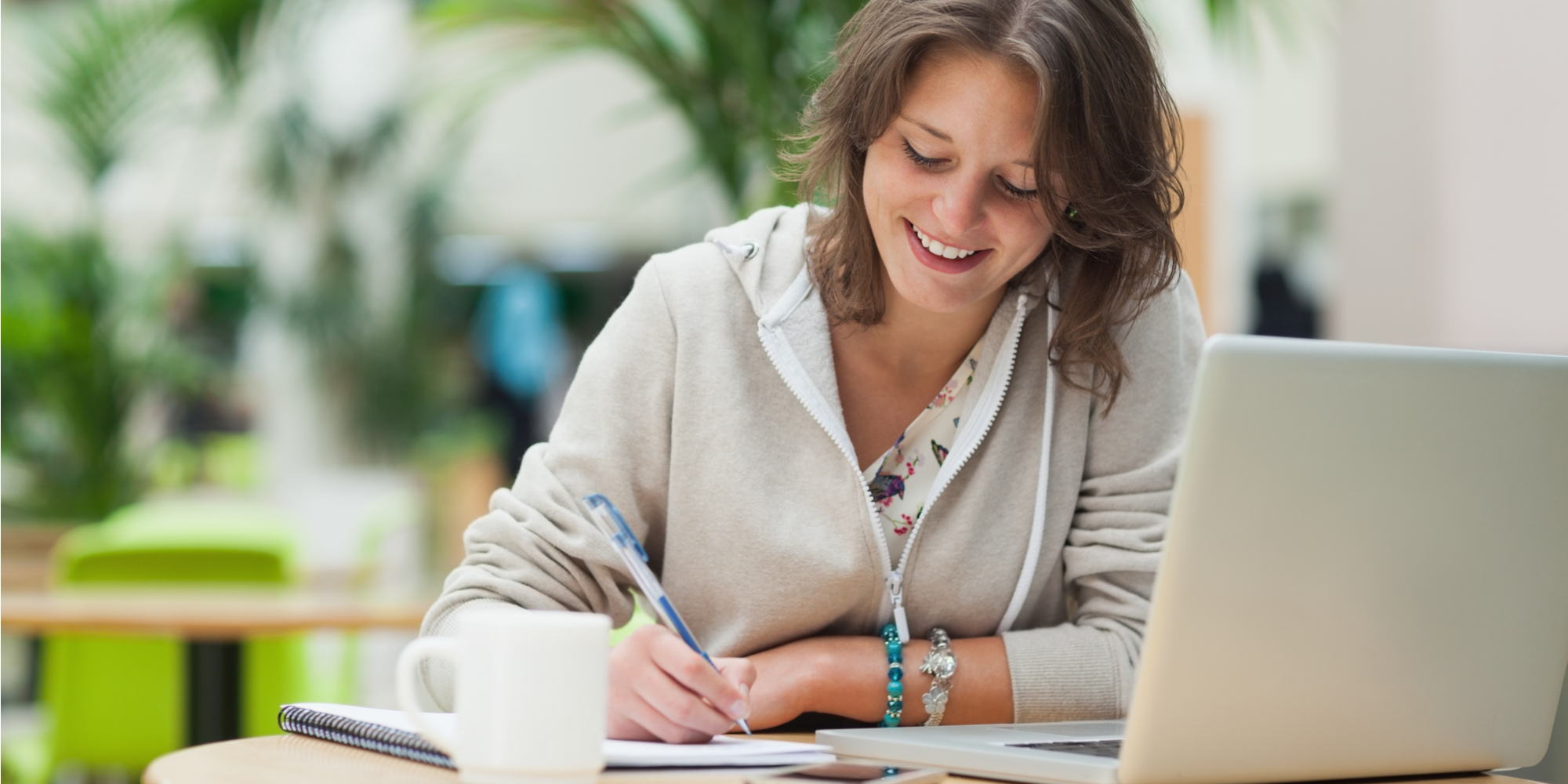 I've learned that you shouldn't go through life with a catcher's mitt on both hands; you need to be able to throw something back. ~ Maya Angelou
The last thing you want is for teachers to go through the motions with professional development, ticking the boxes without learning anything practical that can improve their performance in the classroom and lead to better student outcomes. The key to ensuring that doesn't happen is to have a system in place to gather evidence of learning.
At Alludo, we partner with school districts across the country to customize our engaging and effective professional development platform. The inclusion of gamification makes learning a priority for teachers, helping them stay engaged with PD and bring what they learn back to their students. In this post, we'll review what constitutes evidence of learning and three ways to gather it in professional development for education.
Table of Contents
What is Evidence of Learning?
We should begin by reviewing what it means to have evidence of learning. With students, it can mean tracking scores on standardized tests. With teachers, there are two primary things that show evidence that they have learned from professional development:
Without examining teachers' progress and proficiency, as well as their use of learned materials and subject matter in the classroom, there is no way to prove that learning has taken place.
3 Ways to Gather Evidence of Learning
There are three types of proof that can help you to gather evidence of learning according to the Division of Academic Affairs at the University of Wisconsin at Milwaukee. These methods may be used to track progress toward professional learning goals for teachers and school districts.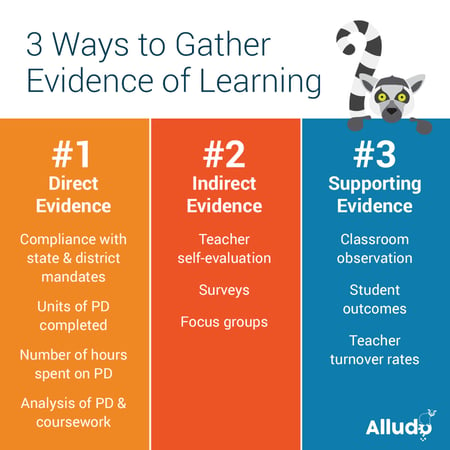 #1: Direct Evidence
The first method to use is also the most straightforward. It involves collecting direct evidence of learning based on things like participation. Here are four methods that may be used to gather direct evidence of learning:
Compliance with state and district mandates. Tracking compliance is straightforward because it mostly involves putting a system in place that monitors teacher participation and tracks their progress toward meeting state and district requirements. For example, with Alludo's PD platform, school districts can monitor teacher participation in required modules. They can also track on a district-wide basis how many teachers are participating in professional development while linking participation back to state and district goals.
Units of professional development completed. The next way to gather direct evidence of learning is to measure the number of units of professional development completed by individual teachers and by teachers in the district collectively. Units may be a combination of required modules and elective modules. Measuring the number of units completed is a good way to determine whether teachers are finding the material useful – and whether they are retaining what they learn.
Number of hours spent on professional development. Tracking the number of hours that teachers and administrators spend on professional development is another mark of engagement and learning. Teachers are more likely to participate with enthusiasm if they are learning new strategies that they can put to work with their students.
Analysis of professional development assignments and coursework. Finally, you can gather direct evidence of learning by analyzing professional development assignments completed by teachers. Improved scores are a strong indicator that learning is taking place.
The best way to gather direct evidence is with a system that has built-in metrics for you to use. That way, the information will be collected automatically and without any effort on your part.
#2: Indirect Evidence
After you have collected direct evidence of learning, the next step is to gather indirect evidence. By indirect, we mean that you will need to rely on something beyond the numbers that you gathered for direct evidence. Here are three methods to gather indirect evidence of learning:
Teacher self-evaluation. Any effective system of professional development should include feedback from participants and self-evaluation. Asking teachers to complete a self-evaluation after they have participated in professional learning can help you to determine whether they have acquired new knowledge and skills as a result of your PD program.
Surveys. Teacher surveys can be useful for gathering anonymous feedback from teachers after they have completed modules in your professional learning system. For example, teachers may report that the methods used to teach information were effective or ineffective, whether they felt they were given the materials and support they needed to learn, and so on.
Focus groups. Teacher focus groups can be useful because they offer an opportunity for teachers to share their thoughts in a group setting. Some teachers and administrators may find it easier to speak up when they are among their peers.
These types of indirect evidence can help you begin to verify the impact of your professional learning program on teachers.
#3: Supporting Evidence
The third and final way to gather evidence of learning in professional development is through supporting evidence. Supporting evidence is mostly related to the effects of professional learning rather than the learning itself. Here are three examples:
Classroom observation. Observing teachers in their classrooms with students is one of the best ways to determine if teachers are learning in your professional development program. Observers will be able to see whether teachers are applying what they have learned in the classroom – and if they are doing so effectively, in a way that engages students.
Student learning and outcomes. Student progress and student achievement are the focus of every teacher, so it makes sense that measuring them would be a good way to tell if professional development is having the intended effect. For example, comparing student scores on standardized tests before and after PD can be a good way to determine if teachers are absorbing what they learn and putting it to practical use.

Teacher turnover rates.

Teacher retention is a priority for all school districts and tracking teacher turnover rates is an important method to determine the effectiveness of learning in your professional development system. Teachers who are engaged and excited about professional learning and what it allows them to do in the classroom are less likely to be dissatisfied with their jobs.
With a combination of direct, indirect, and supporting evidence, you should be able to evaluate the effectiveness of learning in your PD system.
Tips to Help School Districts Gather Evidence of Learning
If you want to gather evidence of learning in your school district, here are six tips to help you do it as efficiently as possible: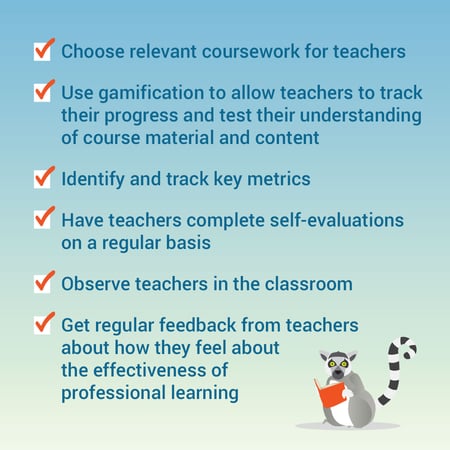 Choose relevant coursework for teachers. Teachers are far more likely to be enthusiastic and invested in professional learning if the coursework required is directly relevant to their time in the classroom. One way to do that is to get teacher input and allow teachers a choice in what they learn.
Use gamification to allow teachers to track their progress and test their understanding of course material and content. Gamification is at the heart of what we do at Alludo. It motivates teachers to do well with professional learning, completing courses and levels to earn points and rewards.
Identify and track key metrics. The assessment data you select should be directly related to your district-wide goals, particularly to student engagement and student performance because that's what will motivate faculty and staff to take professional development seriously.
Have teachers complete self-evaluations on a regular basis. Self-evaluations offer teachers an opportunity to be reflective about professional learning and their participation in it. While a self-evaluation doesn't provide direct evidence of learning, it is useful when you are trying to determine what can be improved about your PD platform.
Observe teachers in the classroom. Classroom observation is an essential part of evaluating PD and its effectiveness. If you see a teacher using a technique or teaching method they learned in PD, that's the best possible evidence that they have absorbed the material being taught.
Get regular feedback from teachers about how they feel about the effectiveness of professional learning. Teacher feedback is a must because teachers are the ones participating in professional development and they are the ones whose opinions matter. If they tell you a course or module isn't effective, you need to pay attention.
These six tips can help school leaders do a better job of gathering evidence of learning in the professional development environment.
Alludo's Take
At Alludo, we realize that it is essential for school districts to gather evidence of learning to help them fine-tune their programs and get to the best possible results for students.
We make evidence gathering easy by creating district-specific professional learning programs with built-in metrics and gamification. The results speak for themselves.
For example, we partnered with the Val Verde Unified School District to create a galaxy of microlearning pathways to energize teachers and students. By giving teachers, staff, administrators, and students access to thousands of online learning choices, they have experienced high levels of engagement and learning that would not have been possible otherwise.
Are Teachers Learning in Your Professional Development System?
The best way to determine if teachers are learning in your district's professional development system is by partnering with a company that can provide you with a wide array of learning options and built-in metrics to make it easy to track teachers' progress and participation.
Experience personalized learning for all levels of educators with a free trial of Alludo's professional development platform. You'll enjoy:
Hundreds of core topics
Asynchronous microlearning activities
Timely and specific feedback
Analytics that show learning impact
Access anytime, anywhere