9 min read
Are you Addressing These 4 Factors Affecting Teacher Retention?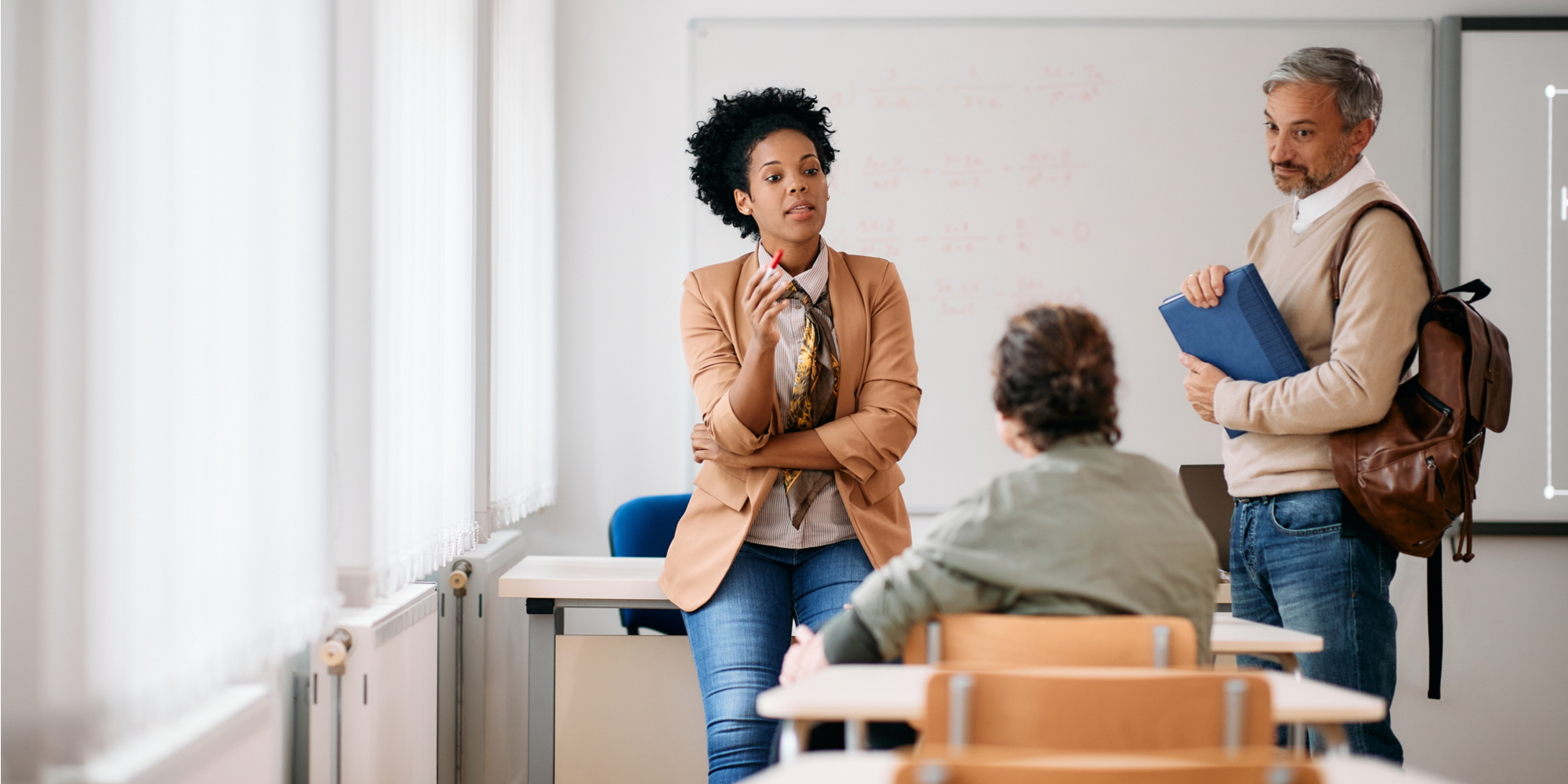 The whole art of teaching is only the art of awakening the natural curiosity of young minds for the purpose of satisfying it afterwards. ~ Anatole France
Teacher attrition is an issue in most school districts. We know that teachers regularly leave the profession, which contributes to an ongoing and worsening teacher shortage. It is essential for school districts to find ways to improve teacher retention as well as effective teacher recruitment providing stability to students.
At Alludo, we recognize the importance of teacher retention. While there's no one easy answer to getting teachers to stay, there are some concrete steps that school districts can take to make teachers feel supported and appreciated. With that in mind, here are four factors affecting teacher retention and some suggestions for addressing them.
Table of Contents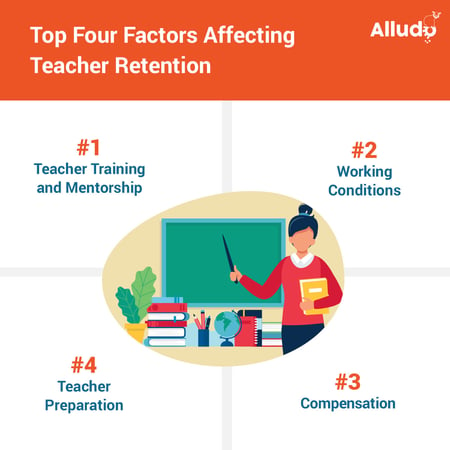 #1: Teacher Training and Mentorship
Teacher education and mentorship is essential for teachers at every level, but it is particularly important for new teachers and teachers of color. A study in Multicultural Education found that teachers who received structural support and professional development in the first five years of teaching were more likely to stay in the profession than those who did not. A 2018 study in the Journal of Teacher Education had similar findings. Teachers of color reported that their education did not prepare them for racial hostility in schools and increased the likelihood that they would leave the profession.
Here are some specifics that were mentioned and serve as a roadmap for administrators to provide the training and mentorship required to improve teacher retention.
Personal Relationships
A lack of personal relationships and lack of teacher satisfaction in the profession can contribute to teacher turnover. Informal mentoring in the form of peer interaction and collaboration can make new teachers feel accepted at their schools and provide them with much-needed support.
Administrators can encourage this type of collaboration by making room and providing resources for teachers to share their experiences.
Mentoring
Collaboration can serve as a form of informal mentoring, but that doesn't mean that new teachers don't need one-on-one attention as well. A lack of mentoring can leave teachers feeling isolated from the school system.
When we asked what type of professional development is most effective in our Teacher Happiness Survey, 51% of teachers selected collaboration with a colleague.
Creating a mentoring program in your school district that pairs new teachers with experienced ones can give new teachers the support they need to excel in the classroom.
Racial Literacy
Racial literacy is a big issue in our diverse country. Teachers of color may be left feeling isolated and unsupported when racial literacy and multiculturalism are not prioritized – and they may leave the profession as a result.
School districts should support racial literacy instruction by incorporating it into professional development and encouraging teachers of color to have a voice in how racial literacy is taught to their peers.
Pedagogical Knowledge
There is no such thing as a one-size-fits-all teaching method. Teachers need to be challenged and learn new pedagogical strategies to connect with students in order to increase teacher effectiveness. If they don't, even experienced teachers can become bored and stagnate in their jobs.
We also asked K-12 teachers what would help them have a better impact on students and the number two response was participating in professional development that matches their skill level (35%). A robust system of professional development should give teachers the challenge and inspiration they need to try new techniques in the classroom.
#2: Working Conditions
Poor working conditions can impact employee retention in any job and teaching is no exception. The good news is that addressing this issue is not difficult if administrators are willing to do so. According to a 2019 report from the Economic Policy Institute, 48.7% of teachers say they are dissatisfied with the working conditions at their schools. A 2018 study published in Teachers and Teaching found that schools where teachers reported feeling satisfied with working conditions had lower rates of teacher turnover than schools where teachers were dissatisfied.
There are five things that teachers mentioned that contributed to a poor working environment. Here they are, together with some suggestions to address them.
Administrative Support
Teachers need support from administrators to do their jobs well. Many teachers reported feeling undervalued by administrators. Some examples that illustrate the issue include a lack of agency in curricula and teaching materials and a lack of general appreciation.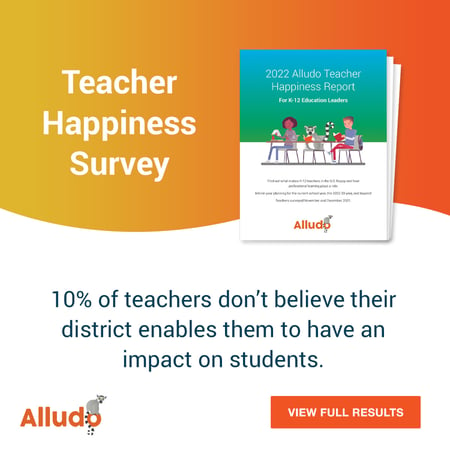 To make teachers feel valued, you may want to allow them to get creative in the classroom and take the time to say that you appreciate them instead of assuming that they know.
Availability of Necessary Supplies
A lack of supplies and classroom materials is an issue in many schools and their absence is a leading cause of teacher dissatisfaction. Teachers need the appropriate books, supplies, and equipment to engage their students.
While we recognize that budgetary issues can get in the way of providing necessary supplies, it's essential to do what you can if you want to improve teacher satisfaction.
Parent Involvement
Parent involvement is an essential component of student success and yet, in many districts, it is not encouraged or emphasized beyond the occasional parent-teacher conference.
Administrators can do a lot to encourage parent participation, including sponsoring PTA meetings and events and encouraging both parents and teachers to stay in touch.
Teacher Safety
In the Economic Policy Institute report we cited earlier, 21.8% of teachers reported that they had been threatened in the classroom. The COVID-19 pandemic has contributed to teachers feeling unsafe, as many believe that their health and the health of their students has not been a priority in the decision to reopen schools.
Administrators must address this issue, ensuring that teachers feel safe and supported in the classroom, and that their students do, too.
Student Preparedness
Another finding of the EPI report was that 27.3% of teachers expressed frustration that their students came to school unprepared to learn. While this issue is, in many ways, beyond the scope of what teachers or administrators can do, it is something that school districts must address.
Options include offering students tutoring and additional support, educating parents about resources, and making student preparedness a priority.
#3: Compensation
Compensation plays an important role in teacher retention but it can be difficult to address. According to a 2018 report from the University of Virginia, compensation increases would need to be significant to have an impact on retention. However, the report did note that strategic compensation could be effective in retaining teachers in difficult-to-fill positions, such as secondary math, science, and special education teachers, or teachers in low-performing schools.
Our Teacher Happiness Survey also found that 41% of teachers were not satisfied with their overall compensation. We also asked teachers if they were compensated for their professional development; thirty-two percent said they were not compensated in any way.
Here are two suggestions to help your school district use compensation to improve teacher retention:
You may have budgetary restrictions but that doesn't mean you can't find creative ways to make teachers feel appreciated.
#4: Teacher Preparation
We have already examined the ways in which teacher education might fall short, especially as it relates to teachers of color. The truth is that all novice teachers require preparation before they work in the classroom and school districts, in many cases, are falling short.
A 2018 study in the American Educational Research Journal found that 6% of early teachers turn over during the school year. Mid-year turnovers are particularly problematic because they disrupt student stability and learning and can negatively impact student outcomes.
It's not surprising to us that a 2020 study in the Journal of Technology & Teacher Education found that virtual learning, coaching, and goal setting could be just as effective as in-person versions when preparing teachers for the classroom. After all, we specialize in creating digital learning environments and we know how effective they can be. Online/asynchronous was rated the #3 most effective type of professional development in our Teacher Happiness Survey.
School districts must find ways to be creative in providing the preparation and support required for both early career teachers and veteran teachers.
Alludo's Take
At Alludo, we love teachers and we want them to be satisfied in their jobs – and we want school districts to be able to retain their teachers for the best possible student outcomes. Here are three key issues that we can help you to address.
Teacher Retention and Professional Learning
Provide teachers with the tools they need to help their students and they will feel supported, invigorated, and inspired. The teachers who have used Alludo's professional development platform report feeling like "new teachers" compared to how they felt doing things the old way.
The right professional learning environment empowers teachers to learn new teaching strategies and bring them into the classroom, where they can make a profound difference for students – and, it is proven to improve teacher retention!
Professional Development and Gamification
You already know that compensation or the lack thereof can be a driving factor in teacher turnover. One of the best things about the systems we design is that they encourage engagement by offering teachers concrete rewards for completing their professional development requirements.
As they complete modules and earn credits, teachers will also receive digital badges and points that they can trade in for rewards such as gift cards. It's always nice to have your hard work recognized – and our system provides that recognition in a concrete way.
Learner-Driven Model Improves Teacher Preparedness
The Alludo model is learner-driven, giving teachers a choice and a voice in what they learn. Before they came to us, the Springboro Schools lacked any element of choice in their professional development. Teachers attended large PD workshops and the district's Educational Technologists were overwhelmed and had little time for one-on-one work with teachers.
After adopting our model, teachers have access to learning on demand, where they can meet district and state requirements and choose additional modules to pursue. We have found that our learner-driven model of professional development gets teachers engaged and empowers them to acquire new skills and techniques that they can use in the classroom.
Improve Teacher Retention with Alludo
There are many factors affecting teacher retention, and the four we have listed here are common to many school districts. By addressing these issues and providing teachers with the support they need, you can improve teacher retention and job satisfaction.
Want to reach up to 100% PD in your district? See how Alludo can help make it happen with our free professional development platform trial, including:
Hundreds of core topics
Asynchronous microlearning activities
Timely and specific feedback
Analytics that show learning impact
Access anytime, anywhere