7 min read
Realizing the Impact of Professional Development for Teachers & Students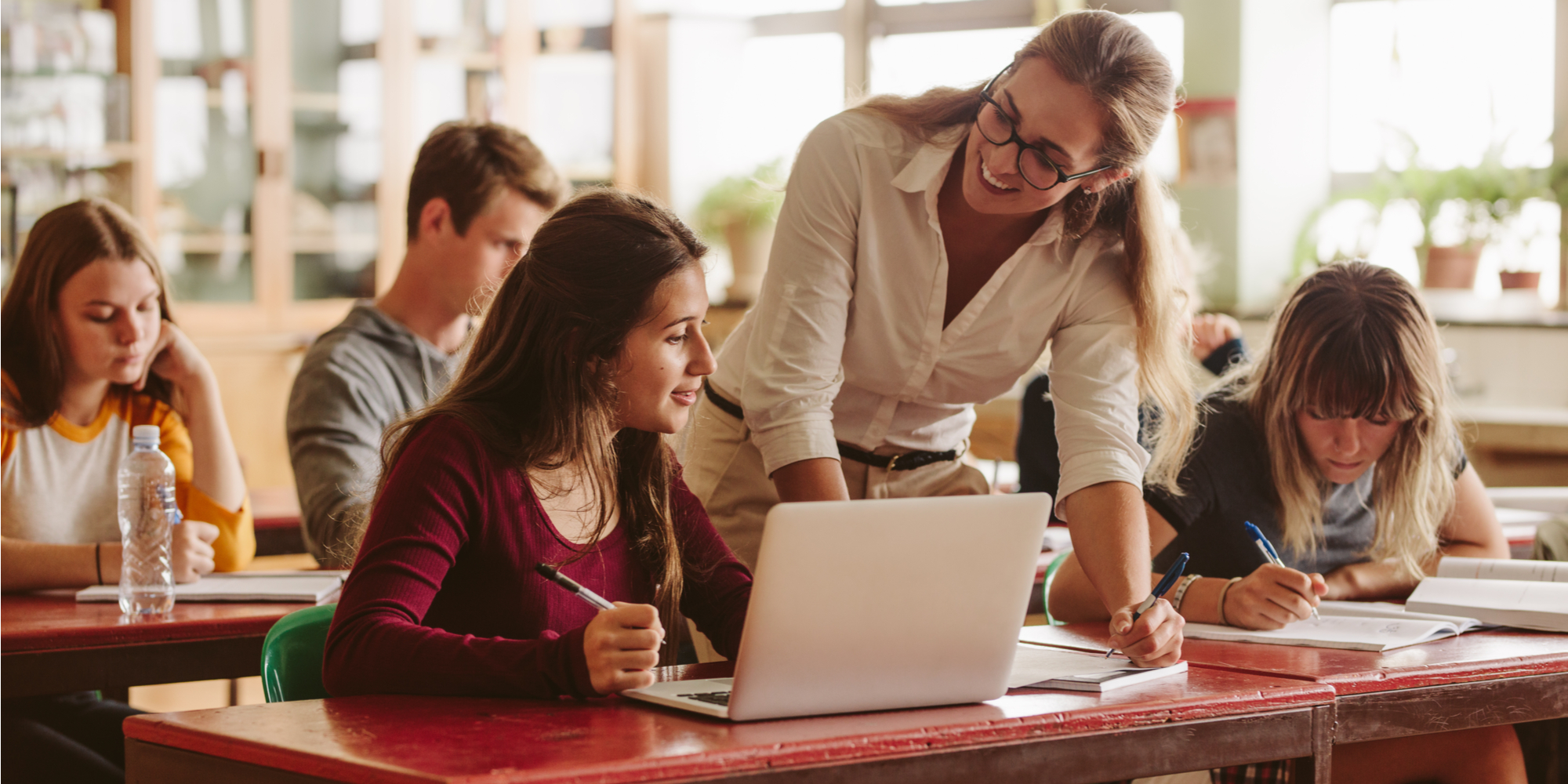 Anyone who does anything to help a child in his life is a hero to me. ~ Fred Rogers
In any profession, there's a need for professional development opportunities. It keeps people engaged and excited about their work. We believe that there's no area where professional learning is more important than it is in education. It is in educating our children that our ability to impact the world is most profound.
While states and school districts set their own professional development requirements for teachers, it can sometimes be easy to lose sight of the impact of professional development for teachers and students in the absence of concrete results.
At Alludo, we've worked hard to create a meaningful and engaging professional learning environment for teachers, paraeducators, staff, and administrators that include the means to measure the impact of employee learning on student achievement.
Table of Contents
What is the Importance of Professional Development for Teachers?
Professional development offers people in any profession the opportunity to learn and grow. It is commonly required for teachers to renew their teaching certificates and keep up with state requirements, but its importance goes far beyond any legal dictates and into how teachers and students feel about their time in the classroom.
It's undeniable that our understanding of how kids learn has expanded rapidly in recent years. As teachers, parents, and administrators recognize the benefit of diversified learning styles and teaching methods, professional development helps educators to stay abreast of the latest pedagogies and how they are used in the classroom.
As a result, professional development leads directly to improvements in student outcomes, something we'll cover in more depth later in this post. The improvements in student learning can impact everything from scores on standardized tests to graduation rates.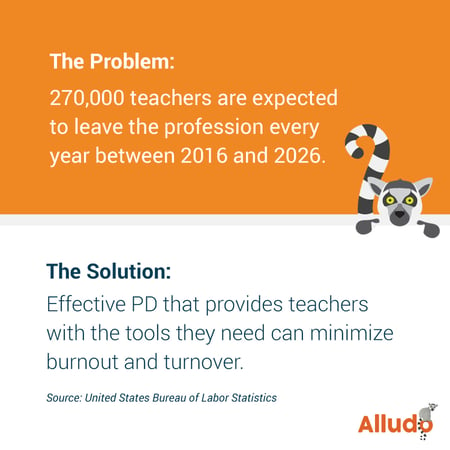 Professional development also helps to prevent teacher burnout and reduce turnover. There is also evidence to suggest that effective professional development can improve teacher retention. According to the United States Bureau of Labor Statistics, 270,000 teachers are expected to leave the profession every year between 2016 and 2026. Inadequate teacher training and preparation is one of the top causes of teacher burnout, while robust teacher professional development that provides them with the tools they need can minimize burnout and teacher turnover. Considering the expense involved with hiring new employees, keeping faculty and staff members happy and satisfied with their jobs should be a priority for district and school leaders.
How Do You Measure the Impact of Professional Development?
One of the most difficult and important things to do is to measure the impact of professional development. If a school district is going to spend money and time creating a professional learning environment for teachers, they must have a way to confirm that it's working the way they want it to – and garnering the results they desire.
It's not enough to track teachers' progress and confirm that they have completed their required studies. It's also necessary to figure out how to measure the impact of those studies on student achievement.
We have designed the Alludo platform to allow school districts to measure results at every level. A case in point is the Jurupa Unified School District, which in just 18 months has achieved the following results:
More than 1,900 learners engaged
More than 30,000 hours of PD completed
More than 7,000 missions completed
More than 1,700 learning levels completed
With Alludo, it's easy to measure teachers' progress, allowing assistant superintendents and educational services leaders to adjust professional development requirements as needed.
How Does Professional Development Impact Teachers?
Professional development is required of teachers but its impact can and should go beyond helping them to meet their state and district requirements. If it doesn't, then the likelihood is strong that teachers will resent the time they spend in professional development and participate in it with little enthusiasm.
Let's look at the Val Verde School District as an example. They came to Alludo with a desire to create a dynamic and engaging learning environment for teachers and students. With our help, they created Val Verde TREK, a professional learning program for teachers, staff, and students. Jessica Warren is the Elementary Education Coordinator for the district. She told us this: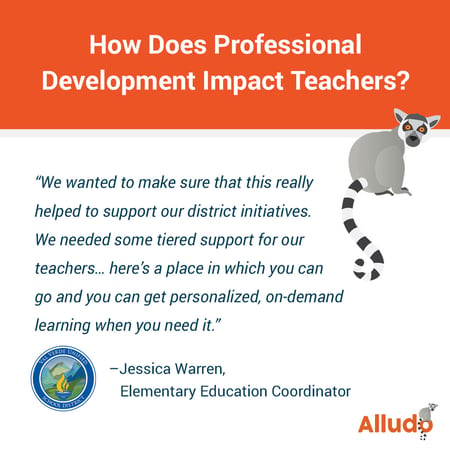 Research suggests that teachers do best with professional development when they feel they have a voice in its direction and it is directly relevant to the subjects they teach.
When teacher professional development adheres to best practices, it can positively impact teachers in several ways:
When a teacher completes a professional development activity that focuses on a specific teaching practice, they are more likely to incorporate that practice into their work in the classroom. The correlation held true whether it related to technology use, alternative student assessment methods, or instructional methods.
Teachers benefited from professional development the most when it was both collaborative and incorporated active learning. In other words, the positive effects were amplified when teachers at the same grade level learned new technologies together and did so in an active setting that required them to use the technology. Put another way, professional learning increased collaboration among teachers.
A teacher may also benefit from "spillover" where learning about one new technology inspires them to learn about others.
Teachers are more likely to feel fulfilled in their work and, as noted above, stay in their jobs, when there is a robust system of professional development.
How Does Professional Development Impact Student Learning & Outcomes?
Teachers who participate in quality professional learning often report positive results from their students. However, to measure the impact of professional development on students, it's important to use data and not anecdotal evidence.
The challenge is that few school districts report or publish data on student achievements as they relate to professional development. That's one of the reasons that we have incorporated metrics into Alludo: to make it easy for district and school leaders to measure the impact of professional learning on both employees and their students.
A 2019 review of studies looked at the impact of teacher professional development on student reading achievement in kindergarten through eighth grade. It concluded that there was a moderate but significant positive impact on reading achievement when teachers were engaged in learning high quality instructional practices. While more research is needed on the impact of PD on middle school students, this review clearly illustrates the correlation between teacher PD and student achievement.
It's also worth noting that there was a direct correlation between the length and amount of teacher professional development on student outcomes. The studies in which teachers received 14 hours or more of professional development all showed significant improvements in student performance while those that had the lowest amount of professional development had statistically insignificant results.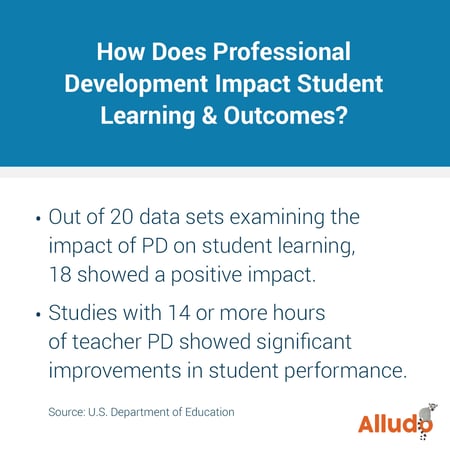 What we can take away from this evidence is that there is ample reason to believe that making professional development a priority for teachers, administrators, and other staff members will have a positive and significant impact on student achievement. Improvements may include increases on standardized test scores; improved grades; lower dropout rates; better classroom performance; and improved reading comprehension and language skills.
We can further conclude that when professional learning meets the criteria we have mentioned by taking input from teachers into account, relating directly to the subjects being taught, encouraging teacher collaboration, and being consistent enough to allow teachers to build skills, the positive effects are likely to be higher than they would with a lackluster system of professional development.
Alludo's Take
At Alludo, we believe that teachers should have access to a broad array of tools and skills to keep them – and their students – engaged and excited about learning. That's why we've designed our PD platform to be interactive, engaging, and learner centered.
The online learning environment we have built in conjunction with our clients allows teachers to meet state and district requirements while also having some input into what they learn and how they learn it. They can choose the subjects and skills that most interest them and those that are most relevant to the subject matter they teach, as well as those that are most likely to help them connect with and engage the students in their classrooms.
One of the secrets to teacher participation in and enthusiasm for professional learning is to provide ongoing feedback and rewards. With gamification, school districts can award badges and points to teachers that they can trade in for concrete rewards. Studies have indicated that gamification increases motivation and we believe that it can help to keep teachers engaged and excited about professional development.
Harness the Power of Engaging Professional Learning in Your District
A robust and well-designed system of engaging professional development can help your school district do a better job of preventing teacher burnout, increasing their motivation, and encouraging them to participate in professional development at high levels. When teachers are motivated and well-trained, they bring new skills to the classroom that benefit students at every level, improving outcomes and elevating school district results at the same time.
Want to reach up to 100% PD in your district? See how Alludo can help make it happen with our free professional development platform trial, including:
Hundreds of core topics
Asynchronous microlearning activities
Timely and specific feedback
Analytics that show learning impact
Access anytime, anywhere