8 min read
How to Create an Internet Safety Lesson Plan for Students (w/ Example)
"Safety is the most basic task of all. Without sense of safety, no growth can take place. Without safety, all energy goes to defense." ~ Torey Hayden
Students at every grade level use the internet in a variety of ways. They may do research as part of their assigned classwork or homework, complete assignments online, or—as they did in the early days of the COVID-19 pandemic—attend classes via Zoom. Most also use the internet in their lives away from school, too.
Alludo's mission is to create dynamic online learning environments for teachers, and we consider student internet safety to be part of that mission. We've included a variety of activities related to safe internet use in our content catalog for that reason. Because we know internet safety is a priority for every school district, here's what you need to know to create an internet safety lesson plan for your students, with an example to get you started.
Table of Contents
How Do You Teach Students About Internet Safety?
Teaching internet safety to students isn't difficult but it requires careful planning and an understanding of how to help kids grasp the importance of digital safety. Here are some things that may help educators inform students about safety online:
Learn about COPPA requirements. The Children's Online Privacy Protection Act requires websites geared toward kids under 13 to adhere to guidelines about data collection and sharing. Sticking to COPPA websites can take a lot of the guesswork out of protecting kids online and may be useful for both parents and teachers.
Integrate online activities. Kids are most likely to learn about online safety and retain what they learn when online activities are integrated in the classroom. Instead of having kids write in a daily journal, one option would be to have them start a blog and integrate lessons about safety into teaching them how to manage the blog.
Discuss digital footprints. Learning how to be a good digital citizen is important for everyone, not just kids. Teachers should help kids understand that anything they put online can be found and will be there forever, ie, how to control their digital footprint.
Create a student pledge. A student pledge is a useful tool because it requires students to agree to terms of engagement for online activity. Things to put in the pledge might include a promise to tell an adult if they see something that scares them or makes them uncomfortable, an agreement not to meet anyone online in real life without a guardian, and a promise to respect others and not engage in cyberbullying.
Present real-life situations as examples. Kids may respond better to specific, real-life examples than to abstract situations. Presenting them with a concrete example can help them understand why internet safety is important.
Focus on kindness. Both kids and adults sometimes forget that there are real people on the other side of online interactions. Reminding kids that they shouldn't say anything to a person online that they wouldn't say face-to-face can help to prevent cyberbullying.
Make internet safety fun. Incorporating fun and gamification into teaching kids about online safety is a good way to maximize their engagement. One option is to use Google's Interland, which teaches kids how to be good digital citizens.
Involve parents and guardians. It's important to keep parents and guardians informed of what their kids are doing online. You may want to send home documentation to teach parents about internet safety and let kids know that their parents will be informed of their online activity at school.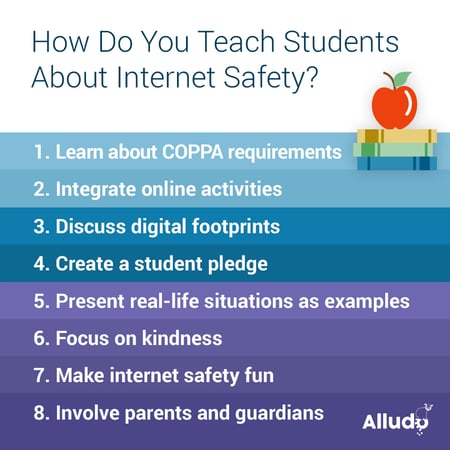 These tips can help you engage students in and out of the classroom by getting them onboard with digital safety and teaching them about the real-world consequences of not being safe online.

Why Is It Important to Teach Students About Internet Safety?
Teachers, staff, and administrators should all understand why it's essential to teach students about internet safety.
Internet Safety Statistics
Here are some numbers that illustrate why internet safety must be a priority for educators and administrators:
70% of students ages eight to 17 admit to having seen images or videos that were not suitable for them in the past year.
29% of parents allow their kids to use the internet without any parameters or supervision.
23% of kids between eight and 17 admit that they don't know how to control privacy settings on their social media accounts, meaning that their profiles and personal information could be public.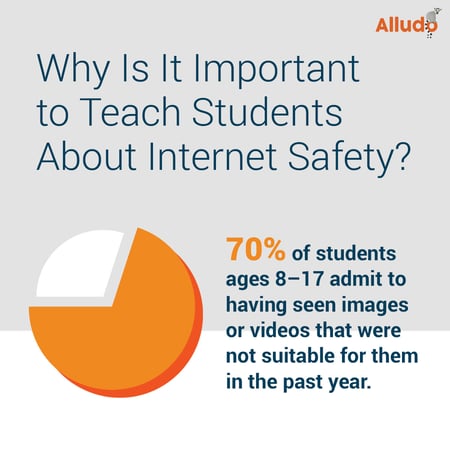 These statistics reveal that kids are not as informed about digital safety as they should be and that teachers and parents need to do a better job of keeping kids safe online.
Internet Safety Teaches Kids How to Protect Themselves
Kids can only adhere to safety guidelines if they understand those guidelines and how they apply to what they do online. Teachers can and should help students grasp the importance of safety.
Teaching online safety helps kids be good digital citizens and can be connected to good citizenship overall. Just as we all have responsibilities as citizens in our lives, we also have responsibilities online.
On a related note, kids are already learning about personal responsibility and etiquette in their lives, and internet safety is a part of that. Kids need to learn what behavior is appropriate in which context.
Teaching Online Safety Prevents Bullying
Statistics reveal that nearly half of all students in the United States have been targets of cyberbullying. All schools have rules about bullying and many have augmented those with rules related to cyberbullying, but schools must do their best to prevent cyberbullying from occurring in the first place.
Teaching kids about safety includes helping them understand the role they play in keeping the internet safe for others.

What Is an Internet Safety Plan?
An internet safety plan is a plan that helps kids engage in critical thinking and use safe habits when they are online, with an eye toward helping them become good digital citizens.
The nature of internet safety plans has changed over time. In the beginning, kids tended to get a long list of online Dos and Don'ts to follow without necessarily understanding the "why" behind the list. Today, the focus is more on teaching kids to think for themselves because we understand that many online dilemmas are nuanced and don't easily fall into a good vs bad scenario. It's not as simple as having kids use secure passwords or teaching them about stranger danger.
Keep in mind that kids of different ages should have safety plans that are tailored to their maturity level and capabilities. You shouldn't give a kindergarten student the same safety plan as a sixth grader, or give a sixth grader the same plan as someone in high school.
Be Internet Awesome
Be Internet Awesome is a Google program to help kids behave safely and be confident online.
The program teaches the fundamentals of good digital citizenship and online safety. It includes an internet code of conduct for kids that could serve as a framework for any internet safety plan. The code includes guidelines for sharing information, identifying scams, storing data, being kind, and informing adults when something that makes them uncomfortable happens.
Be Internet Awesome comes with curricula and lesson plans to bring online lessons into the classroom. We have included it in the Alludo Content Catalog.
Sample Internet Safety Plan
To help you understand what might go into an internet safety plan, here's an example of a basic internet safety plan for middle school or junior high students:
How data is collected. Teach kids how and why "big data" companies collect information and what they do with it, tying it in to keeping their personal information safe.
Social media safety. The benefits and risks of social media, including how it can impact students' relationships both online and IRL.
Digital footprints. A digital footprint isn't just about information kids share. It's also about which sites they visit and what they do while they're there, and kids in junior high are old enough to understand.
Sexting. Kids are becoming sexually active early and it's important for kids who may be developing relationships that go beyond friendship to understand the risks of sexting or sharing intimate photos.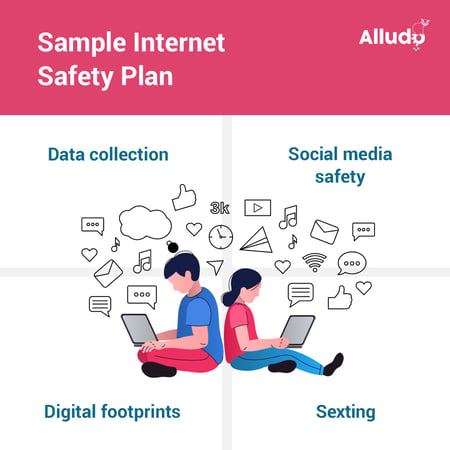 An internet safety plan should spell out the details about each topic covered and provide kids with guidelines to help them navigate related situations. As students get older, safety plans should build upon what they've already learned while introducing them to more complex topics.
Alludo's Take
Here at Alludo, we strive to bring internet safety to the classroom by offering lessons and activities related to digital citizenship and safe internet use.
The Alludo content catalog contains hundreds of cybersecurity and internet safety topics that school districts can use to build unique courses that suit their needs. We've also created programs that you can use, including our K-12 Cybersecurity Training Awareness program, designed to help your district meet security compliance standards and protect student, staff, and district data.
Create Internet Safety Plans for Students in Your District with Alludo
Internet safety for students is essential in every school district and classroom. Teachers and administrators should work together to create age-appropriate lesson plans to help kids be good online citizens and stay safe whenever they're on the web.
Are you ready to prioritize internet safety in your school district? Alludo Learning can help! Click here to get your free trial of our professional development platform, Madagascar, with Google's Be Internet Awesome course pre-loaded for your convenience.