9 min read
How Microsoft Whiteboard, Sway & More Can Help Teachers Facilitate Learning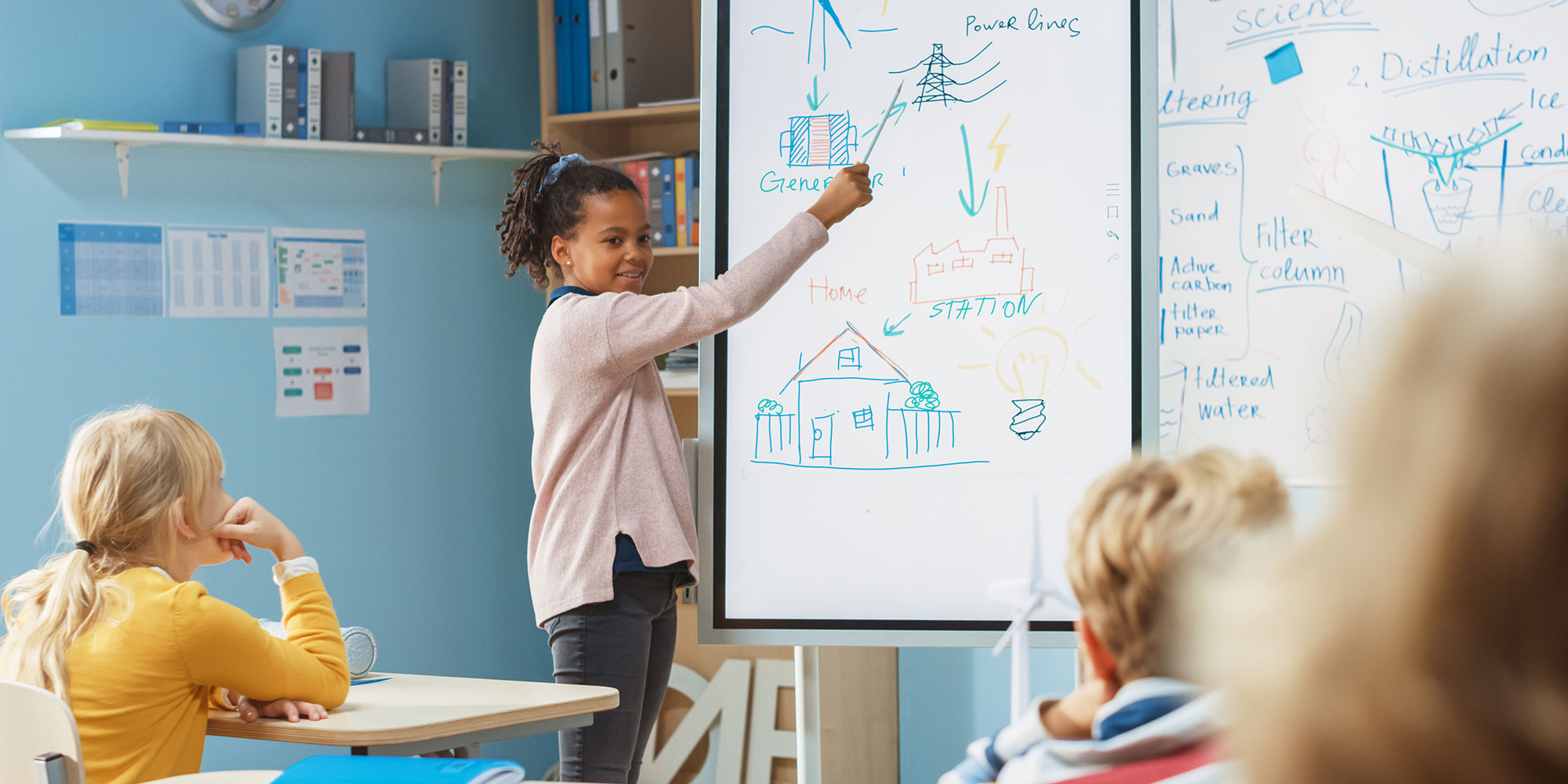 "What's amazing is, if young people understood how doing well in school makes the rest of their life so much more interesting, they would be more motivated. It's so far away in time that they can't appreciate what it means for their whole life." ~ Bill Gates
Microsoft is one of the biggest and most influential companies in the world. Its software and tools are used in almost every area of life, including education. Teachers can use tools from Microsoft Classroom to increase student engagement both in the classroom and in remote learning.
At Alludo Learning, we believe in giving teachers the training they need to incorporate digital tools and technology in their classrooms. That's why we've included Microsoft tools such as Sway into our professional development content catalog. Here's what you need to know about how Microsoft Classroom tools can help teachers facilitate learning.
Table of Contents
How Do Teachers Use Microsoft?
Microsoft has created an array of educational tools that teachers can use to engage their students and facilitate learning. Here are some examples of Microsoft tools and how teachers use them.
One Note
One Note is a Microsoft educational tool that can be used to help teachers organize their work. It can be used to do the following things:
Create individual workspaces for students
Collate and organize a content library for handouts
Provide a collaboration space for assignments
We particularly like the idea of creating a content library that students can access wherever they are. Teachers can use the Class Notebook feature to plan lessons and grade students' work.
Teams
Microsoft Teams is free for teachers and students who have a valid school email account. It can be used to connect teachers with students and students with one another through face-to-face connections and group activities.
In remote or distance learning situations, Microsoft Teams can be useful for setting up remote gatherings and activities. Teachers can share their screens with students, create digital whiteboards, and integrate content on Teams with other Microsoft apps.
Excel
Microsoft Excel is part of the popular Microsoft 365 Office Suite and its included with Microsoft Teams. It's a spreadsheet tool that can be used for a variety of purposes in and out of the classroom.
Teachers can use Excel to create spreadsheets to track student progress. It may also be useful for creating visual representations of data to help teachers assess where students are or to share important data with students.
Flipgrid
Flipgrid is a fun app that encourages students to create content around a specific topic or assignment. Teachers can get the ball rolling by creating a group and assigning a topic, then inviting students to join.
After students join, they can record short videos to share their observations about the topic. As students view each other's creations, they can chat about them using emojis, text, and new video clips to propel the discussion.
OneDrive
OneDrive is Microsoft's cloud storage tool. It can be useful as a tool for organizing teachers' research and lesson plans. Once stored in the cloud, teachers can access their files from any device.
Teachers can also use OneDrive to organize and store student essays, presentation materials, videos, and other work.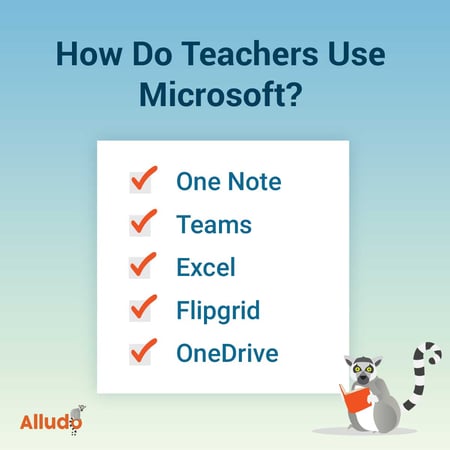 What is Microsoft Whiteboard Used For?
Microsoft Whiteboard is a digital tool that's designed to replicate the experience that teachers and students have when a teacher illustrates a concept by writing or drawing on a whiteboard. Instead of a physical whiteboard, teachers have access to a digital version with an array of formatting tools to help them create a visually stimulating display. Teachers can use Microsoft Whiteboard in a variety of ways.
Collaboration in a Classroom or Hybrid Workspace
Collaboration is something that can be useful among teachers and in classrooms with students. Teachers can use Microsoft Whiteboard in the same way they would a traditional whiteboard:
Brainstorming. Teachers can use an array of creative tools to track ideas and concepts.
Planning. Teachers can make notes and arrange their thoughts to create lesson plans and student assignments.
Sharing. Teachers can share what they create on a digital canvas to collaborate with colleagues or share their creative process with students.
We like that Microsoft Whiteboard offers teachers unlimited colors, fonts, and other tools to create a dynamic and exciting presentation.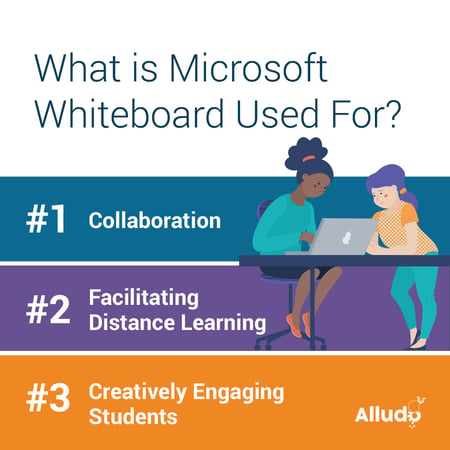 Facilitate Distance Learning and Run Collaborative Lessons
Microsoft Whiteboard can be useful when teachers aren't in the same space as their students. When and if distance learning is necessary, teachers can use the whiteboards they create to illustrate concepts to their students in the same way they would with a traditional whiteboard (or blackboard) in the classroom.
Teachers who don't work in the same area can also use Microsoft Whiteboard for collaborative lessons. Empowering educators to use digital whiteboards can encourage creativity and collaboration.
Maximize Learning Outcomes with Creativity and Engagement
Getting the best possible student outcomes is a priority for every teacher and school administrator. Today's students are digital natives, so it makes sense that putting technology into classrooms would increase student engagement.
Whiteboards can be used to encourage students to think creatively and critically. Teachers can use the tools included with Microsoft Whiteboard to spark excitement about new concepts and ideas.
What is Microsoft Sway Used For?
Microsoft Sway is a tool that can be used to create a variety of content, including presentations, documents, and newsletters. We like it because teachers can add content from anywhere, and drop it into a Sway presentation. It's easy to take content from OneDrive and add it to Sway to create dynamic, multimedia presentations.
Create Interactive Class Materials
Teachers can create interactive class materials that incorporate written content, images, animation, videos, and more. Students are more likely to be engaged when they have an immersive educational experience and Sway is the perfect tool to create these experiences.
Create an Educational Toolkit for Other Teachers
Students get the best possible education when teachers share ideas. Sway is a tool that can be used to create educational toolkits for other teachers. Here's an example of a teacher who created a 12 Days of Christmas toolkit, complete with lists of necessary equipment and step-by-step instructions for any teacher who wanted to use the Sway in the classroom.
Share Best Practices
Best practices are culled from personal experience in most cases, and teachers can share what they've learned using Sway. For example, they might have advice about how to increase student accountability, manage classroom behavior, or incorporate technology into their lesson plans.
Create a Recap of a Class Project
When teachers collaborate from a distance, Microsoft Sway can help them share class projects with their colleagues. Here's an example that shows how teachers from Serbia and Mexicali assigned their students a project about The Little Prince and shared the resulting projects via Sway and Skype.
Create a Field Trip Study Guide
Finally, teachers can use Sway to create presentations to prepare students for a field trip. Whether you're planning a trip to a museum, a historical site, or a performance, you can provide students with some background information as well as instructions regarding what's expected of them during the field trip.
What is the Microsoft Equivalent of Google Classroom?
Google Classroom has received a lot of attention and Google has a huge presence in the world of educational technology. However, Microsoft Classroom tools offer many of the same benefits and functions as Google tools.
Microsoft Teams offers teachers and students access to Microsoft's most powerful content creation tools, including Word, Excel, and PowerPoint. It integrates seamlessly with the other Microsoft tools we've mentioned above, including Microsoft Whiteboard and Microsoft Sway.
These functions correlate closely with the tools in the Google Classroom, which include Google Docs, Google Sheets, and Google Slides.
Both sets of tools allow teachers to compile notes in a single online location for easy retrieval from anywhere. With documents and resources stored in the cloud, it's easy to organize and collate research and student work.
With Microsoft Classroom tools, it's easy for teachers to communicate directly with their students. They can send notes via Class Notebook, and Microsoft Teams has built-in video conferencing to facilitate communication and learning.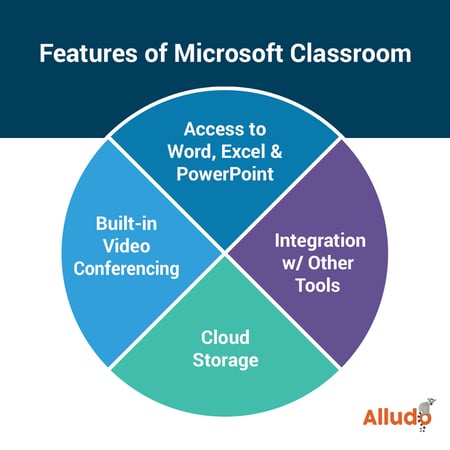 Alludo's Take
Here at Alludo, we have made it a point to create a Microsoft pathway of modules and microlearning activities to help teachers master the tools included in the Microsoft classroom. The learning content is part of our Alludo content catalog and includes specific lessons about how teachers can use Microsoft Whiteboard and Microsoft Sway to create lessons, brainstorm ideas, and share best practices and projects with their colleagues.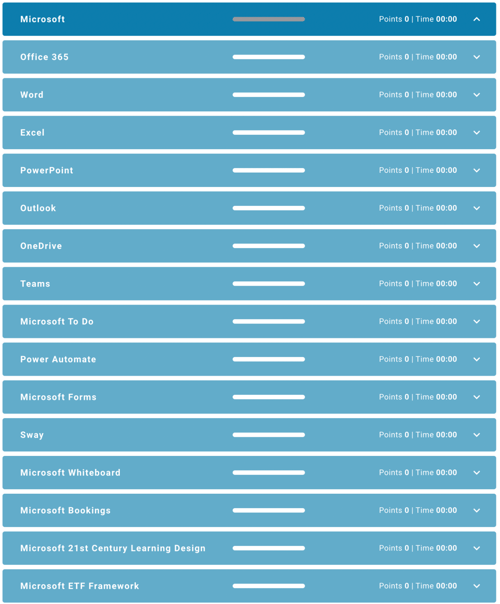 Teachers can use Microsoft educational tools to take their teaching innovation in the classroom to the next level. Our game-based learning activities make it fun and easy for teachers to participate in professional development and master Microsoft tools to use in the classroom and engage their students.
Provide Teachers in Your District with the Skills to Use Microsoft's Educational Tools
Teachers who want to bring technology into the classroom need the preparation and skills to do so. School districts that have partnered with Alludo offer teachers the means to learn about Microsoft's educational tools and how they can engage students and transform learning.
Experience personalized learning for all levels of educators with a free trial of Alludo's professional development platform. You'll enjoy:
Hundreds of core topics
Asynchronous microlearning activities
Timely and specific feedback
Analytics that show learning impact
Access anytime, anywhere