9 min read
6 Benefits of Including Online Learning Games in a Curriculum Plan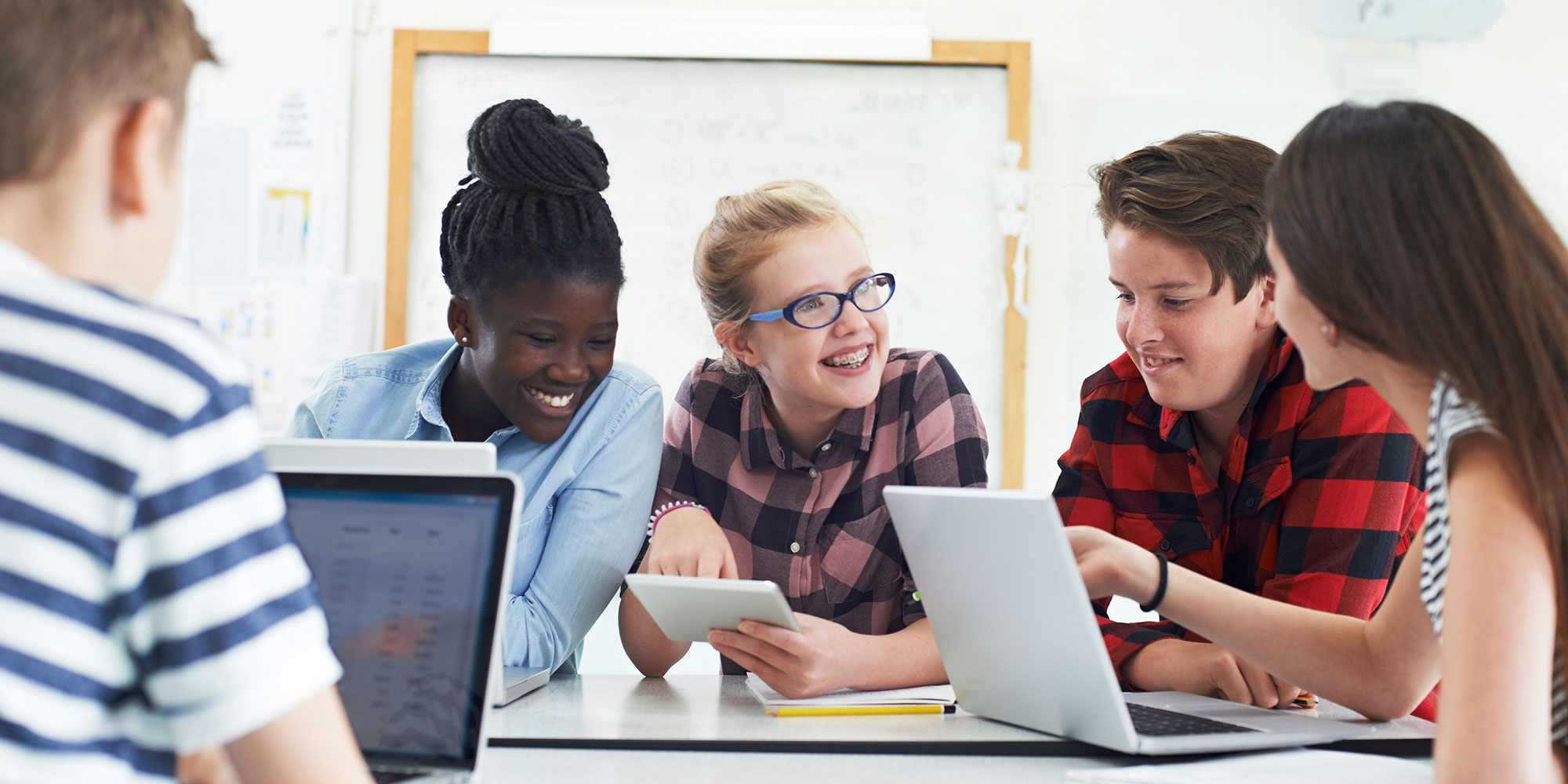 "Play gives children a chance to practice what they are learning." ~ Mr. Rogers
Learning can happen in many different ways and every good teacher knows that understanding different learning styles is necessary if they want to connect with students. Creating games and activities to facilitate learning is one of the best ways to engage students and turn learning into something fun and exciting.
At Alludo, we're big believers in gamification for learning. That's why we've incorporated the principles of gamification into our learning platform. We know it works and it's a big part of why school districts that partner with Alludo have all seen significant increases in teacher engagement in professional development. To help you understand the benefits of game-based learning, which incorporates aspects of gamification, here are six benefits of incorporating online learning games into your curricula.
Table of Contents
What is Game-Based Learning?
Game-based learning is an approach to learning that incorporates some of the elements of game design to the process of learning. Since most people enjoy some type of game play in their lives, whether they prefer sports, cards, or board games, game-based learning is an effective and fun way to engage students and teachers in the classroom.
Some of the elements of game-based learning include the following:
Badges
Leaderboards
Quizzes
Discussion boards
Classroom response systems
In most cases, students earn points that they can trade in for rewards. While some rewards may be non-academic in nature, game-based learning is most effective when the rewards tie into kids' work in the classroom. For example, a student who earned enough points might trade them in for extra time to complete a challenging assignment.
What is the Difference Between Game-Based Learning and Gamification?
We should note that there is a difference between game-based learning and gamification. In GBL, learning occurs as a result of playing the game. As students play a game related to social studies, language arts, problem-solving skills, or math, they learn new principles and concepts in the course of game play.
By contrast, gamification inserts elements of a game into traditional activities; an example would be awarding points when a student turns in a homework assignment or aces a quiz. Gamification elements are included in GBL but GBL is not present in gamification.
The Alludo professional learning platform incorporates gamification through our engaging points system and leaderboard. Teachers earn points for achievements and participate in friendly competition for bragging rights or, in some cases, incentives. Alludo also offers courses and activities about the benefits of game-based learning and online learning games. Teachers who take these courses may be inspired to incorporate online game-based learning into their curriculum plans.
6 Benefits of Online Learning Games for Students and Teachers
Now, let's explore some of the many benefits of incorporating online learning games into your curricula.
#1: Game-Based Learning Increases Student Engagement and Motivation
First and perhaps most importantly, incorporating online learning games into your curriculum plan gives a boost to student engagement and motivation. Why? Because games make learning fun and interesting!
Students who engage in game-based learning look forward to the process and are more likely to retain what they learn. Instead of facing a classroom of sleepy or disengaged students, teachers find that students are excited about playing and learning at the same time.
#2: GBL Improves Student Cognition As They Use Strategy and Memory to Compete
Many classroom games require learners to remember key facts or concepts and use strategy to solve problems and progress in the game. As students access their short-term and long-term memory and figure out how to play, their brains reap the benefits.
Students' mental cognition is stimulated and improved when they engage in game-based learning at school.
#3: GBL Encourages Peer Positivity
Learning is most effective when students have a positive attitude toward learning. Even one student with a negative attitude can impact the class's overall approach to learning.
Incorporating online games and GBL into the curriculum helps create a positive attitude toward the lesson and topic being taught. Positivity feeds into motivation and may also lead to better student outcomes.
#4: Online Games Encourage Healthy Competition
It's natural for students, especially boys, to be competitive in the classroom. While some competitive spirit is healthy, too much can be toxic and detract from learning.
When teachers use games in the classroom or assign online games for students to play from home, it provides students with a healthy competitive environment. Participating in teams can encourage cooperation and competing may also prompt students to support one another even when they're not engaged in game play.
#5: Games are Less Stressful Than Traditional Assignments
For some students, it's undeniably stressful to be presented with a quiz or test. Some students may be anxious about learning and that reaction, while understandable, may detract from learning.
Playing a game is far less stressful than taking a test, and the result may be better retention of the information learned.
#6: Games Offer a Break from Traditional Learning
After a while, even the best-crafted traditional lesson can tire students and dampen their enthusiasm for learning. Games provide a break from the traditional classroom learning environment.
Playing games stimulates the release of endorphins, which make students feel happy and may stimulate their brains to be receptive to traditional learning when the games are over.
How Effective is Game-Based Learning?
A 2022 study looked at the impact of game-based learning on students during the period when the COVID-19 pandemic pushed schools to embrace distance learning. The study found that students who engaged in mobile game-based learning from home were more engaged in what they were learning than students who participated in more traditional learning such as being in a virtual classroom.
Other studies have shown significant and measurable improvements in student performance as a result of GBL. Playing games online or in the classroom improved student retention regardless of the students' preferred learning styles. In another study, student test scores improved from a minimum of 37 and a maximum of 67 before GBL to a minimum of 67 and a maximum of 97 after GBL.
The best results will come from well-designed games that keep student engagement in mind and impart the knowledge necessary for them to grasp important concepts.
What Are Examples of Educational Games for Students?
Here are some examples of educational games for students. These cover a wide array of subjects and material and we hope they'll serve as inspiration to incorporate online educational games in your district's curricula: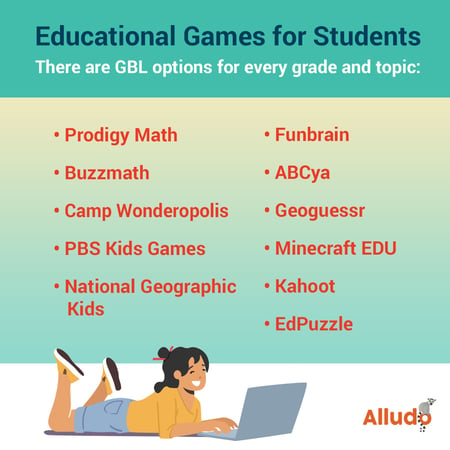 This is a tiny sample of what's available. You can see that there are GBL options for every age and every possible topic. Many of these apps and games are included in the Alludo Learning catalog, so partnering with Alludo will give your district's teachers access to them and teach how to use them in the classroom.
Alludo's Take
At Alludo, we love gamification and game-based learning because we know the positive impact they can have in the classroom. Our professional development content catalog includes some of the online learning games mentioned in the previous section, including Minecraft, Kahoot, and EdPuzzle.
We believe that when school districts empower teachers to incorporate online learning games in their lesson plans, teachers find it easier to connect with students and keep them engaged in what they're learning.
You already know that when students are engaged, the result is higher scores on standardized tests, better GPAs, lower dropout rates, and higher college acceptance rates. With game-based learning, you can achieve your district and school goals.
Improve Your District's Student Engagement and Outcomes with Online Learning Games
Empowering teachers to include online learning games in their curricula and classrooms is one of the best ways we know to drive student engagement and get to the best possible student outcomes.
Experience personalized learning for all levels of educators with a free trial of Alludo's professional development platform. You'll enjoy:
Hundreds of core topics
Asynchronous microlearning activities
Timely and specific feedback
Analytics that show learning impact
Access anytime, anywhere