8 min read
7 Advantages to Customizable Online Professional Development for Teachers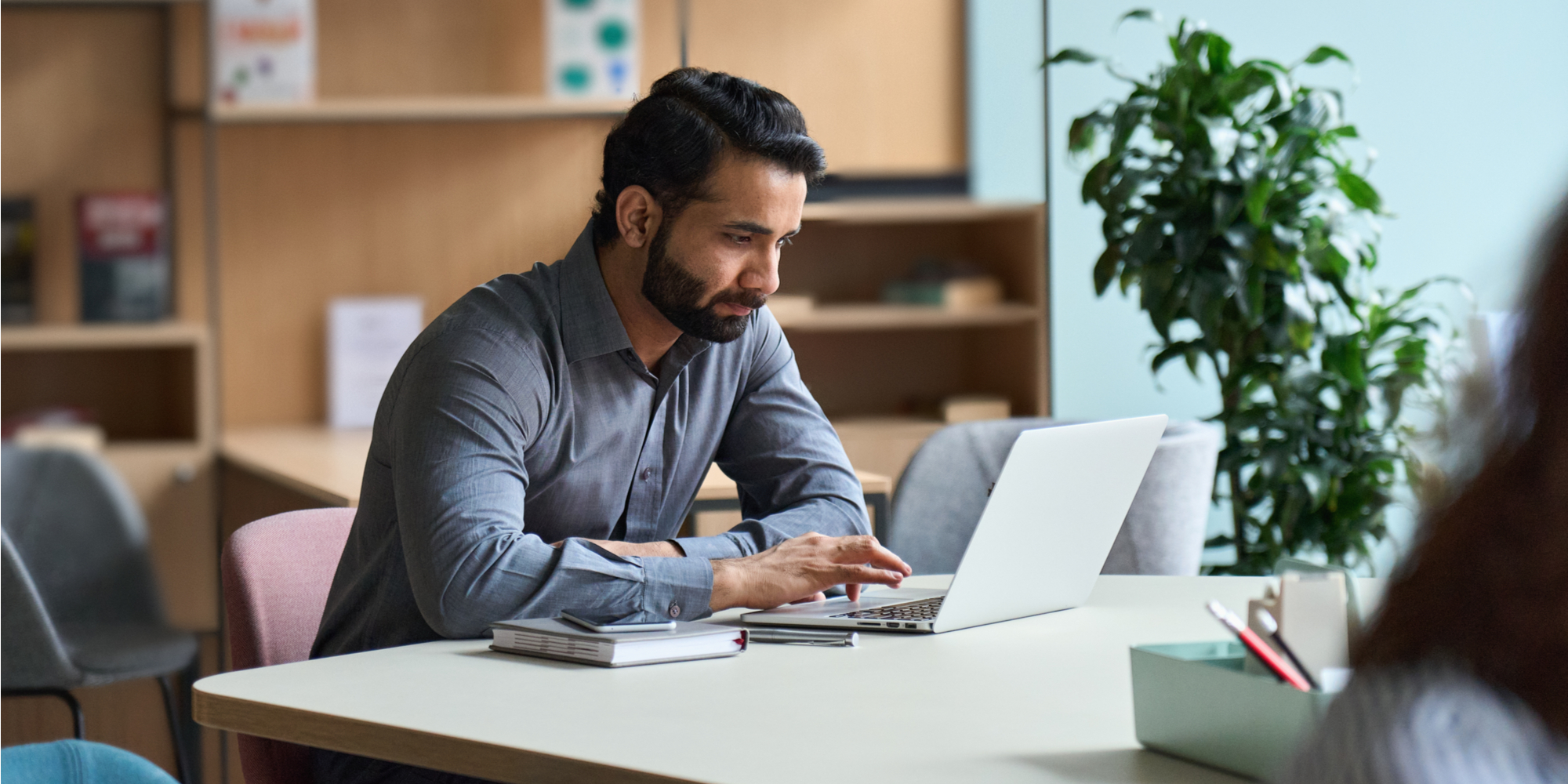 All students can learn and succeed, but not in the same way and not in the same day. ~ William G. Spady
Professional development is required of all teachers but that doesn't mean that all teachers have the same needs. A teacher who's got the skills to help students with social/emotional learning may need help with technology, and someone who's skilled with technology may need assistance with parent relations. The same is true of school districts, with each district setting its own goals.
At Alludo, we specialize in creating dynamic professional learning environments for school districts. We believe that teachers should have the ability to customize their learning for optimal results, both for themselves and their students. Here are seven advantages to customizable online professional development for teachers.
Table of Contents
Why is Customizable Online Professional Development Important for Teachers?
We know that professional development is essential for teachers. It expands their understanding of teaching practices and gives them the tools they need to improve student outcomes. But where does customization come in? What do teachers (and school districts) gain when they have the option to tailor a professional development course to their needs?
Allows Teachers to Learn on Their Schedule
The first thing that makes customization important is teacher engagement. When teachers have limited options about when and how to complete their professional development requirements, it may be difficult for them to juggle their personal lives with their professional responsibilities.
That's one of the reasons that the Alludo model focuses on creating dynamic online learning environments for teachers. By putting professional development online, we make it accessible to every teacher on their schedule. If they need to wait until after their kids are in bed or squeeze in a class in the morning before school, they can do it.
Integrates Teacher Input into Required and Optional Courses
There's plenty of evidence that educators are more likely to engage in online professional development courses when their opinions help to form the requirements. A 2021 study in School Effectiveness and School Improvement found that professional development where there was a teacher buy-in was more effective than professional development that was imposed without teacher input.
Getting teacher input shows teachers that school districts care about what teachers need. They're the ones in the classroom and they have insight that no assistant superintendent or school board can have because of their proximity to students.
Allows Teachers to Choose What They Learn
Customization ultimately comes down to choice. While getting teacher input is essential, it's equally important to give teachers the option to choose what they learn. Not all teachers have the same needs.
We should note that we understand that there will be some requirements that all teachers must meet. However, customization allows teachers to pick and choose from approved coursework after they've done the basics, helping them to fine-tune their skills to better engage their students.
7 Advantages to Customizing PD for Teachers
Now you understand why customizing PD is important to teachers and school districts. By allowing teachers a choice and a voice, you can drive engagement in professional development opportunities and ensure that the teachers in your district are improving their skills.
Here are 7 key advantages that you can expect after you embrace customization.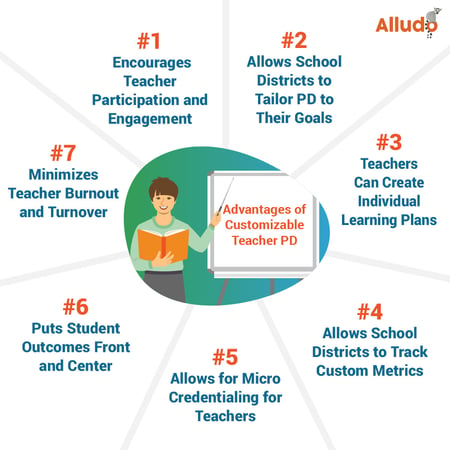 #1: Encourages Teacher Participation and Engagement
The first advantage of customizing professional development for teachers is that it encourages teacher participation and engagement. The study we quoted above noted that teacher buy-in was an essential component of effective professional development.
Teachers are more likely to feel invested in PD and be excited to participate if they have a say in what's required of them and the ability to complete training on their own time. They're more likely to be enthusiastic about what continuing education offers them if they can pursue individual interests that will benefit their students.
#2: Allows School Districts to Tailor PD to Their Goals
We've focused a lot on what teachers can get from professional development but school districts will benefit as well. When you allow for customization instead of using a boilerplate system, you can tailor your professional development program to your district goals.
Whether your goal is to improve student test scores or reduce teacher turnover, creating a custom digital learning system will allow you to align the training your district's teachers receive with what you want to achieve as a district.
#3: Teachers Can Create Individual Learning Plans
Most teachers love to learn. It's why they became teachers! They also recognize that no two students are the same and they want the freedom to pursue the topics and skills that are most useful to them in the classroom.
With a custom PD system, teachers can create individual learning plans to help them pursue short and long-term goals. Whether that means studying new pedagogies, building their social/emotional skills, or focusing on bringing technology into the classroom, a custom plan will allow them to improve their teaching skills.
#4: Allows School Districts to Track Custom Metrics
Customizable professional development isn't just about teacher choice and engagement. As you pursue your district goals, you can get a handle on your progress by tracking custom metrics. These metrics can be shared with administrators, school boards, your state's board of education, and with parents and teachers.
With a boilerplate system, you won't be able to hone in on the metrics that are most important to you. With customization, you can determine which metrics align with your goals and track them to ensure that you're progressing as needed.
#5: Allows for Micro Credentialing for Teachers
For some teachers, there's a desire to pursue additional credentials beyond their bachelor's degree and teaching certificate through continuing education. With customizable PD, teachers have the option to pursue micro credentials.
Micro credentials are competency-based courses that can award a continuing education unit for teachers. Micro credentialing offers teachers the opportunity to attain new skills and earn recognition for them. These micro credentials might not be a requirement to teach in your district, but they allow teachers to improve themselves professionally, giving them the ability to optimize student outcomes.
#6: Puts Student Outcomes Front and Center
If you ask any teacher what's most important to them, the answer will be their students. Students are the reason that educators become educators. They have a desire to educate young minds, helping children to become the best they can be. Teachers are eager to do anything they can to help their students succeed in the classroom and beyond.
One of the biggest advantages of choosing customizable professional development is that it puts student outcomes front and center. By allowing teachers to create individualized learning plans that provide them with the training and skills they need to improve their classroom performance, customization also helps students.
It goes without saying that student achievement is also a priority for school districts. District leaders and administrators want teachers to be effective, and customizable PD is designed to help each employee gain new competencies to optimize student outcomes.
#7: Minimizes Teacher Burnout and Turnover
In addition to prioritizing student outcomes, retaining teachers is a priority for every school district. We've noted before that there's a growing teacher shortage in the United States, with approximately 8% of all teachers leaving the profession every year.
Customizable PD is something that lets teachers know that their input and needs are valued. It is more engaging than boilerplate PD and it plays a role in minimizing teacher burnout and teacher turnover. Your district is more likely to retain teachers in the long term if they have the ability to self-direct some of their professional development.
Alludo's Take
Here at Alludo, we believe strongly that effective teacher professional development shouldn't be boring or restrict teachers in what they learn. We want school districts to have the ability to create a professional learning environment that's aligned with their district goals and provides teachers with the training and support they need to assist their students.
What that means for us is that we incorporate three key characteristics to develop digital learning systems that deliver on customization and results:
A case in point is the system we developed for the Carlsbad Unified School District. They came to us as they were implementing a 1:1 Chromebook rollout for middle school students because they wanted to ensure that students and teachers knew how to make the most of the new technology.
We worked with the district to create an array of customized and individualized games to engage teachers. The result was an increase in PD participation and a successful technology rollout that benefited teachers, students, and the school district.
Put the Benefits of PD Customization to Work for Your District
Customizing your PD program is one of the best ways we know to engage teachers, providing them with the tools they need to optimize student outcomes. It's also ideal to help your district meet its goals in both the short and long term.
Are you ready to see what PD customization can do for your district? Click here to schedule your free Alludo demo today!