8 min read
Is Professional Learning the Answer to District Faculty & Staff Retention?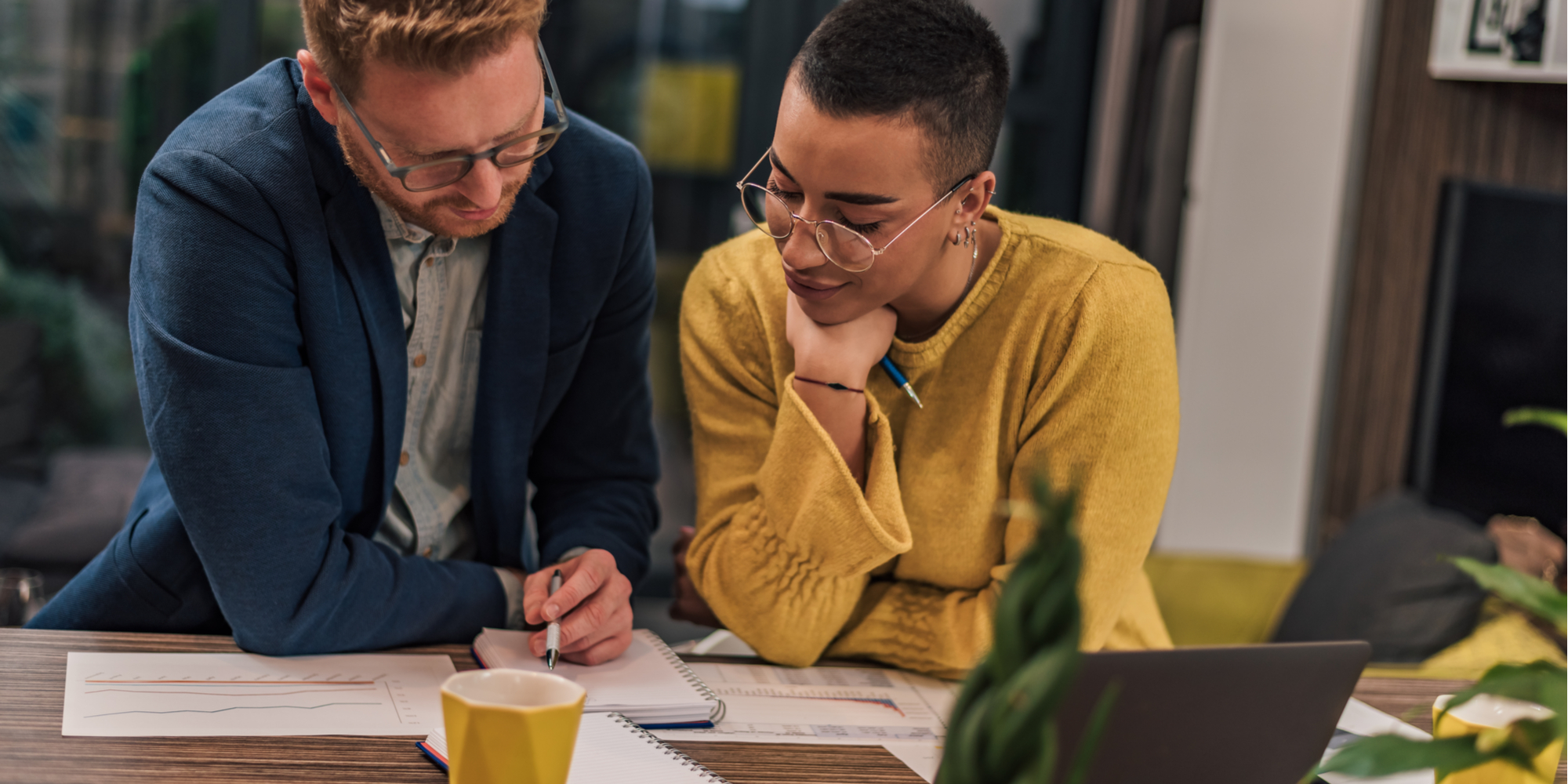 I have come to believe that a great teacher is a great artist and that there are as few as there are any other great artists. Teaching might even be the greatest of the arts since the medium is the human mind and spirit. ~ John Steinbeck
In every school district, there is a combination of new and experienced teachers. The presence of experienced teachers is undeniably beneficial because they can help newer teachers find their way, providing mentorship and collaboration when it's needed. But what happens when staff retention is a problem?
At Alludo, we believe that professional learning is the best way to improve district faculty and staff retention. It provides teachers, paraeducators, and administrators with the tools and support they need to serve the district and its students. Here's what you need to know.
Table of Contents
The Facts About Teacher Turnover
Teacher turnover is a widespread problem in the United States, affecting most school districts. According to the National Center for Education Statistics, 8% of teachers leave the profession every year. As of 2022, we are in a teacher shortage that has been steadily worsening since 2010 and is anticipated to grow. Projections indicate that there may be 100,000+ fewer teachers than we need by 2025.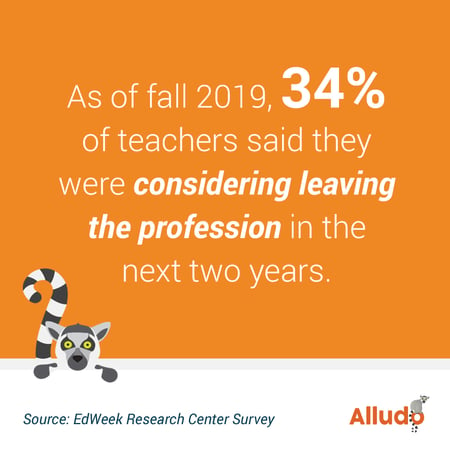 As we will discuss in the next section, the COVID-19 pandemic has exacerbated the situation dramatically.
When you look at those numbers and consider that, as of 2017, the average cost to hire a new teacher, including recruiting, induction, and training, was $20,000, it's easy to see why teacher retention is a priority.
The key question is, what can school districts do to increase district faculty and staff retention, ensuring that students get the attention and guidance they need to excel?
How Has the COVID-19 Pandemic Affected Teacher Retention?
We already mentioned that 34% of teachers said they were thinking about leaving the teaching profession before the COVID-19 pandemic. As you might imagine, the stress of the pandemic has made matters worse. In a follow-up survey to the one we mentioned previously, the number of teachers considering leaving the profession had increased to 54% as of 2021. The combination of adapting to remote teaching, helping students cope in a new learning environment, and worries about their own safety and well-being as well as that of their students, has led to a real crisis in teaching.
Another survey revealed that the COVID-19 pandemic has fundamentally changed teachers' outlook on their future in the profession. A US News report from June of 2021 revealed a 14% increase in teachers who were planning to leave the profession earlier than expected, with the biggest increases coming from experienced teachers and those new to the profession.
It's not surprising that the pandemic has been harmful to school districts, teachers, and students. The changes necessitated by COVID-19 have been sweeping and in many cases, traumatic. Students who were accustomed to the stability of a regular classroom schedule had to adapt to learning in home environments that were complicated by the presence of parents working remotely, siblings, and even pets.
Teachers had many of the same challenges, plus the responsibility of shepherding their students, helping them cope with their anxiety and adapt to remote learning. As students struggled, so did teachers. Some teachers found the stress to be too great and left the profession, which led to even more shortages. The pandemic has added to what was already a stressful situation for teachers, leaving them overwhelmed and in need of support.
What Factors Drive Teacher Retention?
Before we can talk about how to improve teacher retention and decrease turnover, we should examine the reasons that teachers leave their jobs or leave the profession entirely. The employee retention rate in schools is not a mystery.
According to a 2021 study in Teaching and Teacher Education, the reasons that teachers leave the profession depend on how long they have been teaching. Let's start with novice teachers. The most common reasons for a novice teacher to leave the profession are as follows:
Job insecurity. New teachers have not yet earned tenure which means the potential for them to lose their jobs is higher than it would be for an experienced teacher. While few jobs offer complete job security, it can be difficult for new teachers to balance job insecurity with the other stressful aspects of the job.
High workloads. Many of the teachers surveyed said that "exceeding workloads" were a reason for their departure from teaching. Given what we have already learned about the ongoing teacher shortage and the challenges brought on by the COVID-19 pandemic, it's not surprising that teacher workloads have grown and that they would be a factor in turnover.
When we surveyed more than 800 K-12 teachers nationwide in November and December 2021, we found that 68% of teachers believed their workload was too heavy. We also asked what would better help teachers have an impact on students and the number one response was a more manageable workload (56%). You can view the full Teacher Happiness Survey results here.
For experienced teachers, the most common reason given for leaving the profession was the flat career structure of teaching. With few opportunities for advancement, some experienced teachers become frustrated and stagnate in their jobs. We found that 21% of teachers are not satisfied with their opportunities for professional growth in our survey.
We should also note that for teachers at every level, a lack of administrative support is an issue. Teachers need support even when they have years of experience. Other reasons that may cause teachers to leave their jobs include the following:
At Alludo, we know that providing a dynamic learning environment for professional development can alleviate many of these issues. It can't solve the teacher shortage, but it can help teachers to feel appreciated and supported.
How Can School Districts Improve Teacher Retention?
Now, let's talk about how school districts can improve teacher retention. There are three key things you can do to give teachers the support they need.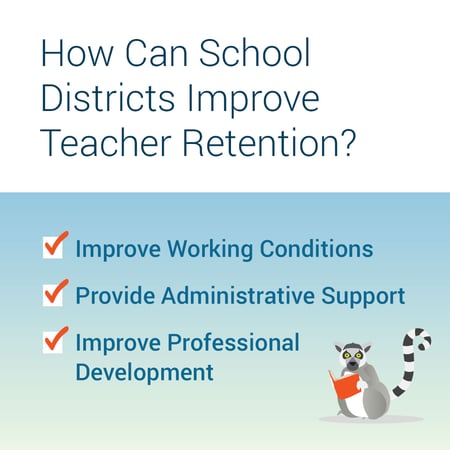 Improve Working Conditions
Poor working conditions can lead to low job satisfaction and disengaged employees in any profession. In teaching, the stakes are high because student outcomes can be negatively impacted when there is high turnover.
To improve working conditions for teachers, here are some things you can do:
Prioritize the health and safety of teachers and students.
Give teachers the supplies and equipment they need to do their jobs well.
Do what you can to minimize workloads and provide help in the form of teaching assistants and paraeducators.
It is also helpful to ask teachers what they think of working conditions and what you can do to make them feel comfortable.
Provide Administrative Support
A lack of administrative support can leave teachers feeling isolated and disengaged. It's essential for administrators to provide general and individual support whenever possible. Ten percent of teachers from our survey said they don't believe their district enables them to have an impact on students.
Administrative support might include verbal encouragement, regular check-ins, as well as being supportive of teachers' initiatives. For example, you might provide time for teachers to engage in peer collaboration and support. Studies have found that even informal mentoring can be helpful for new and experienced teachers.
Improve Professional Development
Professional development is required in every state and school district, but effective professional development must go beyond the requirements to provide teachers with support and inspiration.
When we ask teachers what they want from professional development, their responses tend to be consistent. First, they want content that is relevant to their time in the classroom. They want to learn new teaching strategies that can help them connect with their students and improve student outcomes. From our Teacher Happiness Survey, the top four PD topics that best support teachers in their role include:
Social emotional learning (63%)
Positive behavioral interventions and support (59%)
Instructional technology (57%)
Curriculum (55%)
They also want professional learning to be respectful of their time and energy. They don't want to feel burdened by professional development requirements. That may mean being flexible with the scheduling of classes or providing an online learning environment that they can access when it is most convenient.
Finally, teachers want agency over what they study and how they study it. They know that certain requirements are universal, but each teacher is unique and may need ongoing education in areas that aren't applicable to every teacher. Giving them some input in the design and structure of professional learning can help to improve retention.
Alludo's Take
At Alludo, we know that providing dynamic and accessible professional learning can help improve teacher retention. We collaborate with school districts to create unique digital learning environments that address teachers' needs and engage them at record rates:
Online learning allows teachers to choose when and how to complete their course requirements.
Teachers can meet state and district requirements and choose whatever modules they want to make up the rest of their professional learning. We offer a wide array of options to suit every teacher.
By incorporating gamification into learning, we make it fun for teachers to complete their requirements. As they work their way through various modules, teachers earn digital badges and concrete rewards.
Our digital learning environment is proven to be successful. The school districts who use our system have reported record engagement rates and teacher satisfaction.
It's Time to Improve Teacher Retention with Dynamic Professional Learning
If staff retention is an issue in your school district, you can retain more teachers and administrators by providing a dynamic professional learning environment that supports teachers, giving them the tools they need to help their students and improve student outcomes.
Experience personalized learning for all levels of educators with a free trial of Alludo's professional development platform. You'll enjoy:
Hundreds of core topics
Asynchronous microlearning activities
Timely and specific feedback
Analytics that show learning impact
Access anytime, anywhere