9 min read
Supporting Substitute Teachers with Personalized Professional Development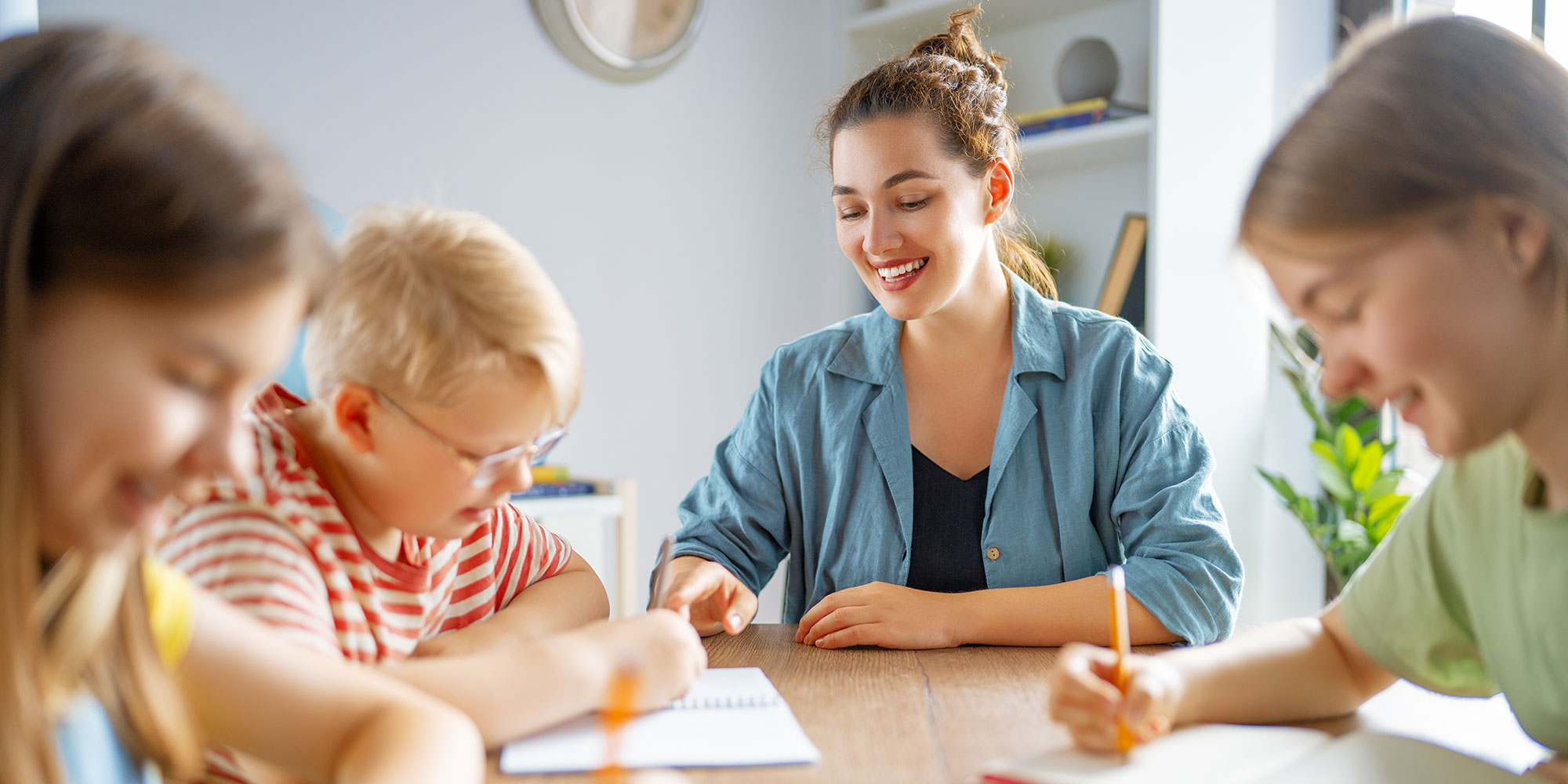 "Invest in our teachers, and our children will succeed." ~ Barack Obama
Substitute teachers are available to stand in for teachers when they must be away from the classroom, whether they are absent for one or two days or a prolonged period due to an illness or family emergency. Given their essential role, it's no wonder that school districts around the country have been impacted by the ongoing teacher shortage, which includes a shortage of qualified substitutes.
At Alludo, we partner with school districts around the country to create engaging and dynamic professional learning systems that include a wide array of activities to train teachers, including content that is useful for substitute teacher onboarding. Our professional development catalog includes learning tracks that may be used as is or combined to create the precise training needed in your district. Here's what you need to know about professional development for substitute teachers and how it can support them.
Table of Contents
What Makes a Successful Substitute Teacher?
Substitute teachers are there to stand in at a moment's notice when a teacher must be away from the classroom. Their presence makes it possible for students to learn even when their usual teachers are ill or away.
Skilled substitutes bring crucial skills to the classroom. Here are some of the most important traits of a successful substitute teacher:
Passion for teaching and education. The best substitute teachers have a real passion for helping students learn and they're eager to be in the classroom.
Adaptability. Substitute teaching requires a real ability to adapt to changing circumstances. Subs may be in multiple classrooms teaching a variety of subjects over the course of a single week, so they need to be able to think on their feet and adjust to new situations as they arise.
Interpersonal and communication skills. Interpersonal and communication skills are critical because substitute teachers must be able to connect with students to teach them effectively.
Stamina. Stamina is a critical skill for all teachers because teaching is hard work. Substitute teachers may need extra stamina to deal with students they don't know and subject matter they may not be familiar with.
Confidence. Confidence is one of the keys to maintaining order in the classroom. A substitute teacher who arrives feeling prepared to manage the classroom and the students in it is most likely to be successful.
Accountability. Every substitute teacher needs good judgment and the willingness to be accountable for mistakes.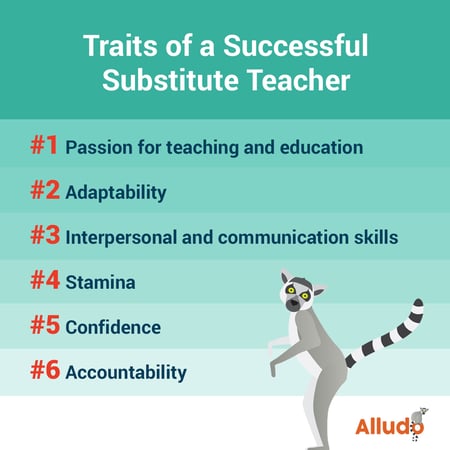 These skills are what differentiate an effective substitute teacher from an ineffective one. Many of these skills can be taught or enhanced with a robust onboarding system for substitute teachers.
How Does Professional Development Improve Substitute Teaching?
Professional development has the potential to improve substitute teaching in a variety of ways. According to the National Council on Teacher Quality, the average student will spend one full year of school time with substitute teachers before they graduate from high school. Once we understand that 9.2% of every child's education falls to substitute teachers, it's obvious that supporting these professionals is both necessary and beneficial.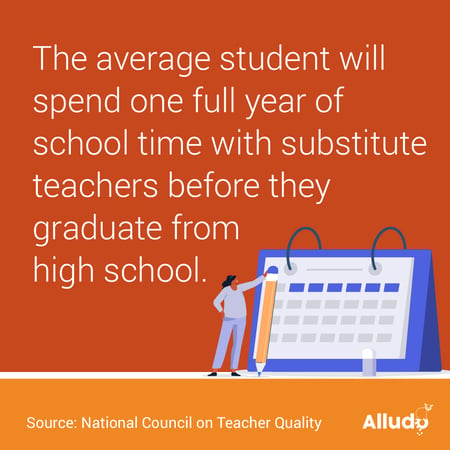 Here are some of the ways that professional development can support substitute teachers and improve their performance in the classroom.

Teaching Necessary Skills
All substitute teachers need professional skills to succeed in the classroom.
Instructional Strategies and Student Engagement
Substitute teachers must be able to review and understand lesson plans when they are provided and know how to create assignments on the fly when the primary teacher has not provided a lesson plan. Substitute teachers can benefit from learning a variety of instructional strategies as well as how to create lesson plans and assignments suitable to a variety of subjects and levels of learning.
Classroom Management
Because substitutes move from school to school and classroom to classroom, they need a foundation of classroom management skills. When taught properly, classroom management can help subs build rapport and connect with students, maintain discipline, and keep their cool when their authority is challenged. Since most classroom management courses emphasize long-term relationships, these lessons may need to be modified to be useful to substitute teachers.
Participating in the School Community
In addition to learning practical classroom skills, substitute teachers should be made to feel like they're part of the school community. They'll need to be introduced to teachers and staff, kept up to speed on safety training, and seek guidance when it's needed.
Offering Opportunities for Professional Growth
Beyond traditional professional development, schools should also provide substitutes with other opportunities for personal and professional growth.
Collaborating with Other Substitute Teachers
The right system of professional development and substitute teacher onboarding will allow substitute teachers to collaborate with one another and swap stories and strategies. Teachers are less likely to burn out if they have peer support.
Active Learning
The most effective professional learning combines instruction with practical experience. Onboarding for substitutes should include goal setting tips and discussion of real-world scenarios when the learned material may be useful.
Modeling and Feedback
Finally, substitute teachers will benefit if they get feedback related to the specific skills they have learned and the characteristics of an effective substitute teacher.
What Are Examples of Professional Development for Substitute Teachers?
There is a wide array of potential topics that could make up a professional development track for substitute teachers. Here are some of the most important.
Creating Lesson Plans and Rubrics
It is often the case that substitute teachers are provided with lesson plans, particularly when teachers are only expected to be out of the classroom for a day or two. Long-term subs may be called upon to create lesson plans and rubrics and proper training means they'll have the skills and experience to do so quickly, creating effective lessons and rubrics that will engage their students.
Discipline
Substitute teachers may struggle to maintain discipline in the classroom. Students are sometimes included to push the boundaries of what is appropriate, so substitutes must understand how to project confidence and authority. They must also understand what disciplinary actions are appropriate and be prepared to apply them as needed.
Maintaining Healthy Boundaries
Maintaining healthy boundaries isn't just a classroom skill; it's a life skill. Substitute teachers can benefit from learning what healthy boundaries with students look like, as well as how to create and maintain them. Boundary setting for substitutes is particularly important because they are often dealing with unfamiliar students. Proper discipline and healthy boundaries go hand in hand, and a lack of proper boundaries can lead to classroom disruptions.
Classroom Management, Procedures, and Rules
Classroom management includes everything from taking attendance to fetching supplies to maintaining order by following proper procedures and rules. Since rules and procedures are likely to vary from school to school, substitute teachers must learn how to grasp rules quickly and learn the importance of adhering to procedures, both in terms of daily activities and in terms of safety, including things like classroom and school drills.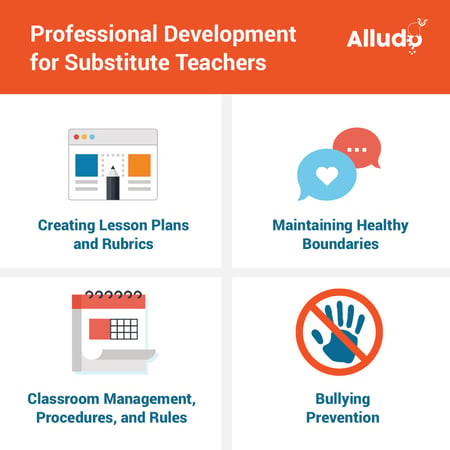 Teaching to Different Kinds of Learning
No two students are the same, so it's essential for substitute teachers to understand the various types of learning and how to meet students where they are. When substitutes are equipped with the knowledge they need to grasp different learning methods, they're able to connect with students and provide meaningful learning experiences.
Instructional Methods
Instructional methods and pedagogies are an important part of substitute teacher training because it helps them to adapt to the varying needs of students as well as to lesson plans and special circumstances. When substitutes are empowered to improve as professionals, they may eventually be eligible to get certified and hired as full-time teachers.
Teaching to Special Needs Students
Special needs students require more attention than some other students and may also be responsive to different types of teaching. Substitute teachers who step into special education classrooms require proper training to do so. They need to know how to interact with students and teacher aides, as well as being up to speed on safety procedures, IEP adherence, and more.
Bullying Prevention
Bullying prevention is a priority in every school district and it's just as important for substitute teachers to know how to identify bullying and when and how to step in as it is for permanent teachers. Substitute teacher onboarding and professional development can help subs develop the necessary skills to protect students from bullying.
Alludo's Take
At Alludo, we know that school districts rely on substitute teachers and ask a lot of them. We believe that personalized, asynchronous online learning provides substitutes with the guidance and support they need to excel in the classroom.
We have included a wide variety of relevant topics in the Alludo Professional Development Catalog, including assessments, rubrics, classroom management, and bullying prevention. Your school district can use the tracks we have created or empower substitutes to pick and choose the activities they complete.
By incorporating elements of gamification and providing rewards for professional learning, we give substitute teachers an engaging platform to improve professionally—and school districts are reaping the benefits. For example, the substitute teacher onboarding system we created for the Yucaipa Calimesa JUSD has expanded to become a hiring onramp for new teachers.
Support Substitute Teachers in Your District with Alludo
Supporting substitute teachers does more than helping them. It also helps your permanent teachers, administrators, and students. Skilled substitutes can provide the experienced leadership that leads to the best possible student outcomes.
Do you want to support substitute teachers in your district? Alludo can help! Click here to get your free demo of Madagascar, our learning platform, with our content catalog preloaded for you to review.