10 min read
8 Reasons for High Teacher Attrition Rates & Their Solutions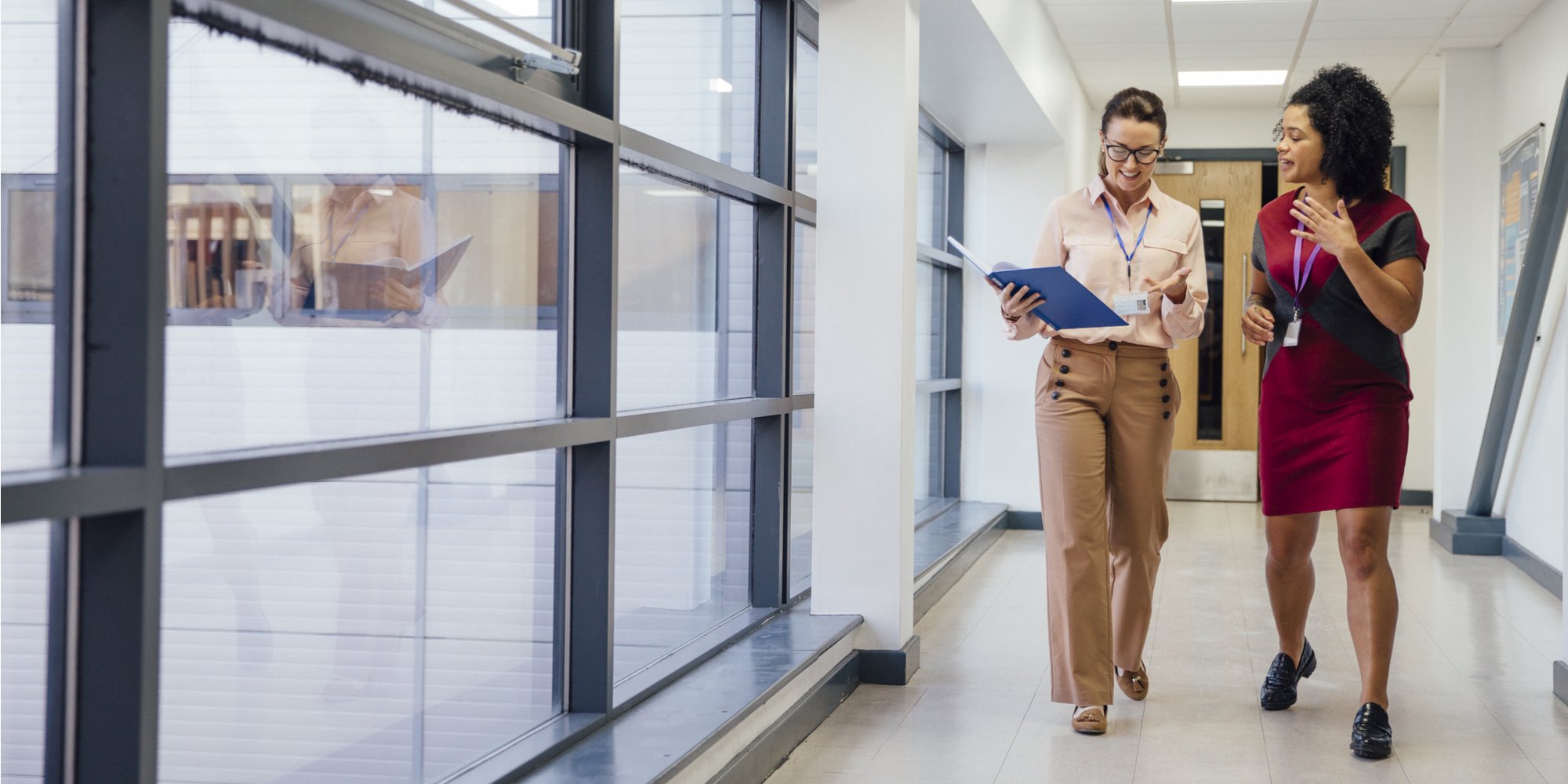 If you are planning for a year, sow rice; if you are planning for a decade, plant trees; if you are planning for a lifetime, educate people. ~ Chinese proverb
The rate of teacher turnover in the United States is high and it's increasing year over year. While the issue of educators leaving the profession already existed prior to the COVID-19 pandemic, it has worsened substantially. School districts must take action now to improve their teacher retention rates.
At Alludo, we know there are several reasons for teacher attrition and we also have ideas for what school leaders can do to help. With that in mind, here are eight reasons for teacher attrition, plus the solutions to help eliminate them and improve your district's teacher retention rate.
Table of Contents
Is There a Coming Crisis in Teaching?
Teacher attrition is an issue in most school districts, but how bad is the issue? Is teaching in a crisis situation – or will it be if something isn't done to address the problem of teacher attrition?
According to a 2021 article published by the NEA, 32% of teachers say they plan to leave the profession entirely. That number was only 28% before the pandemic. That's a 14% increase in less than two years and it points to the potential for a serious crisis.
According to a report from the Economic Policy Institute, the United States is experiencing a worsening teacher shortage. Already, there are more than 100,000 teachers less than we need and that number is expected to increase significantly by 2025.
In 2021, the Southern Regional Education Board revealed that the teacher shortage was projected to have long-term negative effects on students. Specifically, it noted the following things:
The teacher shortage was likely to negatively impact students' cognitive development and growth. With less time to devote to each student, teachers may not be able to address each student's needs or give extra attention where it is needed.
Likewise, the lack of personalized attention from teachers is likely to lead to lower scores on standardized tests, lower GPAs, and lower college acceptance rates.
The potential is there for long-term economic impact as students who perform poorly in school or do not attend college have lower long-term earning potential than students who excel.
It is clear that something must be done to reverse the shortage and attract new teachers to the profession.
Reasons for High Teacher Attrition Rates (and Solutions to Resolve Them)
Now that we have reviewed the current and potential future crisis in teaching, it's time to reveal eight of the most common reasons for high teacher attrition rates and what school districts can do to resolve them.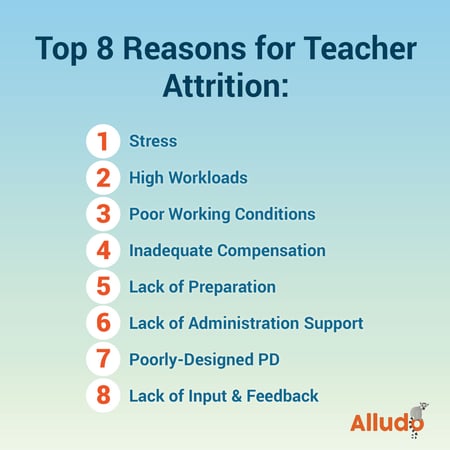 #1: Stress
Stress is the number one contributor to teacher attrition and it can reveal itself in a variety of ways. According to a 2021 study, the COVID-19 pandemic has contributed to teacher anxiety in several ways, including health and safety issues, isolation, communication, and concern for their students. Other issues that may contribute to teacher stress and burnout include lack of support from administrators, lack of preparation for the classroom, finances, and student debt.
School districts can alleviate teacher stress by first acknowledging that it exists. There is sometimes a reluctance to bring up negative topics but teachers need to feel that administrators understand the pressure they face. Likewise, it is essential for school leaders to provide teachers with coping strategies and support on an ongoing basis.
#2: High Workloads
The next issue driving teacher attrition is the high workloads that many teachers carry. It's impossible to separate this issue from the shortage because the shortage itself is increasing workloads. According to a 2018 study in Teachers and Teaching, teachers who rated their working conditions, including workloads, as satisfactory, were less likely to leave their jobs than those who were dissatisfied with their working conditions.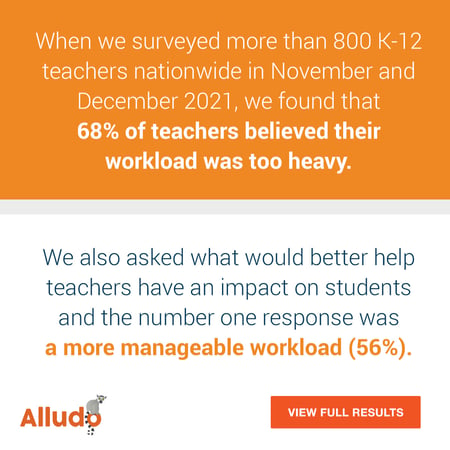 The solution to this problem is obvious but also not easy. It requires an investment in training and tools that will allow teachers to make the most of their time in the classroom. For example, the COVID-19 pandemic required teachers to learn new technology and applications, as well as introducing a heightened demand for Social Emotional Learning. Providing teachers with the training and tools they need will help them become more efficient and reduce their workloads at the same time. Other long-term solutions may include hiring teaching assistants and paraeducators, but training them will also need to be part of the solution.
#3: Poor Working Conditions
An issue that is closely related to teacher workloads is the presence of poor working conditions. The same study we cited in the previous section mentioned working conditions as well. When we talk about working conditions, we can reference a number of issues that affect the way teachers feel about their jobs, including class size, workloads, safety, the availability of books and other classroom materials, and the availability of administrative and peer support.
Ten percent of teachers from our survey said they don't believe their district enables them to have an impact on students.
The solution is to make sure that you understand what teachers need and do everything you can to provide it. In our survey, teachers told us that they needed the following things:
Relevant professional development, particularly in things like SEL, instructional technology, PBIS, and curriculum
Professional growth opportunities
Ongoing feedback and recognition for their work
Opportunities and encouragement to innovate
Giving teachers what they need means allocating a budget to create a relevant PD system that addresses their concerns. It also means providing funds for the purchase of new supplies and equipment, providing teachers with increased administrative support, and prioritizing the health and safety of teachers and students.
#4: Inadequate Compensation
The issue of adequate compensation for teachers is one that looms large. As we mentioned in the section about stress, teachers often experience financial stress in addition to job-related anxiety. Since many teachers carry a significant amount of student debt, it makes sense that compensation is an important issue for them.
Our Teacher Happiness Survey also found that 41% of teachers were not satisfied with their overall compensation.
A 2018 study published in Power and Education examined the effects of strategic compensation on teacher retention. While the results were inconclusive, the outcomes require additional testing to be confirmed. It does suggest the need for school districts to prioritize compensation, since teachers who feel adequately compensated are more likely to stay in the profession than those who do not.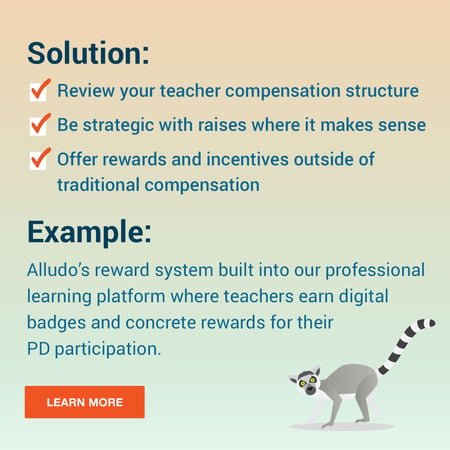 #5: Lack of Preparation
Newly hired teachers need preparation for their time in the classroom. This statement is especially true when it comes to new teachers, teachers hired from another state, and teachers whose training has been non-traditional. According to a 2018 study in the American Educational Research Journal, lack of preparation can lead to an increase in mid-year attrition. This is an important distinction because most school districts report attrition on an annual basis, but mid-year departures have a substantial negative impact on student outcomes.
The solution is to provide both new and experienced teachers with adequate preparation and ongoing mentorship and guidance. Mentorship may be formal or informal, and may include peer collaboration and support.
When we asked what type of professional development is most effective in our Teacher Happiness Survey, 51% of teachers selected collaboration with a colleague.
#6: Lack of Administrative Support
We have already mentioned the importance of administrative support as a way of reducing teacher stress and attrition but it deserves another mention because of how impactful a lack of educational leadership in this area can be. A study in Teaching and Teacher Education from 2020 found that some organizational aspects of schools, including administrative support, stronger teacher cooperation, and effective principals, reduced teacher turnover.
The effect is even more profound in schools serving low income and racially diverse areas. A 2020 study that included eight Black teachers found that there were several administrative support issues that led to their departure. These included administrators not supporting or even blocking social justice efforts, insufficient support for discipline, and troubled relationships with administrators.
Our Teacher Happiness Survey found that 27% of teachers are not satisfied with their district leadership and 18% are not satisfied with their school leadership.
The solution is an obvious one. It is essential for school districts and administrators to prioritize administrative support, particularly for new teachers and teachers of color. Support should include an open-door policy, disciplinary support, and maintaining healthy relationships with teachers.
#7: Poorly-Designed Professional Learning Environment
Professional learning is an important element of administrative support and a poorly-designed program can make teachers feel that they do not have the support and tools they need to help their students. A 2019 study in the Journal of Teacher Education revealed that two of the biggest barriers to professional learning were money and time.
We also asked K-12 teachers what would help them have a better impact on students and the number two response was participating in professional development that matches their skill level (35%).
School districts can address this issue by creating an engaging professional learning environment that encourages teacher participation and emphasizes student outcomes. The Alludo platform is an example because it incorporates a system of gamification and rewards to drive teacher engagement.
#8: Lack of Teacher Input and Feedback
In some school districts, professional development is required but does not allow teachers any input into what they learn or how they learn it. A 2019 study in the Journal of Curriculum Studies found that teachers who were not given any input are likely to be disengaged with professional development or teacher education programs.
Lastly, our survey reported 30% of teachers are not satisfied with the recognition they get for the job they do.
Alludo focuses on creating learner-centered professional development programs that give teachers a choice and a voice in what they learn. We encourage school districts to find out what teachers want and to gather ongoing data and feedback about their professional learning to ensure that teachers are getting what they need.
Alludo's Take
At Alludo, we understand the value of a teacher in a student's life. We address the issue of teacher retention by creating a learner-centered professional learning experience that starts with listening to teachers so they can better focus on what they care about most – student outcomes.
We design dynamic professional learning environments that incorporate teacher choice and feedback.
We use gamified learning to drive engagement. For example, Val Verde USD made Alludo their own by taking advantage of our customization capabilities to turn the platform into a one-stop professional learning program for teachers, staff, and students called, "Val Verde Trek." Our engagement rates across all districts using our platform are between 70-90%!
Help school districts to keep teachers invested in professional learning and in the profession of teaching to minimize turnover.
We believe that when school districts give teachers a reason to be invested in and excited about professional development, attrition rates will slow because teachers will feel valued, supported, and satisfied in their jobs.
Resolve Your District's Teacher Attrition Problem with Alludo
Teacher attrition rates may be high, but the reasons are not a mystery. The eight issues we have addressed in this post are likely to be things that sound familiar to any school district or administrator. By applying the solutions we have recommended, your school district can improve teacher retention rates and student outcomes.
Are you ready to resolve your school district's teacher attrition problem? Alludo has the solution. Click here to schedule a demo of our platform to find out how personalized, on-demand learning is making an impact on teacher retention.