7 min read
7 Measurable Professional Teacher Continuing Education Goals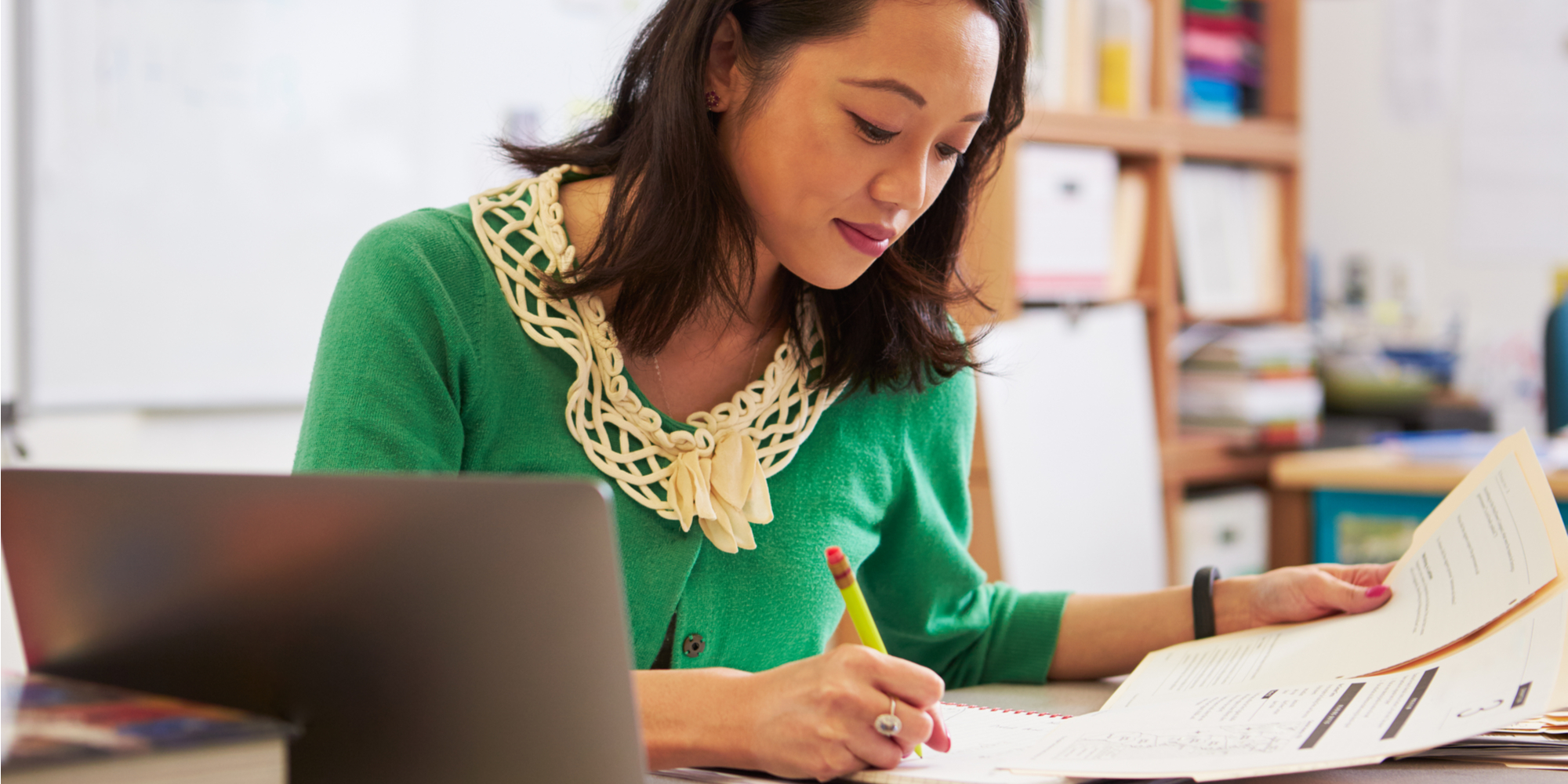 Be practical as well as generous in your ideals. Keep your eyes on the stars, but remember to keep your feet on the ground. ~ Theodore Roosevelt
Can you be successful without setting goals? There are certainly examples of people who stumbled into greatness or had it thrust upon them, but most of the people who provide examples of success started by setting goals and pursuing them with purpose.
Every educator should be asking themselves this question:
"How are you improving as a teacher?"
Teachers who engage in ongoing professional development are in a state of constant improvement. With that in mind, here are seven measurable teacher continuing education goals to consider for your school district.
Table of Contents
What Are Continuing Education Credits for Teachers?
Every state and school district requires teachers to participate in some degree of professional development, also known as continuing education. Because these requirements are not universal, the definition of a continuing education credit (also known as a CEU) may differ from place to place.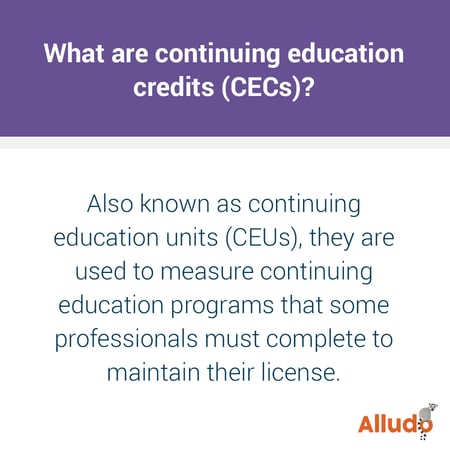 Let's look at one state as an example. In Texas, teachers must renew their licenses every five years. During each five-year period, they are required to complete 150 hours of professional development if they work in a classroom. There are different requirements for administrative and student services employees, who must complete 200 hours of professional development.
Texas does not issue credits per se, but they do require teachers to maintain accurate records of their professional development hours in the form of transcripts, attendance records, or a certification of completion. Teachers who hold multiple certificates must complete a minimum of five hours of continuing education for each certificate.
Depending on how the professional learning environment is designed, there may be a specified number of credits for an online course or the credits may be linked with time, as is the case in Texas. Alludo uses a gamified online learning system that awards points for completed teacher professional development. School districts can specify both a number of required points plus elective points.
Why Is It Important for Teachers to Set SMART Goals?
Setting SMART goals is important for teachers because they offer the best way to track progress and measure results. In order to be SMART, a goal must be Specific, Measurable, Achievable, Relevant, and Time-Bound.
An example of a SMART goal might be…
"Teachers must learn two new technologies during the school year and show evidence of learning in their classroom."
This goal is specific because it requires teachers to learn two new technologies and exhibit basic proficiency. It is measurable because the subjects being learned are measurable and there is a classroom application. It is achievable because it relates to basic proficiency. It is relevant because today's students are digital natives and using technology in the classroom is one of the best ways to engage them. (A school district might require teachers to learn a specific technology, such as Zoom, because it will be used in every classroom.) And finally, it is time-bound because the goal must be accomplished during the school year.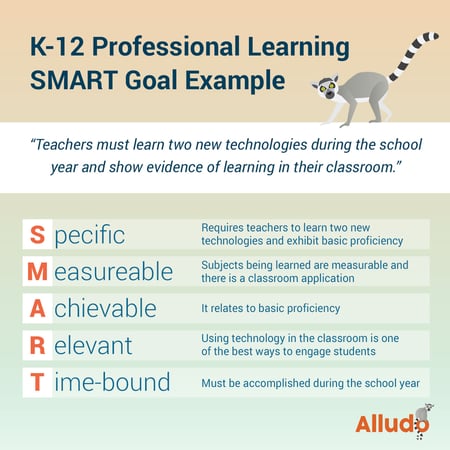 SMART goals are beneficial because they allow teachers and superintendents to easily track progress and measure results. It can be difficult to stay motivated when a goal isn't SMART because progress isn't measurable and the goal itself may not be realistic as a result.
7 Measurable Continuing Education Goals for Teachers
Now that we've outlined why SMART goals are important for teachers, here are seven measurable continuing education goals for teachers to pursue that we commonly see across districts. Each district sets its own goals, so you may want to use these or develop your own SMART goals for continuing education.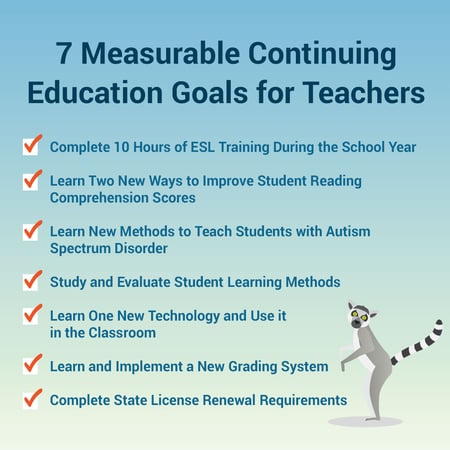 #1: Complete 10 Hours of ESL Training During the School Year
Changing demographics in the United States mean that increasingly large numbers of students enter the classroom speaking a language other than English. Whether they have no knowledge of English or have recently begun to learn, teachers need tools to communicate with and teach them.
Completing 10 hours of ESL training during the school year is a SMART goal because it specifies what is to be done, sets a time limit on it, and can easily be measured. It provides teachers with instruction that's highly relevant to their time in the classroom.
#2: Learn Two New Ways to Improve Student Reading Comprehension Scores
Reading comprehension is important in school and just as important later in life, when performing routine tasks and excelling at a job may be dependent upon reading and understanding written instructions and guidelines.
Teachers can turn improving student reading comprehension scores into a SMART goal by choosing professional development courses that focus on improving students' reading skills and abilities and encouraging them to read more. For example, they might complete courses related to two methods of teaching reading comprehension, spend a specified amount of time implementing what they learned in the classroom, and measure students' results against a barometer of their choosing.
#3: Learn New Methods to Teach Students with Autism Spectrum Disorder
We've already mentioned that kids' developing brains are a subject of study and learning. Any teacher can tell you that no two students are the same and that many require extra attention or specialized teaching methods to help them grasp the course material and excel on tests.
One common area of professional development involves helping teachers understand how best to engage and teach children with autism. Many students with autism can thrive in a mainstream classroom if teachers have the correct tools to help them. This goal becomes measurable when teachers set a specified number of methods and/or hours and lay out concrete ways to use what they learn in the classroom.
#4: Study and Evaluate Student Learning Methods
Since students learn in a variety of ways, it is helpful and important for teachers to study various learning methods and understand which methods work best for each student they teach. When teachers are aware of students' unique learning challenges, they can do a better job of engaging with them and getting to positive outcomes.
For example, a school district might require teachers to complete a specified number of credits related to student learning. An additional requirement might be for teachers to submit written assessments of each student using what they learned.
#5: Learn One New Technology and Use it in the Classroom
Increasingly, technology is coming into the classroom. While the most obvious example is the use of Zoom during the COVID-19 pandemic, there are countless other examples. For example, an art teacher might ask students to use photo editing software to fine-tune their photos for an assignment.
Teachers and school districts can make technology goals measurable by specifying which software teachers must learn or requiring them to learn how to use a specified number of tools. They can add requirements for teachers to adapt what they learn to the classroom or teach their students how to use the technology and test them on their proficiency.
#6: Learn and Implement a New Grading System
Many school districts are working to assess students' progress and proficiency in new ways. For a school district to adopt a new grading system, teachers must learn how to use it and demonstrate that they understand how to do so.
To make this goal measurable, a school district might require teachers to complete all units related to the grading system by a deadline. Then, they would require teachers to explain the new system to students and parents and use it for student grading starting with the semester immediately following completion of the units.
#7: Complete State License Renewal Requirements
While many of the goals teachers set for themselves relate to classroom performance and student outcomes, there is also a need for measurable goals related to teacher certification, state licensure, and district requirements.
To make this goal SMART, the district or teacher could attach a completion date for the renewal requirement and break them down into smaller goals if necessary.
Alludo's Take
One of the core things that sets Alludo apart from other professional development offerings is that we have incorporated metrics into every level of our online learning environment. On our platform, school districts can take our curricula as a baseline and then add additional coursework based on their PD requirements for teachers. Our learner-centered model also allows and encourages teachers to set individual goals by choosing elective courses to meet their overall professional development requirements and interests.
Teachers and administrators can track and measure their progress using Alludo's user friendly platform that features a point system and badges for milestone completion. Gamified learning makes it easy to complete requirements in a timely fashion by equipping teachers to track their progress and even compare their progress with that of other teachers in the district.
We believe that setting measurable goals and allowing teachers to have some agency in what they learn is the best way to avoid teacher burnout and improve teacher retention. School districts that work with Alludo are seeing PD engagement rates between 70% and 90%, putting them ahead of many school districts with less engaging programs.
Start Setting Measurable Teacher Continuing Education Goals with Alludo
School districts can get better student outcomes and reduce teacher turnover by using engaging and measurable systems for professional development. With Alludo, it's easy to track your most important metrics while encouraging and reinvigorating teachers to do the best work possible. We hope you'll use the seven goals we've listed here as a starting point for your district.
Experience personalized learning for all levels of educators with a free trial of Alludo's professional development platform. You'll enjoy:
Hundreds of core topics
Asynchronous microlearning activities
Timely and specific feedback
Analytics that show learning impact
Access anytime, anywhere