8 min read
What is Universal Design for Learning? & 7 UDL Examples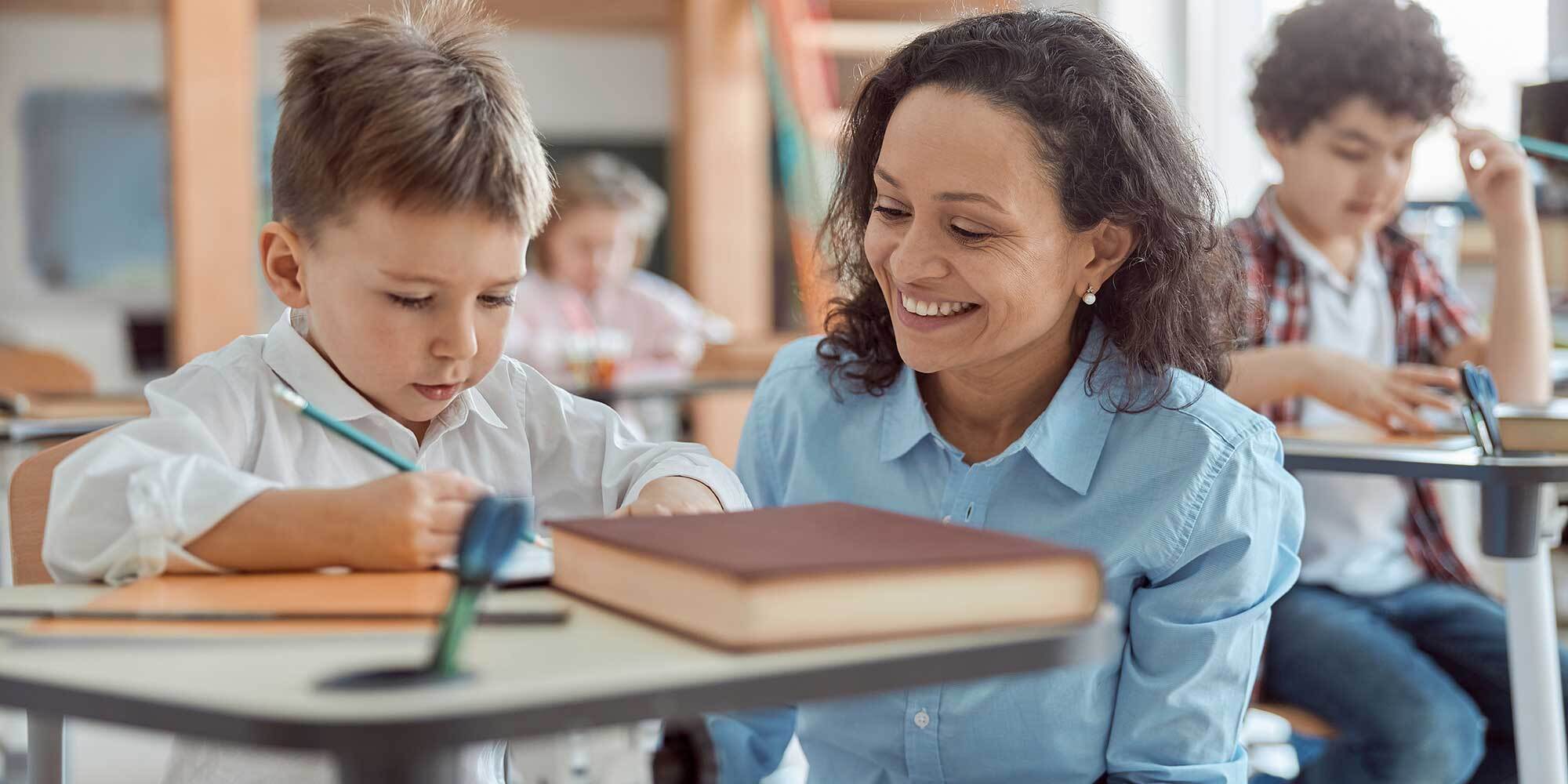 "In times of change, learners inherit the earth, while the learned find themselves beautifully equipped to deal with a world that no longer exists." ~Eric Hoffer
Ask any teacher and they'll tell you that no two students are alike. Each child, each student, learns in their own way and at their own pace. Those differences represent one of the biggest challenges of teaching – and they also represent one of its greatest joys.
At Alludo, we believe in giving teachers what they need to help each student reach their full potential. That's why we've included Universal Design for Learning missions in our learning catalog. Universal Design for Learning provides a framework for teachers to remove barriers to learning and help students reach their potential. Here's what you need to know about UDL plus seven UDL examples.
Table of Contents
What Are the Three Principles of Universal Design for Learning
What is Universal Design for Learning?
It may be useful to begin with an explanation of what Universal Design for Learning, or UDL, is not. It is not a one-size-fits-all teaching method that assumes all students learn in the same way. What it is is a system that gives all students an equal opportunity to succeed by providing teachers with the knowledge to meet students where they are.
When it is used properly, UDL accomplishes the following things:
It gives students an equal opportunity to succeed. It does so by providing accommodations when they are needed to any student who needs them. In this way, it normalizes different learning styles and makes classrooms more inclusive.
It provides flexibility in the way students access course material as well as in how they demonstrate understanding of what they learn. It accomplishes this by allowing for course materials in different formats and in how students are tested on what they learn.
It looks for different ways to motivate students. Since motivation is personal, it makes sense that UDL would accommodate a variety of motivations that empower and incentivize students to learn.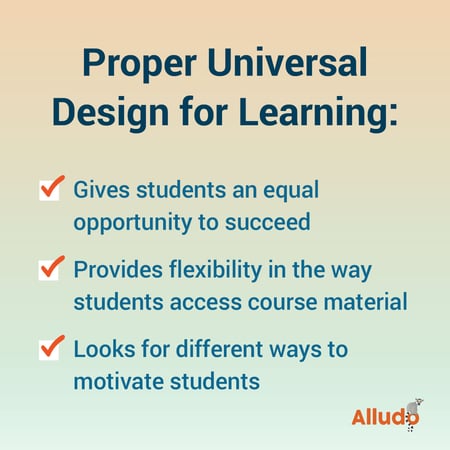 The ultimate goal of UDL is to remove barriers to learning by helping teachers meet students where they are and provide them with appropriate materials and motivation. UDL empowers students by allowing them to have a say in how they learn and by making assignments relevant to their lives. They can learn in a variety of formats (written, audio, and visual) and use a hands-on approach if that's what works for them.
Most importantly, it gives teachers the freedom to use an array of teaching methods to make sure that every student is learning and growing. UDL was mentioned in the Every Student Succeeds Act (ESSA) which encourages states and school districts to use federal funding to incorporate UDL in the classroom.
Benefits of UDL
The benefits of UDL accrue to both teachers and students and include the following:
UDL makes learning more accessible in general education classrooms by meeting students where they are.
It presents information in a variety of formats, adapting to each learner and providing them with the opportunity to grow.
It reduces stigma for special education students who may need accommodations by normalizing an individualized approach to teaching and learning.
A 2022 study published in Inclusive Practices found that students learning next-generation science performed well in a learning environment where UDL principles were implemented to promote inclusiveness.
What Are the Three Principles of Universal Design for Learning?
There are three main principles of Universal Design for Learning that teachers need to know if they want to use UDL in their classrooms. Here are the primary characteristics of Universal Design for Learning.
Engagement
Students can't learn unless they are engaged by what they're learning. The first step of UDL asks teachers to focus on engaging students using an array of methods that may include all of the following:
Giving students a choice in what they learn and how they learn it.
Creating assignments that are relevant to students' lives.
Using gamification to make skillbuilding fun and interactive.
Providing students with the opportunity to get up and move around.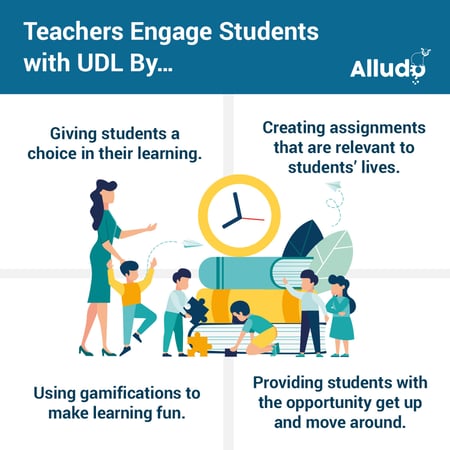 What is engaging to one student may not be engaging to another, so it's important for teachers who use UDL to assess each student and find ways to make lessons engaging and relevant.
Representation
Some students may be able to learn new concepts with standard material such as a textbook or a worksheet. Others may need accommodations to provide them with the same opportunity to learn.
Representation asks teachers to provide students with material in different formats as needed. Some examples may include the following:
A worksheet plus an audio version of the worksheet, which could be as simple as reiterating the lesson out loud.
A worksheet plus a video demonstrating the method for solving one of the problems on the worksheet.
A hands-on demonstration or learning opportunity to go with the worksheet.
Not every student will require such accommodation, but those who do will receive it under UDL.
Action and Expression
The final element of UDL is used to assess students' progress by giving them multiple ways to interact with material and demonstrate what they know. UDL might allow students to choose between these things:
Taking a pencil and paper test or quiz
Presenting an oral report
Creating a comic strip or video
Participating in a group project
Teachers can evaluate students' progress based on any of these things, providing students with a level of comfort while also doing what's necessary to make sure that students are progressing.
7 Examples of Universal Design for Learning
Now, let's look at seven examples of how UDL might work in the classroom:
Posted lesson goals. In a classroom where UDL is used, teachers should post lesson goals that apply to all students. The goals allow students to understand what's expected of them and provide the teacher with a reference to use as students work their way through assignments.
Assignment options. A traditional lesson might ask students to write a written report to illustrate their grasp of a concept. In a UDL classroom, students may be able to choose between a written report, a video, a podcast episode, or a comic strip. They can choose whichever option they like as long as it meets the lesson goals.




Flexible work spaces. Students work best when they have flexibility in where and how they learn. To create flexible work spaces, teachers may allow students to work individually, in small or large groups, or in small groups with teacher participation. Students who work individually may be allowed to use headphones or earbuds.
Regular feedback. To help students adhere to the posted goals and make sure they're learning, teachers should check in with them regularly – even daily – and review goals and progress.
Digital and audio text. Teachers should provide resources in a variety of formats to accommodate students' needs. For example, videos should come with closed captions and digital texts should be available in a variety of colors, backgrounds, and text sizes.
Software support. One of the best things about technology is that it can be used to promote student learning. Teachers can and should take advantage of software supports for learning, including apps, browser extensions, and websites. An example would be allowing students to use a voice-to-text app or extension. While technology is not required for implementation of UDL, it can be extremely useful.
Low-tech options. While software and technology use may remove barriers for some students, others may prefer low-tech options such as graphic organizers or whiteboards. These tools can be just as useful as technology when it comes to helping students learn.
These examples illustrate how teachers can incorporate UDL in their classrooms to engage students and provide them with the tools and flexibility they need to learn.
Alludo's Take
At Alludo, we believe that removing barriers to learning is one of the best ways to improve student learning and get to the best possible student outcomes. That's why we have included courses and missions about Universal Design for Learning in our professional development catalog.
In these missions, teachers are encouraged to understand UDL and incorporate it in their learning environment to foster inclusivity. Districts can encourage the use of UDL by partnering with Alludo.
The Alludo learning LEMUR model incorporates some of the same principles that make UDL so effective. Here are some examples:
We give teachers a voice and a choice in what they learn. While each state and school district has professional development requirements, teachers have the option to choose electives based on their interests to meet overall requirements. Choice and voice are also important in UDL.
We use a system of gamification and rewards to boost engagement – and our results speak for themselves. The school districts who partner with Alludo have all experienced significant increases in teacher engagement, with some reaching 100% engagement in record time. Engagement is an essential element of UDL.
Our learning catalog and platform can help teachers in any school district learn about UDL and how to incorporate it in their classrooms to boost student engagement and improve learning outcomes.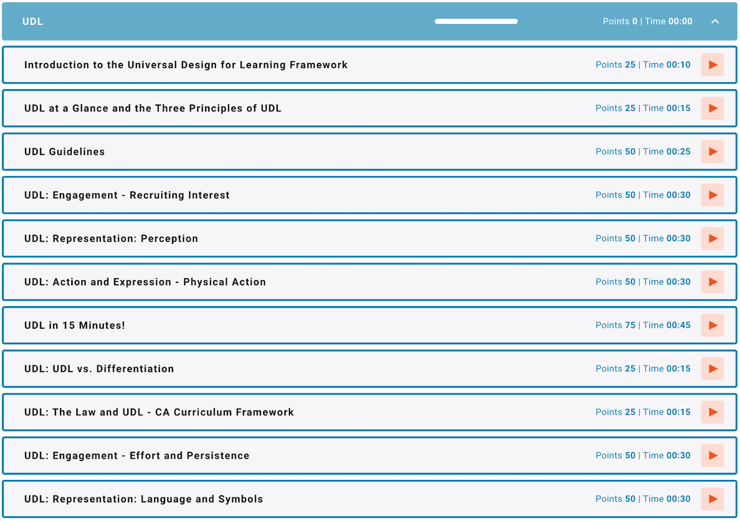 Equip Teachers in Your District to Develop Effective UDL Rubrics
Teachers who use UDL in their classrooms see improvements in student engagement and learning. UDL allows teachers to provide the flexibility that students need without stigma and in a format that suits students' individual needs and learning styles.
Experience personalized learning for all levels of educators with a free trial of Alludo's professional development platform. You'll enjoy:
Hundreds of core topics
Asynchronous microlearning activities
Timely and specific feedback
Analytics that show learning impact
Access anytime, anywhere