8 min read
6 Benefits of Virtual, Personalized Onboarding for New Teachers & Staff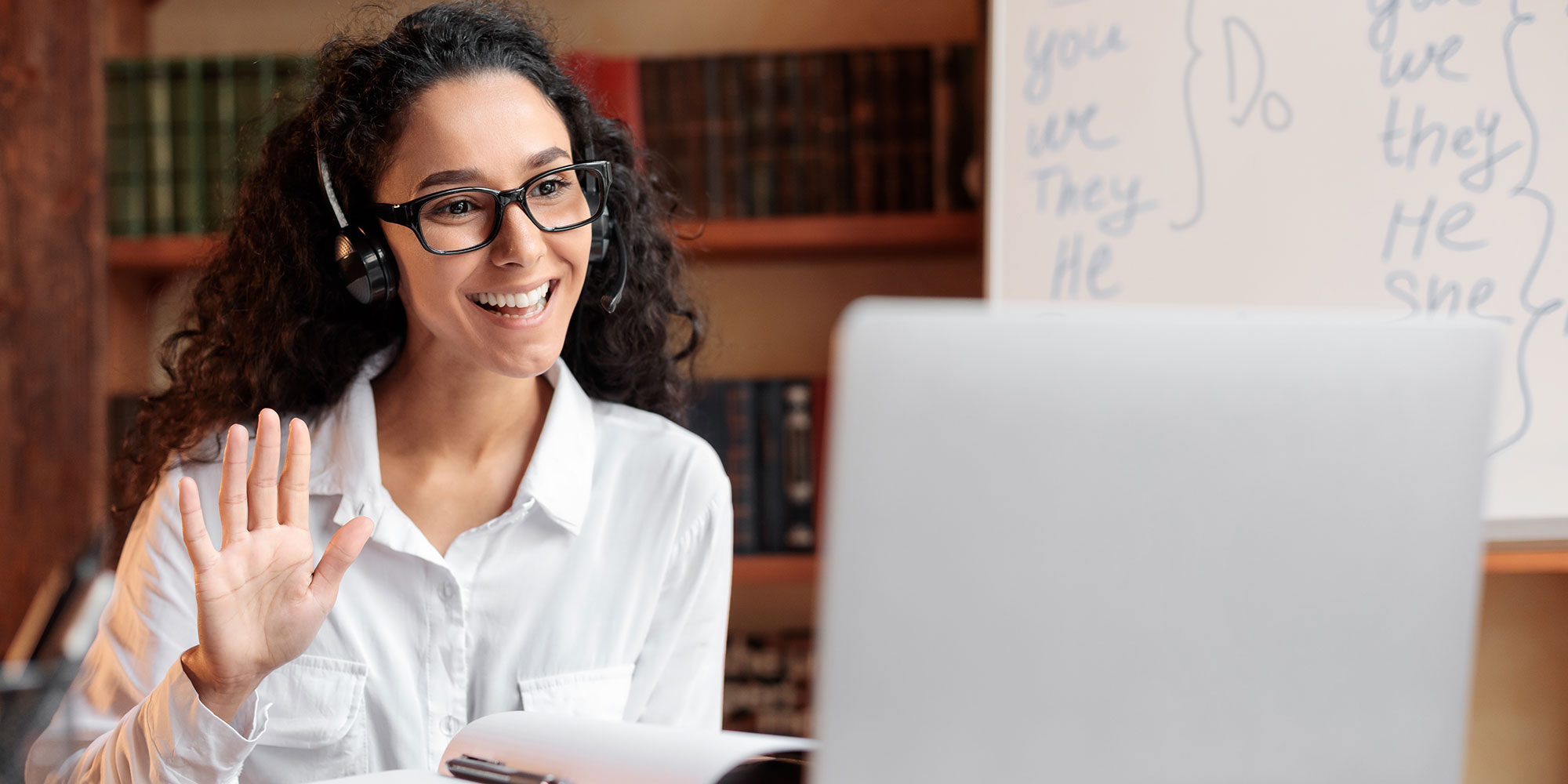 "All of the top achievers I know are life-long learners. Looking for new skills, insights, and ideas. If they're not learning, they're not growing and not moving toward excellence." ~ Denis Waitley
New teacher onboarding is one of the crucial elements to increasing teacher retention. Across the country, school districts are struggling to hire, retain, and train new teachers and staff with the knowledge that doing so can help teachers, parents, and students.
Alludo has partnered with school districts to create robust onboarding systems for new and substitute teachers because we understand that onboarding can turn into an onramp for teacher hiring. We've included dozens of relevant topics and learning tracks in our content catalog that school districts can use to provide personalized, virtual onboarding for new teachers. Here are six benefits of virtual onboarding to consider.
Table of Contents
What is Virtual Onboarding for New Teachers?
A teacher onboarding system is a way to get new teachers, including both substitutes and permanent teachers, up to speed on everything from school procedures to problem-solving techniques. It prepares teachers and other staff for their time with students by providing them with practical instruction and training. Virtual onboarding is a system that allows new teachers and staff to onboard remotely. It may be either synchronous or asynchronous. A virtual system is likely to be more accessible for new hires because they can participate from anywhere they choose and with asynchronous training, at a time of their choosing.
Virtual onboarding is the choice of many school systems because new teachers are typically digital natives and they expect the school districts that employ them to be tech savvy. They want to bring technology into their classrooms because they know that their students are eager to use technology, as well.
New teachers and staff can get a thorough and immersive orientation experience with virtual onboarding. When designed properly, a virtual onboarding system provides teachers with everything they need to enter their new classrooms with confidence and authority.
As we noted above, virtual onboarding helps to make a strong, technology-first impression on new hires. They will feel comfortable knowing that they're entering a district that understands the important role of technology in education and in students' success.
While the focus may be on preparing teachers for their jobs, virtual onboarding also presents an opportunity for school districts to share important information that will ultimately benefit everyone in the district. Examples include information about district and workplace culture, goals, and missions. New teachers and staff can learn where best to focus their attention, what challenges to expect, and where to find the resources and support they need to engage students.
What is Onboarding Software?
For virtual new team member onboarding to be effective, it must be managed properly. One thing that can help is implementing onboarding with the assistance of onboarding software. For example, the Alludo Learning platform has been used for new teacher onboarding in school districts, making it easy for new teachers to get up to speed.
A virtual onboarding program allows new teachers in your district to get started on everything from employment paperwork to training before their first official day on the job. School districts can distribute paperwork, including things like emergency contact forms and tax forms, for teachers to complete before they start their jobs. They can also use onboarding software to provide necessary training on things like emergency protocols.
When it's used properly, onboarding software can do all of the following things:
Help school districts facilitate a smooth transition for new teachers. There's always an adjustment period when starting a new job. Onboarding software can help new teachers and staff learn about your school district and prepare them for their first day on the job by providing them with practical resources and guidance.
Pave the way for teachers' success. With onboarding software that's designed for your district, new teachers and other staff members can navigate a pre-planned path that includes basic onboarding information as well as personalized tasks and lessons. They can get to know your district and prepare mentally for their time with students.

Increase teacher retention.

The use of a well-thought-out onboarding system can increase teacher retention by as much as 25%. Considering that school districts across the US are struggling to fill empty teaching positions due to the ongoing teacher shortage, a bump in teacher and employee retention is a huge advantage.
Improve teacher performance. An effective onboarding program that includes use of onboarding software can also improve employees' performance by up to 11%. Since teacher performance is directly tied to student outcomes, it stands to reason that every school district should do whatever it takes to help teachers do their best work.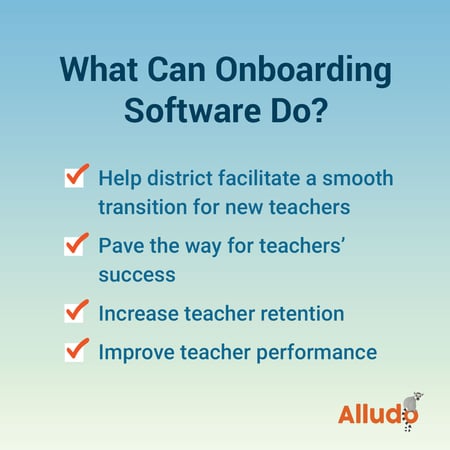 The right onboarding software, especially if it is linked to ongoing professional development for teachers, can help you to keep teachers in your district and improve student outcomes.
What Are the Benefits of Virtual, Personalized Onboarding?
Here are six benefits of virtual, personalized onboarding.
#1: Increased Efficiency
Virtual, personalized onboarding makes the process of bringing new hires up to speed on what they need to know (and do) before they start their jobs in your district easy and straightforward. Teachers can complete onboarding before they arrive in your district, meaning that they'll be fully prepared before their first day in the classroom.
#2: Increased Flexibility
On a related note, new teachers and staff may find it burdensome to attend in-person onboarding before they start work in your district. A virtual environment allows them the flexibility to complete their onboarding all at once or split it up into sections according to their preferences.
#3: Personalized Learning to Boost Employee Engagement and Productivity
New teachers hired in your district may be fresh out of school themselves or arriving from another district. Teachers who are new to the profession are likely to need different learning opportunities than teachers who already have years of experience. With virtual onboarding, you can create personalized onboarding tracks suited to their needs. The personalized approach can fill in skill gaps and provide teachers with the tools they need to engage with their students.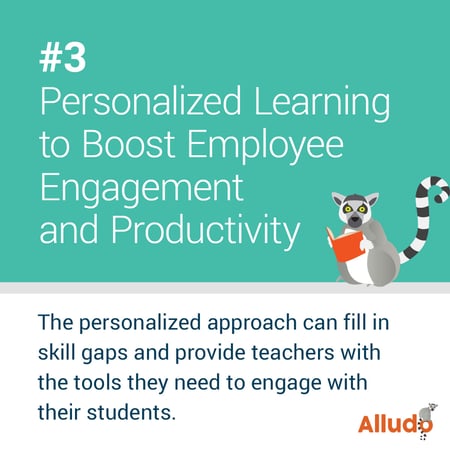 #4: Cost-Efficiency
Teacher onboarding that happens in person may be expensive as well as time-consuming. With a remote onboarding system, you can put all resources in place once and use them to onboard as many teachers as you wish. It can save your district money that you can use in other ways to arrive at positive student outcomes.
#5: Establish Your District as Technology First/Tech Savvy
Technology has become increasingly important to students and teachers. School districts that have lagged in embracing technology are simply not as attractive to new teachers as districts that have embraced it. An effective virtual onboarding experience sends the message to new teachers and staff members that your district understands the power of technology and wants to use it to improve education for everybody involved.
#6: Provides a Central Repository/Source of Truth for Employees
One of the biggest benefits of a virtual onboarding process is that it can serve as a central repository for necessary information for teachers, both during the onboarding process and for future reference. Instead of relying on teachers to keep track of printed training materials, you can give them access to everything they need online.
What Are the Steps to Implement a Virtual Onboarding Process?
The steps to implement virtual onboarding are fairly simple and straightforward, as follows:
Gather required information for orientation. Documentation may include things like your onboarding checklist, employee handbook, employment and tax forms, and resources that teachers need, including safety protocols.
Provide teachers and staff with what they need to be successful. Your onboarding process should include more than documentation. Ideally, it should provide newly hired employees with an opportunity to develop new skills or brush up on existing ones. With personalization, you can be sure that every new teacher receives onboarding and training that will help them enter the classroom with confidence.
Conduct online training with a virtual platform like Alludo. The Alludo content catalog contains thousands of learning activities that may be useful in both the remote onboarding process and in ongoing professional development.
Encourage teachers and staff to drive their own onboarding process. Let new hires know that they have agency during the onboarding process. They may want to self-identify areas for improvement, choose a timeframe for onboarding, or take advantage of any opportunities to ask questions or fill gaps in their skills.
Schedule follow-up video conferences with new hires. Even if you've taken the time to design and implement a robust onboarding system, it's possible that new teachers and staff members may have questions. For that reason, it's essential to give them an opportunity to follow up with you and get any additional information they may need before they step into the classroom.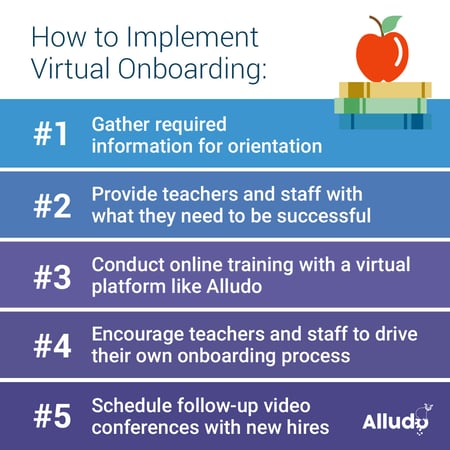 Following these steps will help you onboard new employees effectively and efficiently, providing them with the groundwork they need to embrace their jobs and the incentive they need to stay in the classroom.
Alludo's Take
At Alludo, we've curated a massive professional development content catalog for school districts to use when they partner with us. While our initial goal was to create a learning environment for professional development, our model may also be used for new teacher and staff onboarding. It allows for standardized onboarding with the option for personalization, and teachers may participate on their own time thanks to our asynchronous format.
We encourage you to remember that teacher onboarding can help to streamline the hiring process, and that includes helping approved substitute teachers get the training and guidance they need to fill permanent positions in your district. The Yucaipa Calimesa JUSD started using the Alludo platform for substitute teacher onboarding and ended up using it as an onramp for hiring new teachers.
Create Virtual Personalized Teacher Onboarding in Your District with Alludo Learning
Virtual, personalized onboarding is the best way we know to provide new teachers and staff in a school district with the training and guidance they need to deliver the best possible student outcomes. The six benefits we've listed here explain how and why we recommend virtual onboarding.
Do you need assistance creating a virtual onboarding system for your school district? Alludo Learning is here to help! Click here to get your free trial of our learning platform, Madagascar, with activities to supplement onboarding included.