8 min read
How an Effective Onboarding Process Supports New Teacher Retention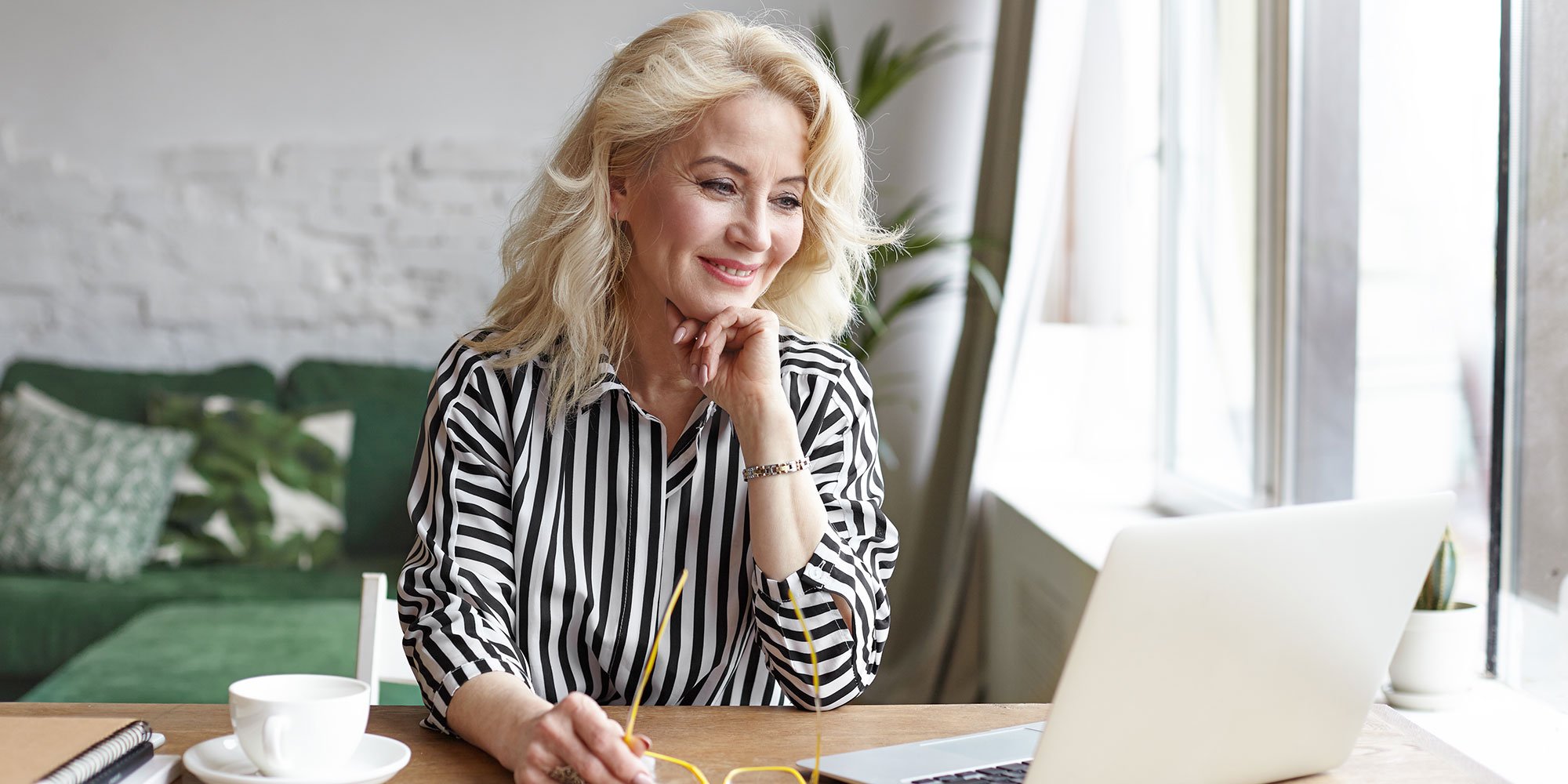 "Education is not to reform students or amuse them or to make them expert technicians. It is to unsettle their minds, widen their horizons, inflame their intellects, teach them to think straight, if possible." ~ Robert M. Hutchins
The ongoing teacher shortage in the United States has made teacher retention a priority for every school district. While there are ways to increase retention among teachers who have been with a school district for years, one of the best ways to improve retention is to implement a system of new teacher onboarding and professional development.
At Alludo, we understand the importance of teacher onboarding as a tool to help new teachers feel welcomed and supported. The substitute teacher onboarding system we created for the Yucaipa Calimesa JUSD eventually turned into an onramp for new teacher hiring. We've included many topics that may be useful in onboarding in our professional development catalog. Here's what you need to know about how an effective onboarding process can support new teacher retention.
Table of Contents
What Does an Effective Teacher Onboarding Process Look Like?
Effective teacher onboarding should provide new teachers with the support and training they need to get their feet on them and become part of the school community. It should be broken down into the basics needed to get new teachers up to speed plus some advanced training to help teachers reach their full potential.
Basic Onboarding
Your basic onboarding checklist should include the information necessary to welcome new teachers and make them feel at home:
Reviewing the new teacher handbook. A teacher and employee handbook should include information about school rules and emergency procedures. It should also include (or come with) a school map and a schedule.
Providing access to technology/resources. New teachers won't know where to find school computers and other devices, or where to find resources such as the school library, media room, and so on. The onboarding process should provide them with information about where to find what they need.
Access to the classroom. Every new teacher needs to know where to find the classroom(s) where they'll be teaching and be provided with a key and anything else they need to access it.
Mentoring. Having a mentor can help new teachers adjust to their jobs quickly by providing them with a resource they can turn to when they have questions or need assistance.
Next Level Onboarding
Once a new teacher's basic needs have been met, onboarding should continue with additional training and support:
Professional development planning. Professional development planning involves identifying a teacher's goals and areas for improvement and setting out a course of professional development to help them meet their goals.
Staff/team collaboration & meetings. Attending staff and team collaboration sessions and meetings builds rapport with other teachers and provides new teachers with a sense of camaraderie.
Post-onboarding feedback. Asking new teachers for feedback about onboarding can help to refine your onboarding process.
Upfront support based on needs. Finally, your strategic onboarding system should provide new teachers with any upfront support they require for their new role.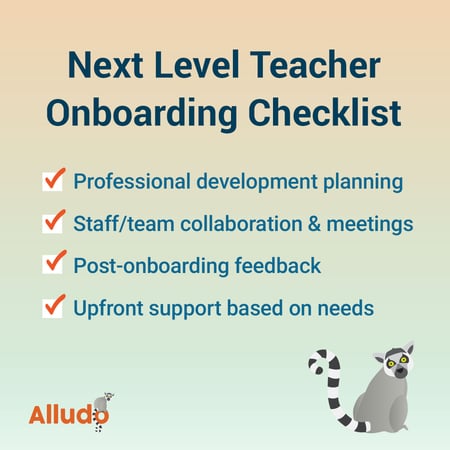 The Four Cs of New Teacher Onboarding
Another metric you can use in your new teacher onboarding is to incorporate the four Cs of new employee onboarding, something that's commonly used by human resources professionals:
Compliance. New teachers must be provided with necessary paperwork related to their employment, including tax forms and health insurance forms. The compliance category also incorporates the teacher handbook, background checks, and any other necessary documents.
Clarification. After the basic paperwork has been completed, new teachers must be brought up to speed on district and school policies, including attendance procedures, dress codes, visitor policies, and training on school and district technology including computers, software, office machines, and more.
Culture. Every school has a unique culture and new teachers will feel most welcome if they are provided with information about the school's values and traditions, as well as school initiatives and opportunities for collaboration.
Connection. Finally, new teachers should be made aware of opportunities to foster relationships within the school community, including mentoring relationships, friendships, and transactional relationships with IT and other support services.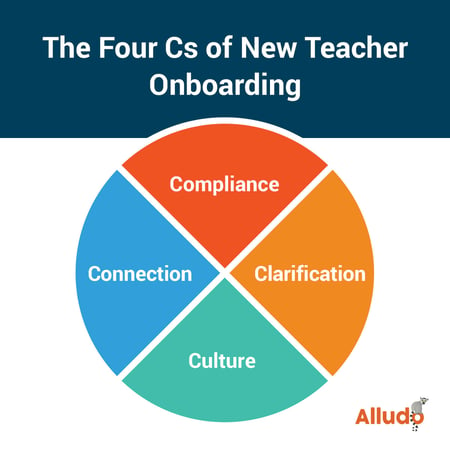 The more comprehensive your new hire is onboarding, the easier it will be for new teachers to acclimate–and the less likely they'll be to leave their jobs.
What is the Most Important Part of Onboarding?
One of the questions we hear about onboarding has to do with prioritizing the various elements to make sure that new teachers have the support and resources they need to become valuable members of the school community.
The truth is that there is no one single part of an onboarding program that's more important than the rest. All of the elements we have mentioned are important. School districts can use the four Cs to provide new hires with everything they need to acclimate to their jobs.
While everything is important, one of the best ways to optimize your new teacher onboarding is to make sure that it does the following things:
Builds self-efficacy. While it's normal for new teachers to need some time to learn about their new school and students, onboarding should help them build confidence quickly by providing them with a full array of resources and support.
Clarifies new staff skills and abilities. The onboarding process is the right time to learn about new teachers and determine which skills they have–and which will need development.
Provides opportunities for community engagement. Building a sense of community, whether that means meeting with other teachers and staff or attending school and community events, can make new teachers feel welcomed and valued.
Reinforces the district's core values and mission. One of the best ways to welcome new teachers to your district is to share your core values and mission with them and find ways to illustrate their importance.
Everything about your strategic onboarding process should be designed to welcome new teachers to your district, provide them with necessary information and resources, and support them as they become part of your community.
How Does Effective Onboarding Support Teacher Retention?
It's difficult to overstate the importance of onboarding for teacher retention because teachers leave their jobs when they don't feel supported. Successful onboarding provides teachers with a good foundation that includes everything from basic resources to ongoing professional development to help them grow and improve.
Teachaway's 2022 International Education Recruitment Report found that 41% of teaching candidates would quit their jobs if they didn't feel they were onboarded or trained properly. In other words, successful onboarding lays the groundwork for a long and fulfilling career for teachers and the lack of it may leave teachers feeling adrift and ready to look for something better.
Here are some of the ways that an effective onboarding process supports teacher retention and district employee engagement.
It Creates a Positive Environment
A proper onboarding creates a welcoming and positive environment for incoming teachers. The key elements here are resources and ongoing support. Providing teachers with basic resources and information minimizes confusion and makes them feel valued.
On a related note, it's essential to check in with teachers to ask if they need anything that you haven't provided. Each teacher is unique and some may need additional support in their new roles.
It Maintains Open Lines of Communication
When you welcome new teachers to your district, you're welcoming new members to your community. It's essential to establish healthy relationships with them from the beginning.
In addition to speaking words of welcome, you should also provide incoming teachers with information about your school district's values, mission, and culture. You can keep communication open by encouraging new employees to reach out with questions or ideas, keeping it professional, and personalizing messages wherever possible.
It Creates a Smooth Transition for New Teachers
Starting a new job always comes with a bit of stress because it involves many changes at the same time. You can help teachers transition into their jobs by doing the following:
Creating a mentoring or onboarding buddy program to provide ongoing support.
Host an in-school meet and greet with existing employees to give new teachers a chance to get to know their colleagues.
Provide orientation before the first day of work to help teachers get their feet under them.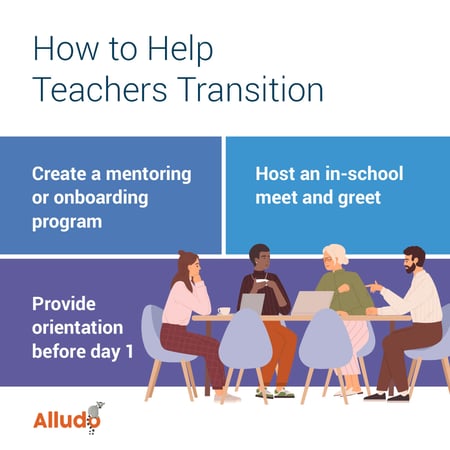 A successful onboarding process makes it easy for new teachers to understand what's expected of them and start their first days in the classroom with as much confidence as possible.
It Speaks to the Long-Term Perks of the Position
It's natural for new teachers to wonder what their long-term prospects are and what it will be like to stay in your district for years. One way you can foster optimism is using your onboarding system to let new teachers know about professional development and growth opportunities.
When you have the right onboarding plan, teachers will feel excited about staying in their new jobs and becoming better teachers with your help. That translates to less turnover and higher job satisfaction and employee retention.
Alludo's Take
Teacher onboarding is a priority at Alludo because we know how much it means to school districts and how big a difference it can make in teacher retention. Our platform and content catalog make it easy to onboard new teachers and provide them with relevant professional development topics to further their progress.
Districts like Yucaipa Calimesa JUSD have used Alludo's platform for onboarding new substitute teachers and over time, it developed into an onramp for new teacher hiring, as well. We can provide personalized and standardized onboarding in an asynchronous format that makes it convenient for new teachers to get the information and support they need.
Support New Teachers in Your District with an Effective Onboarding Experience
Putting a structured onboarding system in place for new teachers is one of the most effective ways to minimize teacher turnover and improve your retention rates. Not only does improving teacher retention save money, it also provides students with the consistency they need in order to learn.
Are you ready to create an onboarding system for new teachers in your district? Alludo has the platform and guidance you need. Click here to get your free trial of Madagascar, our professional learning platform.