36 min read
Invest in Your Staff - The Future of Teaching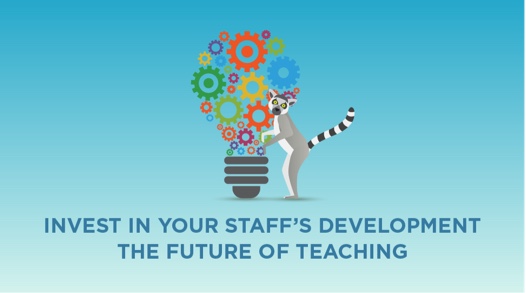 Enjoy Invest in Your Staff - The Future of Teaching now and learn more about strategies for:
Asynchronous vs. Synchronous teaching

Multi-Tiered Systems of Support

Prioritizing your investment for your staff
Panelists
Jessica Warren, Elementary Education Coordinator, Val Verde Unified School District
Rae Dunn, Coordinator of Secondary Education, Val Verde Unified School District
Dave Doubravsky, Assistant Superintendent of Education Services, Jurupa Unified School District
Transcript
Julia

Welcome everybody to our first live Alludo webinar series. We're excited to kick off the series. It's not only bringing together the educators, the panelists that are talking with us, but also the participants in the audience. And so we're excited to have this opportunity to collaborate. A lot of us are working remotely, virtually not having that opportunity to gather together. So, I'm excited that we're able to bring everybody together in this type of forum. So I'd like to start off first with introducing our panelists.

I'm going to start with Rae. Rae Dunn is the coordinator of secondary Education in Valverde Unified School District. She's in her 24th year of education. I think she's lying because she's not that old. in her 15 years as a classroom educator, she's taught every grade level of high school el a every type of student served as a new teacher coach, department chair, literacy coach and instructional coach. And in 2011, she moved into the role she's in now, which is secondary coordinator and she works with all secondary teachers in order to impact students and her passion is student success. She's always pushing the boundaries for access to equity and academic excellence. So, thank you Rae for joining us.

Also with Valverde is Jessica Warren and Jessica is currently the coordinator of elementary education. She's been in education for 15 years and worked with Valverde the entire time. She served as both elementary teacher teaching 2nd and 3rd grade and then also as an instructional coach at the elementary and middle school level. In 2019, she moved into the coordinator role that she's in today and facilitated and participated in multiple leadership teams for the district within the areas of equity literacy and MTSS. She's passionate about ensuring all teachers have the capacity to support high levels of learning for all. So thank you, Jessica.

Last but not least we have Dave Doubravsky is the assistant superintendent of Educational Services at Jurupa Unified School District. Davis served for 28 years at, at Jurupa. Is that right, Dave? Amazing. So starting out as an elementary school teacher and then Dave moved into a leadership role. So first as a middle school, assistant principal, then elementary principal and then becoming the Director of Administrative Services. And Dave has served in his current role as the assistant superintendent for the past 10 years. Welcome, Dave, great to have you all. So, first off, wow, I'm so impressed. I mean, collectively, you guys have over 60 years of experience that is amazing. I'm looking forward not only to our discussion but to hear the feedback of the and the participate, participation with the audience with us. Quickly,

I want to introduce Damon. Damon and I are with Alludo is the learning platform and Damon is a co-founder and also heads up our product development. So Dave Damon's going to have a role in helping answer questions and moderate questions that are coming in through the chat. So as we are talking today with this group, feel free to ask any questions that you have comments and what have you. And I'm Julia, I'm my role is I get to work with all the amazing customers. I'm over what we call customer success and I love it because my day to day job is just interacting with folks like Rae and Dave and Jessica all over the country.

Thanks again for joining us. This is the first webinar in a series that we have. It's innovation in education. And tonight, tonight, this afternoon, we're talking about investment in your staff and the future of teaching. And so given that I, I think we can all agree, the future of teaching is both very exciting and also right now, very unpredictable. given circumstances in our current climate and everything that we're doing are dealing with right now.

Dave, I'm going to start questions off with you. As a, as a district leader, what would you say are the top maybe teacher educator challenges that you're seeing as we're kicking off this new school year.

Dave

Well, I think, I mean, on the, on the macro level, there's the, the huge challenge that, that we as educators are literally reworking the educational system. Yeah. And it happened so quickly that, you know, beginning in March, we, we did things that, that we had never done before and are continuing to do things we've never done before. And it's, and it's the entire system that's been affected. So the challenge for, for our teachers is, is immense. I mean, everything that they do has has changed in some way. So I think that's, that's been the big, the big giant challenge and then the on a on a more granular level, just the challenge of as we try to support teachers, as teachers support their students. There are, there are all these new programs that they have access to and they have to rethink the way that they do business in the way that they present lessons, the way that they do formative assessment, the way they gather information from their students, the way they get students to interact with material and receive feedback from them, the way they give students feedback. And so all of that has changed and is changing. And so the challenge is how do you support that and provide teachers with professional development and, and access to information while at the same time respecting their time because every teacher I've spoken to since March has said everything I do takes so much longer than it ever took before. And that's, I think for all of us, we experience that same thing, like little things that we, we did as a matter of fact, routinely now take lots of thought and planning and time. And so, you know, we, we wanna give them access to information, but at the same time, we want to respect the fact that they are so busy just trying to do the day, day to day business of, of delivering the best education for their students.

Julia

Yeah, absolutely. I think there's probably a fine line with how much you provide support for them and how much you almost try to protect them in a way, right from everything out there, all the different elements that are hitting them from probably all different sides, I would think.

So to that point, Rae and Jessica in, in your role, you spend a great deal of time with the teachers on the ground. So what challenges are you facing, particularly in your role in supporting them? And, and maybe what are you seeing in the typical day in the life of a classroom now? For a teacher?

Jessica

Well, I think very similar to what Dave is saying. We, we've kind of experienced the same thing, especially with our teachers. We heard a lot of feedback back in March when we first shut down that people were kind of over sharing and there was a lot of things coming at teachers and they were loving it, but it was almost like too much information. So in trying to figure out that balance between wanting to still provide you with information, but then making sure that we're kind of just like teachers are being expected to do really prioritizing and only giving the things that we have deemed essential. And that also kind of looking at our vision as a district and then moving into this online world and thinking about our district initiatives and our goals that we have, which one of these tools are going to help set teachers up for success. So just really, we had a lot of conversations around that trying not to over zoom, right? Since teachers were going to be on virtual kind of platforms all day long, as well as their students and administrators, everybody in our district was going to be doing this. So how could we redesign and rethink our systems for professional development? So we that we just spent a lot of time thinking about that too, like with when we were in the physical environment, what was really good about the professional development in terms of engagement, the information we were getting what people liked and could we still offer it in the same way in a virtual environment. And if we can't, how can we redesign or rethink how it's done? So just like teachers are doing, thinking about asynchronous professional development versus synchronous professional development. If we're going to meet with you, it's for a purpose, right? We need that connection. We're not going to just kind of sit and get and kind of have this lecture style format, we're going to engage with you, we're going to interact, we want you to be up and doing things and kind of modeling that synchronous stuff that we're expecting teachers to do. So just really trying to balance and kind of filter all the information that's going out there, especially with all the departments, right? As a district, it's not just us and end services. We have all of everybody else whose needs are just as important. So we've done a lot of work too, a multi tiered system of supports and trying to design that one system. So kind of using this too, from that perspective, like what's going to be our one system to really filter and get information out to teachers so that all of us aren't bombarding teachers with the same information

Rae

To piggyback on that the challenges that everyone's facing. A lot of our teachers are also parents. So they're, they're getting hit from all sides because you know, in California right now, we're all remote. So we're as teachers, we're, we're teaching remotely and then we're trying to help our kids get on the computer. And, and we don't know what's happening with families. So we're really trying to lead with, with love and empathy and flexibility and we really didn't want to recreate what used to be. I mean, you can't do that in this situation. You just can't, whether you're remote or hybrid, it's just not going to work and, and to expect and, and hopefully no districts are doing this but to expect someone to be on zoom for, you know, a, a normal school day, especially with littles, I mean, that, that's just craziness for anyone involved. And so, you know, we had a lot of conversations about what, what is essential learning, what is going to make the most impact and, and how can we prioritize our time? our energy and and how do we communicate that? And communication has been one of the biggest, I think challenges for everyone because you know, you can't see someone face to face, you can't you can't have those quick conversations. So do you email them and then people get too many emails? So the emails get lost. Do you, do you phone call them and then they get voice mails and they get too many voicemails. And so we've been trying to overcount just because in some sense, if they get some message some way, whatever way works for them. Then at least they got the message. But then you worry, you know, you know, they're like, ah, another message from Verdi. but you want them to get the message one way or another. so, uh, and I think Jessica hit it on the, on the head too. It's all about balance too because when you're working from home and you're the teacher and you're the parent. and, and sometimes you're the student too because now I'm relearning fifth grade math because I have to teach it to my kid. you know, where do you, where do you shut off? When do you shut off? because there's no bells, there's no, there's no start and finish. You know, your, your day can just stretch. so, you know, those are just some of the, the challenges and then who knows if family members are sick or, or, or they've lost jobs or if they've, you know, what else is going on in, in the, in the family home. So, you know, it, it is a lot.

Julia

Yeah, I mean, you bring up a really good point which is you on top of your jobs, day in and day out, on top of the teachers jobs, day in and day out. They also have the external factors, which is their families, their students, their illnesses, you know, everything that you have to take into consideration. It's so significant. I'm very glad. Or I, I wish that I had 1\/5 grade math that I had to remember. I have a high schooler, so I'm in a lot more trouble than you are. So just in, in general, so when, when the pandemic happened, obviously, there were, there were so many different things going on. One of the things that I think was great from an education standpoint is that there were, there was funding that was coming in to support educators. And so, but, but as a district especially looking to you, Dave and your role and then, and Rae and Jessica, as you influence the, the leadership in your district, you had to make decisions on where investments could be made, given that you had these funding sources coming in. So maybe just discuss in general, like how did you prioritize, how did you make decisions on where smart investments could be made and, and be worthwhile given all of these challenges that you're talking about?

Dave

Well, some, some of that was dependent on the sources and the timing of the funds. For example, you know, there was a little bit of time where it was looking like the budget was going to be terrible and we didn't have any money at all and we were trying to figure out there, we have to do all these things, we have to buy all these things, we have to get all this stuff and we have to, you know, to make this transition and there's no money at all. And, and then, and then fortunately, we were, we were able to, you know, receive some federal money that cares money. And, you know, that came with a, with a December 30th, end time where it's gotta all be spent. And so then that sort of entered into the picture. So there's, you know, what do we need, what do we need for physical safety? Because our students are going to be on campus at some point. They're not now. But, you know, back in June, July, there was the possibility that they were going to be and we didn't know. So that, that was like the first priority. We, we had a a committee that we developed with, with lots of representation to kind of talk about priorities and, and the, the first priority and under direction from the board was to really think about physical safety part and the health of our students and our staff. And then beyond that, there was an achievement and, and learning loss from March April May, you know, that was, that wasn't really distance learning, that was just survival mode for a couple of months where our students didn't, you know, didn't make the progress that we wanted to and the progress that they made was really dependent on who they were and, and their, you know, level of access and time and you know, even my own family, like, like you Julie, I have a two high schoolers and one was super involved and super work worked really hard and one not so much so, you know, that was that and then that's the experience for all of our students. So we really looked at what is it going to take to be able to assess our students? Because we didn't do the assessment that we typically would have done, you know, towards the end of the year. And we, we didn't know a lot of information that we never got for our students to know how they were progressing. So we had to really look at formative assessment. We had to look at digital tools, classroom tools that teachers could use and what did they need to be able to be successful? And a lot of that came from the teachers themselves and they started talking about, you know, that things would well up that were really successful like, like Cami and other programs that, that allowed teachers to interact with students digitally in ways that they hadn't been able to do before. So we really took, you know, starting with the physical safety and then moving to the classroom tools and the, and the, and the, and the educational things that we needed for instruction, which then even created a greater need for professional development because there's all these new programs that we, you know, even programs like ice station that we only used for a particular group of students before we now use for a lot more students. And, but a lot of our teachers didn't know anything about that program. So we have this need not only to talk about pedagogy and to provide, you know, professional development for just the, how do we instruct and gather information in this digital world now? But how do we use all these tools that suddenly we have that we didn't have before? So that that was the sort of the third tier of where we targeted, the bulk of our money was it was it was physical safety, then it was classroom and learning tools and instructional tools and then it was professional development to help our teachers to master those things and get the information they needed.

Jessica

So, and do you want us to speak about us? So from our perspective, we were trying to figure out over the summer kind of that waiting game of what are we actually going to do. But we knew no matter what, whether they were going from a hybrid or full distance learning teachers would still need to have the capacity to really take on it because in, in in any situation, there was going to be some version of online learning. So our district decided to kind of invest in our teachers and start to, we created a distance learning development team. So we partnered or brought in teachers that had already kind of been on the forefront of trying these things or kind of we called them influencers. So they were already kind of out there. They had worked up with us on previous teams. So they already had a little bit of a skill set and capacity and some experience with this. And we put them together and we Rae and I did an initial training with them really focusing on mindset. So our goal with our teachers was a lot of them are good teachers and they know what good teaching is. But one of the barriers that we needed to overcome before we can move forward with the mindset of, I can't just do what I've always done. One of Joe Marquez and the in group always calls it or was it Rae to the doing basically standing for? This is the way that we've always done it so overcoming that or kind of fighting that, right? So really thinking about OK, am I doing this because this is where I've always done or am I doing this? Because this is what I need to do in this new environment. So we basically had this team create models or samples. So at the beginning of the year, we wanted to also focus on our teachers creating this climate and culture. That's one thing we didn't do in spring was we a lot of the teachers already built relationships with their students. So this time in this virtual environment, we wanted to make sure that they first started off creating a culture in a community with their class and also helping to teach them what were expectations of going back to our PB is and really rethinking and redesigning. What were those expectations? So a lot of our teachers in this group focused on those first three weeks and building that culture. Once we had them off and going, we actually had them design a webinar for their departments or their grade levels that they were supporting. And so we had basically decided to pay each one of our teachers who was, who was interested 64 hours of extra duty before the school year even started because we wanted them to feel success and to feel like they were ready once they reported back to kind of take on and distance learning. So we we called it our learn, earn or learn, create, earn. And so basically, everyone had to participate in this webinar to kind of get this mindset of what does distance learning look like in Valverde? Once they did this, then they were to work with their PLC team to start designing and creating and kind of playing with all these different tools. And then from there, they would have two check ins of support with those teams of teachers to kind of collaborate, get feedback, share experiences. And then once teachers reported back on the sixth, they had to actually share with the rest of their staff what they created. And so what we actually found was a lot of teachers loved it because they were like, oh everybody else is in the same boat as me. Like I'm struggling with this, you're struggling with this. A lot of people are thankful because they teachers put in time all the time outside of their contract. And so they felt very like appreciative of the time kind of to get ready for this and to start off already having those plans in place. And they also appreciated just the support and the check ins with the teacher leaders that we had set up because they were able to provide some guidance. But what this actually helped us with is once we kind of set up that platform or that vision, then with track those, we have lots of teachers with different levels of capacity when it comes to technology, right? Some people are like, I'm ready to go on and to be up, I just need to show me the direction you need to go and then other teachers were still struggling with how to create a Google doc. So because of that, right, we needed some tiered supports for our teachers. And so what we love about what we've been able to do with Trek. It's here, here's, here's some models of things that you can do and here's a place in which you can go and you can get personalized, personalized learning on demand when you need it. When we say Trek, Trek is our Alludo in our district that we kind of branded and created. So I'll let Rae talk a little bit more about kind of how that support. So that's really helped us kind of get those needs in and not having to go backwards and try to fill in all those gaps.

Rae

Well, and the best thing about it was by allowing teachers that paid prep time before the school year, I mean, that was the best investment ever, because that valued their time, they needed it. And then when we started school and we did do some PD, we did, we did some PD with Q, we did some PD where we, we rolled out our Trek model and, and introduced it. They were actually in a space to accept it and we felt like if we hadn't have given them that time to prep and plan and think through like, what is distance learning going to look like? They would have, what normally happens is, you know, we have four days at the beginning of the school year and the first day is they get to work in their classroom. The second day is a big PD day and the second day, they're like, I just want to go back to my classroom because they're worried about the beginning of the school year and we know that, but we have such limited time. This time, we felt like everybody was ready, was ready to, to absorb and learn and, and be ready for the PD. So I think that was a very strategic investment in our teachers and now they've asked for it and we're going to continue to and, and it may not be extra duty pay now, but that model is going to continue. We're going to create and share and what we're going to create, go back and try a lesson, come back and share it and talk about what worked, what didn't work. And then the great thing is that is the pedagogy that Dave mentioned, right? That's the, the, the beautiful instruction that's happening. But then if they need any tech training or PD training Trek is that mechanism where hopefully they can get it at their level, at their time at their place on demand.

Julia

Fantastic. I, I love how you incorporated all that learning across your teachers by having them do that hands on and then sharing with each other. It's amazing. And as you're talking about just preparing for for all of that in advance of coming back to the school year. So I wanna segue just for a minute to talk about the success of the programs that you rolled out from, from an Alludo perspective. So we work with well over 100 150 districts across across the country that have launched programs on our platform like yours, I think what is unique is that you launched yours obviously in the midst of, of what we're we're dealing with today with the pandemic. And you did it from a timing perspective of right as these teachers are coming back to school. There was obviously a lot of thought and preparation and when they were coming back of when to introduce it at the right time. And because of that, I feel like it, that was obviously one of the key things to your success. So I wanna share just a little bit of the statistics about the launch and then I wanna hand it over to Damon because I know we've got a lot of different questions coming in and I want people to be able to have time to have their questions answered. So I'm going to share my screen here for just a minute and talk about the programs. First off is Trek now. So people that know the Alludo platform may know that one of the things that we allow our districts to do is to brand and theme their own programs. And so I had a blast working with Rae and Jessica and the rest of their team in developing their brand and theme, which is again, Trek. So when people are referring to the program for training professional learning in Valverde, they're referring to Trek, which is their own program. Not yet another tool that the teachers have to learn how to use. And Trek stands for teaching, reaching, engaging kids. So the launch happened in the late July time frame, we spent a couple of months over the summer discussing content and theme and what have you. The thing that was unique about Valverde's track is it was a district wide collaboration across 16 discrete pathways. So when you talk about the content and the breadth of what they were providing and supporting their teachers with, with this training program, it was, it was very enormous in my perspective, like and so broad and so deep and, and what have you to support your teachers. So everything from avid science and steam productivity tools, classroom and instructional tools, literacy eld, so on and so forth. And of course, with that distance learning focus. So keeping in mind they're launching this at the end of July as teachers are, are probably just starting to decompress from what they were going through. March, April May, June. And from, from that time period through I think yesterday, when we pulled the numbers, Here's just some statistics on the activity that they've seen within their Trek PD program. So they've engaged over 1000 teachers and educators in their district with this online PD and of that, over 12,500 activities have been completed. And I put the plus sign because like every hour there's more activities that are being submitted by their their teachers. And when I say activities for those of you that aren't familiar with our platform, an activity is a discrete activity that a learner does in their bite size. So they with collaborating with Alludo, their team worked through, you know, what are the things that our teachers need to know how to do? And there were activities around pedagogy and learning things around UDL. There were activities again around instructional tools. Cami was a new tool that's up and coming. Google Jam Board didn't even exist, you know, a few months ago. So every week they're adding more activities to support the training needs of their teachers. And that equated to over 2680 hours of PD since July. Now, this is on top of everything else that they've shared with you that they have been doing with their teachers. So I guess when, when you look at this Rae and Jessica, how do you, how do you measure success both within a program like this as well as the other things that you are doing for your teachers, for PD and that investment that you're making?

Rae

Well, what strikes me about this is we were very cautious about how we presented this and we know teachers have a lot on their plate and none of this is mandatory that this is none of this. This is all on teachers own time as they feel like they need it. And we have done our first challenge for some prizes. So we're trying to motivate, not mandate and have some fun with it. But seeing these numbers, I mean, that just makes me giggle because it, it shows me that when you, sometimes when you don't mandate things, the results are, are even better than when you do. If, if I told them they had to do six activities they would have done, ok, I'll do the six activities but, but now they're getting the learning they need. hopefully and and you know, and we had so much fun with the Trek, the Trek modeling. I mean, we did it after a little playoff of Star Trek that it's upside down to represent our V I mean, we just, and we're having so much fun. I'm sending out memes. I don't know if the teachers actually like it, but I do, you know, I'm sending out Star Trek memes all the time, learn long and prosper. and, and you know, it, it's just trying to have fun while trying to learn, while trying to motivate and, and I mean, it, I'm, I'm astonished by these numbers. I need this slide. I have to show it to everybody else. Because none of this is mandatory.

Julia

That's good to hear, good to hear. And Jessica from your perspective, Maybe you can speak a little bit to the breadth how broad you went in the content that you wanted to include in the, in your program. And have you received any feedback heard again in your role? Because you guys are hands on, on the ground. Are you hearing any feedback about usage and support for your teachers?

Jessica

So I laugh at that because I know as we were creating this with Julia, she's always like, well, you guys have a lot compared to everybody else in your game. And we're like, yeah, we know we do, we take on a lot here at, but I guess from the beginning, we wanted to make sure that this really helped to support our district initiatives and it wasn't going to just be feel like we were doing something just because of the situation that we were in. So really again, starting to build that system or as we start to do PD, this is kind of our one stop shop for PD no matter what district initiative it is, what department it is anything. So right now, currently all of our instructional aides have access to this, our impact, subs our substitutes, our teachers. So we're really trying to make sure that this is kind of speaking to as many people as possible. So it because at this point in time everyone is plays a very crucial, crucial role in helping our students, even parents. So I know someone brought up assessments in the chat about how are we helping, you know, getting assessments out there and ideas for that. So at this point, we're still kind of trying to figure it all out, but creating that shared vision and purpose with all of our stakeholders and making sure everybody understands what the purpose is for everything we're doing right now. And so especially internally making sure everybody that's working with students has a place to go if they need help, especially with all the different platforms that teachers use. And, you know, we have Google classroom seesaw and you know, just to name a few. So we've gotten actually a lot of feedback. And so we asked some of our top players, especially what were some of the things one of the teachers says, that this actually opened their eyes, they didn't realize how many digital tools they actually had their fingertips on. And so now they're super excited because they've kind of been able to own their own learning and go in when they needed it. So to me, it's like laying bread crumbs, you know, sometimes we kind of just force it or we do a spray and pray because it's what we need. And it's what in our capacity we're able to do in this situation and trying to prioritize. We don't have that luxury to kind of pull everybody for an all call, get them that PD that they need. So this is like bring laying bread crumbs like here it is when you need it come and kind of play in it as you need to and then as people get more and more into it, they start to see how it can be helpful. So that's been a lot of our feedback that a lot of people do. We're very competitive, friendly, competitive in our district. So some people, you know, I remember getting, I didn't know how to turn my notifications off and I was getting notified at two o'clock in the morning that so and so just completed level one. So people are on this at all hours of the night and I think that's what's really nice is just like we want students to kind of own their own learning and know how to access and kind of advocate for what they need. We want teachers to be able to do the same. And so if you need this at this time, no matter what topic it is here, it is when you need it on demand. And so really leading with that personalized learning. And so that's some of the feedback that we received so far.

Julia

That's wonderful. Thank you. And then Dave, so switching now to Jurupa, so you, you as a decision maker had to decide when you got to that third tier, you know, after safety in the classroom and then professional learning. Now I have investment that I need to make and at one point you decided, ok, we're going to explore this idea of self directed in online and obviously online makes a lot of sense right now, given the circumstances that we're in and we can't do the in-person PD that we used to do. I'll also share a little bit of background on the engagement that we did with Jurupa. So I think we started in the early July time frame, I joke because I think it is one of the programs that we got up and running in the shortest amount of time. I think it was literally about two or three weeks when we started working with your team to when we went live, which was August 4th and what Dave and team decided to do and I'll let you speak to more detail about it was to offer a stipend to your teachers. So back again to investment in their learning and the future for teaching, there was a focus on distance learning, but it wasn't limited to that. It also was broad, like Valverde, not as broad as Valverde, but broad and and also huge success. So after launching on August 4th, similar size in terms of districts, there was a little over 1000 educators who completed over 17,250 activities and there are over 4200 hours of PD. So, so, I'm not sure who was reviewing all the evidence and approving in your system. Dave, but your teachers were keeping them obviously very busy, so maybe speak a little bit to the decision on making that investment and, and now you see seeing some of these results, hopefully you're happy about that investment. But where and how do you see that impacting your teachers, you know, forward for this year?

Dave

Yeah. First I need to say I'm going to need that slide too because that's fantastic. It's very exciting. We were, we were in a similar position where we have been offering a lot of PD from, you know, beginning in March and, and all the way through the summer. and, and it was, but it was, it was, it was complex and it was difficult. And we, we know like we know when we, when we think about good quality professional development, it's, it's always a challenge to figure out how do you, how do you meet the learner, the adult learner at, at their level and move them forward and give them valuable information. And the, you know, the old days of one size fits all, everybody gets a sub, everybody sits in a room and everybody gets the same PD. It just, it just doesn't work and, and that's, you know, only multiplied when it comes to, to technology and distance learning, I mean, the variance among our teachers and their, you know, their level and their needs are so vastly different that we knew we needed, you know, something robust and something with a lot of options. We, it, it was, we had already begun doing something we called Summer Jam where we were taking our teachers and they were presenting in the use of tools and, and digital learning. And this has been going on for a couple of years and we have a few, a few 100 teachers that would attend on their own time in the summer during their summer vacation, which was exciting. And so we, we modified that and now we call it quarantine Jam. And so we, we unveiled the path, the, the JUSD Path with Alludo at quarantine Jam, which was the week before teachers were to come back. But we had some 250 teachers that were, that were there. And, and I had kind of started the day before and I, I had earned about 100 points because I wanted to be able to say I'm the leader right now. Look, everybody passed me. And I think, you know, I made the announcement to the teachers at the, at the quarantine Jam. It was another Zoom event and or Google Meets. And within an hour, somebody had passed me and they never looked back. It was, it was very exciting, but we going back to, to the, the how and the why of the investment, you know, we, we wanted it to be voluntary, this is completely voluntary. We wanted it to be available to all of our teachers, to all of our classified staff members and to all of our our instructional leaders, our managers as well. So we knew we needed something with a wide variety of content and, and, you know, we had a lot of content that we have developed, but we're not a big district, our technology department, we have two teachers on special assignment that the bulk of the training and, and one coordinator of technology. So, you know, there aren't a lot of folks to, to do things and they do phenomenal things. But we, when they, when they said, you know, when we, when I was able to get permission that we could move forward with this stipend for teachers for all staff, they said, you know, we really need to use Alludo because it will provide this system of incentives and, and Scheide and it's got content. And I was, I was a little worried at first because I, I didn't want the, the beginning of a system to get in the way of getting this going right now because our teachers needs are, they're immediate. So I, so I was, I was so excited that, like you said, we, we launched pretty darn fast. And, and got it done really quickly. And so we, we really liked the fact that there was a lot of content already available through Alludo and that we could add all of our content too. So we, you know, we wanted pedagogy, we wanted classroom tools, we wanted social emotional learning, we wanted things that our paraprofessionals could have access to as well because man, our, our teachers are growing. But our, our instructional assistants, our bilingual language tutors, those paraprofessionals are growing by leaps and bounds because they're now having to be supporting students digitally as well. And so this gave our teachers the opportunity to work with paraprofessionals and give them good suggestions for the learning that they could engage in and they also had access to the stipend. So it, it has been super well received. We get, you know, we, we get a lot of feedback whether it's good or bad. And and I can say that the feedback around this, this path has been overwhelmingly positive and, and it's from those that would typically give positive feedback and those that would typically give critical feedback. They all have said we love the, the size of the activities, we love the ability to access them whenever we want. We love the, the Gamification is, you know, it makes it kind of interesting and fun. It's been, it's been really well received and then those numbers are very exciting because it's things have been so busy. I've looked to see how many hours we had going on. So it's great to see those numbers.

Julia

Great. Thank you. We appreciate the feedback, the positive feedback for sure. And at this point, I, I definitely wanna hand it over to Damon because I know we've got some good questions out there that folks want to hear your responses too. So Damon, I'm going to hand it over to you. You wanna start with some questions?

Damon

Yeah, perfect. Well, thank you all. We we've got some, we've got some good, great questions out there. and one of them and I think this is a very, very timely question is special ed. So Carla asked as a special ed teacher of moderate to severe of monitor severe. There are many issues involved in teaching online but assessing my students has been the hardest. Do any of you have tips on how you can manage assessment of students and, and assessment in the special ed area in particular?

Dave

I think a few of the things that we have done and these are, these are pretty general suggestions, but there have been some, some programs like Deck and Cami that have allowed our students and you know how, how applicable that might be for a teacher who was teaching students to severe difficulties on our disabilities. I'm not sure, but that's been one of the areas that we've, we've found a lot of success in with formative assessment using those particular programs. In addition for our, we have a, a math fluency program that we've used with our students with disabilities. And so that was something that typically was a series of math games that our teachers did in the classroom. And obviously, they can't do those because they are very hands on manipulative based. So we took a group of our teachers and classified staff and they, they were able to develop games that mirrored what the teachers were doing where we could give, we could send that packet home and those and those manipulatives home. And so that parents would have the ability to play those games with their students and build that math fluency and conceptual knowledge in a way that the teacher wasn't able to do digitally.

Rae

I really like that idea. because sometimes we get stuck into because we're distance learning, everything has to be digital. And by no means does it? low tech options are always just as equally valid. And I've had the pleasure of getting to witness, I, I don't have 1\/5 grader. I have a junior and she goes to a high school in my school. and she, I've got to witness her classes, some of her classes and the great thing teachers do with her, but I've also got to witness Jessica's littles. She, god bless her soul, has a kindergartner and a first grader. And so on Wednesdays, she brings her kiddos to the district office and I get to witness what happens in those classes too. And one of the things I've seen her, her first grade teacher her library teacher do is, uh, have the students just, they have Chromebooks, just ease the Chromebooks down. You can't see my hand ease the Chromebook down a little bit and the student put whatever they're working on in front of the camera. And so they, they're not looking at their face, they're looking at their work and I just thought what a brilliant idea. It's, it's, if you're doing something with manipulatives, if you're doing something where you're wanting to see what they're writing, if you're doing something, then the student and the teacher are looking at the work, not the face of the kid. And, and that is one way you could do a low tech, version of something. that isn't as, you know, if, if the student is, doesn't need to type and you, and you're just wanting to, to do a different type of testing. And so I, I just thought that was a, a genius way and, and so simple, just half mask the, the Chromebook and now you can see what, what, what the kiddo is working on. and, and Carla, I, I hear you. She's from our district. She's an awesome teacher. And, you know, and on top of everything else, the kiddos have learning problems. And so now, you know, and now the parent has to be the learning coach as well. And so when you can, I know she, she brings in the parent. but, I know we, we've also tried to, work with our schedule so that you can do what we call campfire groups. So you're not working with all of your students at the same time. like we used to do, I'm, I'm a recovering high school English teacher. I would always have 38 students in, in my classroom if I were in the classroom today. in my 90 minute we did block scheduling in my 90 minute block. I might have all my kiddos at the beginning, but then I might split up my time and if you know, and Carla, I, I don't know what you've tried, I'm sure you've tried a lot, but maybe you split them up even more. So you're dealing less and less kids. So when you're assessing, you are only doing two or five or whatever is manageable and I'm sure, you know, and, and maybe only a couple a day, just because the assessments is probably, it's, it's, I, I believe you, it's, it's probably a lot.

Damon

Ok. Super. So kind of building on top of that, there were a few questions, kind of geared towards life for the new realities for parents. So how are you supporting parents that all of a sudden are, are at home? They're dealing with kids that in a way that they had never had to deal with before. All of the things that, that, that, that have been dealt with in the classroom and in districts and that sort of thing. And now it's being, and now a lot of that's being kind of on boarded, on to parents. So what are, what are some of the things that you're doing to support parents on this remote learning journey?

Jessica

You know, for us, especially, we've spent a lot of time really looking at best practices for K two. especially since the parent is, you know, they're going to help out in many of the ways. But K two, you really are going to need some help, especially with those little kindergartners. A lot of the teachers have a one stop shop for communication. So like if anything, I have a Facebook page or a website. So if I have a question, I have resources, if I want to check to see what's supposed to be happening this week, They put awards out there, all that kind of stuff. It's like their virtual classroom. The other thing is just trying to also a lot of our district, our sites are doing evening hours. So with some of the funds that we've been able to get to support parents offering evening hours to do tech questions. especially with Zoom. A lot of people just even getting access onto Zoom and how to manipulate it. So a lot of our sites are creating parent workshops around that. The other thing is I know in a lot of our teachers are using kind of the Google slide deck option where there's like a slide per day with all the different activities that kids are going to be doing. They're trying to be consistent in the icon. So if you're supposed to click on something, it's the same icon used. If I'm supposed to watch a video, what would the icon be? So kids can use it? Right? There's directions and they're translated. So in case there is a parent help and they need a different language, that's an option. But then also that there's usually sometimes a tutor, a slide at the beginning of the week or when they first started that basically has tutorial videos. So when I ask you to do this, this is what it looks like from your end or here's how you can support parents. So a lot of our teachers have been really trying to, you know, spend time working with parents. They, I know a lot of them I know from experience, teachers meeting with you to make sure you understand what's going on or if there is an assessment that's happening, you know, kind of just going over the role. Like if, if you help your kid, the purpose of this assessment is for me to find out what needs and what I need to help with your student. So if you help them, we all have that need to want to help our kids, especially when they're right there and they're struggling. You're like, no, but if you step in and you help them, then I'm as a teacher, I'm not able to support them where they need to. So just trying to work with parents and make sure that they understand the role and then like gray said, just being very forgiving, right? If things are not done, maybe to the ex the exception or ex ex, you know, what you would normally expect or if it takes a little bit longer to get something turned in just really working because it's new for everybody.

Rae

I had put it in the chat. But you know, we, we have to overcount, we don't know what way is going to work for a family. And I said it earlier, we're, we're, you know, we do all the traditional methods, but one thing we're real big on in Verdi is social media. just because that, that seems to meet, you know, everybody's on it. And and, and we do a lot of celebrations on social media so that it's not all you know, it's not, we, we're not communicating with parents just to tell them bad news, right? It's good news, it's celebrations. We have a lot of spirit. You know, we, we we post whatever we can, but we also post a lot of information we created at the beginning of this, we created a parent website. We've created a youtube channel with a lot of videos in Spanish and English for our families. We have a guidebook and then our superintendent makes videos that we send out to, to the family. We email them, we also post them on our website and we've started to stream everything so that when when we have meetings, we've started task force meetings, we put them on Facebook live. They respond to the chat questions. Our board meetings are now on Facebook Live, which we love because now we can, we can really be a part of them. They're, they, they can go quite long and if you had to stay. now, I mean, Zoom. Zoom has offered some opportunities or, you know, the social media aspect has offered some opportunities. But, but always with that understanding, like Jessica mentioned, the teacher under the, the, the educator part of us understanding that families are going to maybe have different needs and, and our expectations might have to be different. We don't know if the family works all day and then has to come home and do all the homework, you know, all the school work at night because they were gone. And so, you know, you're, you have to be flexible with your due dates and your times. and just, just that love and empathy and flexibility going going through everything that we communicate.

Dave

I think many of those same strategies, the use of over communicating videos for parents. One of the clear messages we got from parents over the summer in our surveys was that when we in March, April May, we had teachers use whatever learning management system was most comfortable to them. And that was, that was difficult for our parents and for our high school students because they might have, you know, one child with multiple systems or multiple children with multiple systems. So we standardized around power school learning. So parents had 11 place where they were able to get all the information. And we had a, we have a parent tab in each page that has access to the things that they need. We have lots of videos for how you do this or how you do that. You talked about being forgiving, we call it giving people grace because it's, you know, it's hard everywhere right now and we've, we've been big on that. And, and then many of our schools, and, and soon all of our schools have set up during the day a like a Google meet office hour staffed by a school staff member. So no matter what goes wrong, parents or students have a link that they can access a person to get directed to where they could get the help that they need. Whether it's trouble with, often it's trouble with logins or passwords or things like that or, you know, bandwidth. all, all those kinds of things. So they have a, they have a place they can go each day no matter what happens. And, and they've found teachers have found that, that, that gets kids back in really quickly when things go wrong and they can say, what do I do? What do I do and get the help that they need? I think that's been a big, a big help. And then another, you know, we, we've had to do a lot of work. This was something new and out of the blue with child care providers. you know, many of our, any of our families go to work. And so, we have a lot of kids who, who attend child care. We have a lot of child care providers whose lives have changed dramatically. And so we've had to help them with, how do I support these kids in distance learning? And, and how do I can you get me some more bandwidth because now I have eight kids who are all in video lessons at the same time. And we've, we've been giving away like desk giveaways and just, I mean, there's so much that we have to do for our families now because they, they need it. It's the help is needed.

Damon

That's a wonderful answer to that question and a nice, a nice book. And so, so thank you, Dave. Julia, I'm going to turn over to you to, to wrap it up.

Julia

I think we're, we're wrapping up the hour. We could probably talk for another half hour hour or more. Just great ideas, great feedback, valuable insight. We, we truly thank you for being a part of it and joining us for our first, our first webinar and I wanna thank the people in the audience brought on some amazing questions and and the different perspectives. So, thank you so much as a token of our appreciation. again, to kick off our inaugural series, you'll each be getting a fun little Alludo of your own. So that'll be coming in the mail soon. I'd love to deliver it in person, but not this time. So, thank you all for joining us. Have a great evening and Rae, Jessica, Dave, thanks so much. We appreciate it. Thanks for joining us.