41 min read
Students in Action: Alludo innovations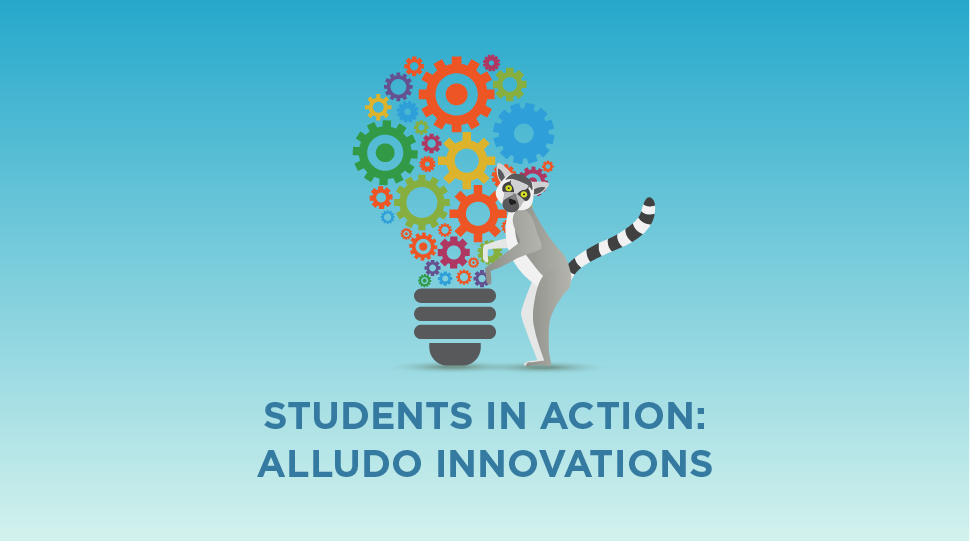 Watch as educators from east cost and west coast come together to share how they are creating innovative ways to respond to student needs, real-time. Districts are looking for ways to engage students through collaborative innovation, giving choice and voice to students. Learn how panelists are implementing programs that instill personalized learning and creativity.
From Election Day curriculum to being Smarter Online, there's something for every educator to takeaway.
Panelists
Jay Sorensen, Coordinator of Ed Tech, Oxnard Union High School
Patrick Higgins, Jr. Assistant Superintendent, Rockaway Township School District
Vanessa Waxman, Curriculum and Instructional Technology Integration Coach, Rockaway Township School District
Transcript
Julia
Welcome everybody to Alludo PD Innovations. This is our second webinar in the series today this afternoon evening, depending on what coast you're on, we are focusing on students in action. I'm going to take a minute and introduce our panelists, our guests for today. First, we have Vanessa Waxman. Vanessa is the curriculum and instruction technology integration coach at Rockaway Township School District in New Jersey, East Coasters. Vanessa has taught for 15 years working with teachers and staff to support the effective integration of technology with new and existing curricula. She's a graduate of the College of New Jersey and continued her passion for knowledge and received her master's degree in education with a focus on special ed and supervision and pushed on to earn a postgraduate certificate and learning technologies. So, thank you, Vanessa for joining us. Also, yeah, also from the East Coast and Rockaway is Patrick Higgins. He's the assistant superintendent. Patrick's been a teacher of English and Social studies, a tech coordinator and an administrator of various schools in New Jersey. His current position is as an assistant superintendent at Rockaway. He focuses on developing curriculum to meet the needs of today's students, coordinating professional development opportunities for teachers and administrators along with facilitating change through innovative programs. Welcome Patrick. Thank you. And then last but not least we have Jay on the west coast. Nice background there. The sunset. Jay is the coordinator of education technology for the Oxnard Union High School District. He currently manages the Alludo program for Oxnard, which is Oxnard Union Express and it's designed for teacher professional development. He's also launching smarter things, which is a program designed for high school students. We've had the privilege of working with Jay, not only at Oxnard Union, but also at Rio school district where he wa. a Tosa as well as elementary and middle school teacher. So welcome Jay. I'm glad to have you here. And also with us i. Damon Torgerson, co-founder of Alludo, the product Alludo and AlpenSpruce and I'm Julia Francis. I have the pleasure of working with a lot of our customers across the country. An. today, I'm I'm really excited. Our first webinar is we senior teachers that they do so many of you that might know Allud. may know that our platform was originally development developed for teacher PD, but soon thereafter, we had districts that said, hey, this is great. Can we look at this for our students? And so tonight, we're going to focus not so much on the Alludo platform. But more so what does it mean to provide guide programs for students. We've heard a lot about choice and voice for students and personalized learning. So the first question I'm going to throw out there an. I'm going to start with you, Vanessa is when you think about choice and voice personalized learning for your students. What does that mean to you and, and to the students at Rockaway?
Vanessa
For me, it's one of those things where you like there, the old school teaching where you say here are your three choices. Pick one of the three. Our kids now are so much more advanced that they have to find things that they actually understand in the way that they process. So for me having students pick their own options is more than three choices. It would be more like a choice board of say 5 to 8. So that you touch all of their learning styles. So you might have someone who does more hands on learning. You might have someone who does more like the old school rote skills. But the importance of having that choice allows students to be who they are and share what they've learned and what they're interested in in their own way. So that's where that line kind of comes in. But that's the, that's the, the focus of it. For me. That's great.
Julia
Thank you. So Jay from a high school student perspective when you think of, of choice and voice for your students. What does that mean to you?
Jay
Well, I think a huge part of providing voice and choice. in the classroom is with engagement. But also we try and provide voice to students in. you know, what's, what's happening in their schools. I've worked on some initiatives in our district, giving student voice through like a, a Twitter chat. and, and other platforms that we've used to be able to give students to give input on what's going on. And I think that helps them feel like. you know, they're sort of a part of the community and, and having some say. as far as in the classroom. You know, it just helps with engagement and allows them to work on their strengths and things that they're interested in.
Julia
Absolutely. So Patrick as, as an educator and as a leader in, in your school district, how do you approach implementing . a student choice and, and personalized learning type of a program in your district?
Patrick
If I were looking at that first question that you, you had asked everybody and I think it leads into this one too. I look at a choice as, as a way for kids to see relevance in what you're doing. A lot of times like Vanessa said, if you lay out choices for your kids, you say, OK, do one of these three things. It really isn't relevant. You know, it's so it's someone's doing something to you. Like the learning is happening to you. You know, when we add elements of voice and choice to what students do, the learning starts happening for them because it takes them to a new place that they want to get to or it takes them on a path that they may be, we have some, some independence on. So when we talk about. implementing a personalized approach here, we're just in the infancy of it. But I think we're starting to see, you know, this switch to hybrid and, and virtual that we had to undergo over the last six or seven months. I think it's allowed our teachers to see that there are many different ways to do this. There is obviously the traditional way of being face to face with students, but their teachers are now problem solving and coming up with multiple ways for kids to show that they understand and that they know how to do something or that it can lead to something. So we've started with you know, our first game in Ida was the election game and well it just kind of exploded because we saw, oh my gosh, like kids really want to move through things at their own pace and they want to move through things when they want to. And that's kind of opened our eyes to what we might do going forward. We have so many different things that we can, you know, gamify if that's, if that's the right word. Things like when Vanessa and I were creating a game we kept throwing in things that nobody wanted to teach, like nobody wants to teach kids how to format a Google doc with bullets or indent or anything like that. Like that's really boring stuff. But if you put it into a platform where the kids really want to do it, you know, they wanna get through something and they want to learn something, dropping that stuff in there to help them get that like kids will do it. And I think that's been a real revelation for us.
Julia
I agree and I think Jay touched on it too. It's interesting from a psychology perspective when you put something out there and say this is for you to choose whatever you want to do versus putting it at them as you say it's received in such a different way. It's not as boring when you get to go. Oh I'm going to pick which one I want to do instead of someone forcing me and telling me what I need to do. Right. So Jay, maybe you can speak to it a little bit as you go down the path of more choice for your teachers. I'm sorry for your students. How are you preparing your teachers. at Oxnard to deliver instruction in a different way.
Jay
I think the key for us has been, you know, the teachers having the first hand experience of personalized learning and Gamification by being in our teacher PD game. So the teachers have been able to, to play our Oxnard Union express game and as a learner and experience what it's like, you know, having choice and you know, either choice and what activities you're doing or choice and how you're demonstrating your learning. And I think it's really helped them. I think that experience has really helped them in the switch to distance learning as well because it sort of gave them a fresh way of looking at how they might be able to do distance learning and teaching in their classrooms. So I think them experiencing it as a learner kind of helped them to see how they could then develop things for their own students to experience as a learner.
Julia
That's great. And then Patrick and Vanessa, same question to you. You're when you rolled out the election game for your fifth graders, this is obviously a program that'. for a discrete group and you only have a certain number of teachers. But if you look more broadly across the program district wide. There's probably other ways that you're choosing for your student and personalized learning. How are you equipping your teachers or how are teachers, are they able to make that transition to see the benefit of, of choice for their students.
Patrick
Vanessa, I'll jump in on this one real quick. So they are, I think, traditionally, if you, you know, if we look at education, it always works in cycles and things like that. And so, you know, trends years ago, a project based learning and you know that kind of piece that's been around for a while. And so our teachers are familiar with project based learning. One of the people I used to work with used to have a joke that like if the project's not meaningful and it's not relevant to what they're doing, there's, there's no real point in doing the project. She used to say, you know, like the, the biggest one she said was read a book, make a kite, you know, there was no attachment between the kite and the book. So, like you have to make that project relevant. So our teachers have a background in project based learning and problem based learning. So that's kind of helped with a lot of this. And I think your point too and i. Jay's point about the move to distance learning, let teachers experience in terms of like when they had to learn how to, to use some of the systems that we were using or some of the methodologies that we were using, they had to become distance learners. So it really did shape their mindset around. Oh my gosh, like I have to still be relevant, I have to still be meaningful and engaging even though I'm in a digital environment. S. our teachers do have a background with it. But I like looking at some of the things we've seen in th. developing that even more like developing their, expanding their mind to see what else is out there that they could possibly employ with their students.
Julia
Great. Vanessa a question to you and Patrick. You mentioned the project based learning and what have you from a topic standpoint? But when you think about choice for your students, is there a particular type of curriculum or subject matter that you thin. that's more, lends itself more to having choice for students that you can present similar to what you did with history in the election game or there are topics that are more challenging. I'm, I'm looking for you from an expertise standpoint for our audience to say, well, we've tried it with maybe this type of subject and it works well versus others might not be as easy to do.
Vanessa
So that's a good question. So I think when we first started this and, and kind of came into the idea of using a, we had started talking about badging first and that built us up into this platform not really knowing where it was really going to go. I don't think so because we did start with the idea of teacher PD. and then a teacher approached me and she said to me, you know, Vanessa, I don't want to teach the election. The group of us don't really know how to cheat the election without controversy. And they were very concerned about that and that's what started us on this path. As we start talking with some of those teachers, it was a conversation of, you know what, we don't cheat grammar anymore. Like it's not a separate curriculum anymore. We don't have a grammar book that we used to use all these kind of things. And we're like, oh, we can make a grammar game and then I was talking to. So I have notebooks all over the place and I was talking to another teacher and I was talking to her abou. history in the middle school. And we were saying, well, how can we make this work in the middle school? Because certain subjects, as you said, do lend itself a little easier than others. Whereas like, you know, for example. music might be a little trickier because if you're teaching chords and progressions, you need to have certain skill sets before you can get to others and you can't really choose because if you don't know, like c major, how can you go to like c minor or something to that effect. But I do think that within every subject area, at least for us. When we look at our curriculum, there's a lot of options because you can take it in a different direction. So for music, we might talk about composers. So instead of making our composer unit, you know, a video listening, reading a novel, reading. an excerpt, read, you know, whatever it is, we can make that more of a choice game where they can explore five composers from five different time periods, right? Or in art, they can do the same thing. Our art curriculum is written on a timeline. So in each grade level, they hit a different time period. And so you might see more like Egyptian art and another year you might see more modern art. And so you could easily streamline a lot of this choice and even for us like this a little platform for them to be able to engage in the curriculum. So I think you just outside the box and that's the key is how can I change what I'm doing to make it as you know, Patrick and Jay were saying, were engaging. And I think too the part of it about, you know, keeping your, having your teachers learn as you're going. I think a lot of our districts are teaching hybrid of some capacity. There's a lot of closed districts but there's a lot of hybrid. And I think giving your kids the choice and having it in a place like this takes some stress off the teacher. Right. Because you've got kids doing so many different things. So if you just think outside the box a little bit of your curriculum and your daily lesson structure, that's a good way to kind of look at how it would work for you.
Patrick
That's a great point Vanessa too because that was one of the things I noticed early on when we launched the game for teachers, the stress level in terms of not just teaching the election, but like our Mondays are our whole are fully virtual. All of our kids are home on Mondays and this was something that the teachers could assign the students to do on that Monday that they didn't really have to think about. They could like our source social studies for a little bit. You know, obviously they would answer the individual questions, they would, you know, work on things with kids as they, as they came up. But it was something that they could like, OK, that's happening over there. I can focus on this for a little bit, you know, and that's something in this, you know, in the pandemic that we're dealing with the stress level on teachers. We have to really be careful, careful about capacity. And that's one thing I think I saw in our teachers that they were like, ok, I can breathe while they're doing this. So that was good for us.
Julia
That's a great point. I mean, that's something that we're hearing all across the country. Teachers are stressed, they're overloaded and it's nice to see that that's been a benefit. for them. So, Jay, same question to you in terms of in and again, from a high school district perspective. What kind of curriculum and topic and subject matters? Do you see working for choice versus maybe some that not so good?
Jay
I think it can be maybe more challenging in like the core classes and maybe it lends itself a little better to like, you know, some CTE courses and, and things like that. I know when. as you mentioned back when I was with Rio before we started our, our first game, the Rio paddle game for teachers. I was teaching a, a middle school computer to class and I had tried played around with some different ways of doing Gamification because I was kind of interested in it. It seemed, it seemed like it might be something that would be fun. But it never really made sense for me as far as how to implement it. And then one day I got an idea of how I wanted to gamify my classroom inspired by a Kung Fu movie. An. it, it all made sense to me and I set it up and, and it, and it worked. and the students, you know, work well for the students and kind of changed how, how I taught to more of a personalized learning. where I was not up front doing direct instruction all the time. But I was doing that once in a while and supporting them. But my whole point of that is I think it can be challenging for any subject until it makes sense, you know, until you can visualize it. So I think. you know, in a math class, actually, this summer we had a teacher that ran her whole summer school, distance learning math class, algebra clas. using Alludo, you know, she built a student game. I helped her a little bit but it was mostly her designing and the focus was then just on these products that the students were going to turn in. So the focus wasn't on, you know, page 53 1 through 35 odd. You know, there is still that practice piece, but then the game was set up where they would do these projects or record this video or whatever. That was then turned in in a, so I think it can work. You know, we, we also currently have a like a culinary arts class. that, you know, they're creating their recipe or record making a video or a blog post or something. And that kind of thing is what's turned into their Alludo game. So again, I think, I think it can work in just about any subject, but it's a matter of sort of being able to visualize what that might look like in your content area.
Patrick
Can I ask you a question? Yeah. Oh So Jay two questions first. can we, can you share that algebra? You'd love to see that we have a summer school algebra program here and a free algebra program that we would love to see. That was, that's the first part. Second is what Kung Fu movie.
Jay
So the questions, yes, we're willing to share. Well, I can show you the teacher was using a specific curriculum that went with that. But yes. and the Kung Fu movie was it has multiple translated names, Master Killer or the 36 Chambers of Shaolin. So basically the the guy bad people came to his village and so he decided he wanted to learn Kung Fu to fight back. So he went to Shaolin and he had to go through these 35 chambers. And so the students had to do that in the class as well.
Patrick
That's very cool. Awesome.
Jay
And then the 36 chamber is one that he adds at the end in the 36 chamber for the students was they created their own project. So they had more choice built into it.
Patrick
Nice. I like that. Very nice.
Julia
I appreciate you sharing all of this because it's great to hear what's working. and some areas where it might be more challenging. But when you think about the success of a program, whether it's programs, the algebra or the election day within the Alludo platform or outside of that, what your teachers are doing and different tools and platforms that they're using for choice. How is educators and, and leaders in your district? Do you measure this program is working choice is effective. This is something we want to continue to do. So I'm going to start with you, Vanessa.
Vanessa
So I think, you know, I can speak to the teachers and how teachers would gauge something being effective or not. I think when you're especially in this environment right now, the amount of engagement you're getting from your kids. So are you getting feedback from them? Are they actually progressing through it, whether it's Alludo or a choice board or not? You know, how often do you have to hound your kids to get the work done versus not. I think is a really good gauge for a teacher to figure out if the choice options or the direction that they're going is working. you know, in terms of a district, you know, that's a little bit trickier. I might default to Patrick on that one. because we don't give choice assessments, we don't give, you know, you get to pick, to take this test today or you don't. But hopefully by doing your choice activities, you're going to demonstrate on an assessment that you understand the content. you know, to that capacity. I really thought that a lot of it is if your kids, if you're not, if you're a teacher, you don't have to ask them 20 times, you don't have to remind them 15 times to turn something in. That's how, you know, you, it's an effective strategy and a tool to continue to use
Julia
Great points. Patrick, how about you?
Patrick
So I obviously, as you know, being you know, in the, in the role I'm in, I'm always kind of looking at data and so we're looking, what does the data tell us about this? An. I can see someone in the chat had asked about learning loss and things like that. So what I'm focused on when I look at these things for right now, I would look at what we're doing inside of Alludo and in any kind o. interaction and I would kind of really agree with Vanessa in that right now. I'm really, I'm looking at engagement, are kids engaged in what they're doing. And I think as you get into that, and I was just, you know, while Vanessa was talking, I was looking at some of the achievements that are coming through and that's where you're really going to see. Are the kids like the things that you're asking, are they grasping it? Like, are they, are they comprehending what you're asking? Are they. are they doing the right things? Are they thinking about the right things based upon what you're giving them? So, in terms of, of that, I think looking at those achievement levels and seeing that that's where we're getting the information about whether kids are doing well or not. The overall picture though, I think when you're allowing kids and I'm a big believer in choice and just about everything, we're a reading workshop, school district. So we allow our kids to, you know, to choose the books that they read on a daily basis. So kids have a hug. choice is a big part of our reading work as well. So, but I think that in the larger picture when you're allowing choice and you're letting kids have agency over or what they're doing, i the results you see on and whether it be a standardized assessment where we use universal screening tools in September, January and June. that's where we'll really begin to see the decisions we're making in terms of things like Alludo. Uh, are they making, allowing the kids to make progress? So, those are the big tools that we use for that. with learning loss right now, it's a, it's a very funny time with learning loss because we're seeing, we're seeing strange things like we're looking at our first graders as a, as a whole and you're seeing massive learning loss there because they missed the second half of kindergarten face to face and that's a big deal. And so there's like, that's an explosive time for kids in learning. And so we're seeing learning loss there. And so, and I think to, to answer Adam's question, we are looking at what can we do to really, you know, accelerate that first grade year, like what they're doing in first grade right now and whether it be through choice, things like this or whether it be through you know, assessing exactly what they're missing and, and giving it to them. That's how we're addressing those pieces right now.
Julia
That's great. Thank you. So Jay a question to you. Same question to you, but two parts, first just measuring success, whether it be student engagement or other things that you're looking at on the data side. And then the second piece is, i. as you are looking at different alternatives for choice instruction for your students. How does that tie in with state standards and compliance requirements that you have to align to and measure with while you're also being creative and flexible in the instruction style.
Jay
Data wise we're looking at student games, soon to be at a district level, we're going to have a district wide student game that I'll talk about. We have one school that has a schoolwide game. We have another school that ha. three different academies in their school and each academy has a game which is a game that spans the four years that they're in school in that academy. We have several schools this year. one school last year. started a freshman game, freshman house game this year because of distance learning and having freshmen coming in, possibly never even have stepped foot on campu. in an effort to help them sort of connect with their school and build that sense of community and also get to know, you know, people and resources and things. We have freshman games across our district and then we have some teachers doing class games. So a lot of different. aspects and data to look at for those. So I think it's still earl. at my level to look at, you know. the success of these and sort of depending on the game, success, success looks different. The engagement is a huge part, obviously. seeing that students are in their active. you know, if we, if we're looking at a, a class game. eventually it will be, you know, looking at, well, I taught this year exclusively running my class through Alludo and, you know, Gamification and personalized learning and competency based learning and, you know, instead it, it probably is totally changing how you're teaching. Right? And so then I think we'll be able to look at some of those assessments later on to see, to see how that goes. you know, for the district wide game. part of the focus is like digital citizenship. So we'll be able to see, you know, how, how much of that students completed. It has been cool to look at the teacher side of things on the PD game, you know, seeing how much time teachers are spending that they're going in and completing these activities and, and earning these badges and learning all these new things. You know, it's cool to look at the time spent and points earned and badges earned and that, that kind of stuff. But on the student side of the games, I think it's, it's, it's still early and we're going to sort of look at it in different ways. Your second question was, you know, you're looking at. you know, are you focusing on standards and things? That's really what I love about the idea of running a class through Alludo. is because, in our, in our district, we're having a big, we, we've been focused on equity, but we're specifically looking at, grading and equity and, we're trying to change some of our grading practices and what I love about the idea of running uh, a whole class through Alludo is it really does focus on those standards or those competency based, you know, things that you're, that you're focused on and it gets rid of like, you know, just that assignment, vomit of like they're throwing one assignment after another at students and they're trying to keep up and they don't know what's coming. And, you know, it's like here are the things we're going to focus on, it's really transparent. You know, here's, here's what the class is. You know, on the teacher's end it's a lot more work on the front end because you got to build out the whole year or however long your term is that you're doing it. But students know exactly what's expected. it's focused on them reaching mastery. and it's just, you know, it's a lot, a lot cleaner. So, that's something that really excites me about the idea of setting up these games in Alludo for students, for classes.
Julia
That's pretty cool. Very exciting. so you've, you've touched on it. Well one thing I wanna mention is we've got a great audience of, of people who have joined us. So. for those of you that are in the audience, please feel free to add a question in the chat or if you want to comment on anything, or add to the discussion, please let us know. Uh, we'd love to have your participation. You touched on it a little bit earlier, Patrick, when you were talking about distance learning an. how with distance learning it's opened up. I, I think your teacher's eyes to different ways of doing things. I wanna go just a little bit deeper in that. when it comes to again, choice. How are you. how are your teachers? How is your district leveraging technology and the opportunity that we have in distance learning to offer and provide more choice to, to your students?
Patrick
I think just by nature of things like the technological gap that you have in a district like ours where we have a wide range of socioeconomic groups. just by the nature of the fact that you have to deal with kids that have everything that there's 25 devices in their house versus kids that have, you know, mom has a cell phone. That really, that whole process the last spring when this started, that really opened up everyone's eyes to offering multiple methods for not even just creating content but getting it to the kid. getting you know, getting it back from the students. So we've really explored, I mean, if there was something that was free out there last year, somebody in our district was using it. And, you know, Vanessa and I did a lot of clean up this summer with, you know, the accounts that people had created and the data that had been, you know, splashed out there and things like that. We did a lot of clean up with that. But I think what it, it showed everyone was that, you know, and Vanessa and I joked about this a lot. We've both been been in educational technology now for a good 10 years or so. And it feels like the last 10 years have been like practice, you know, like we were scrimmaging for years, like I probably have given like 200 Google docs workshops or, you know, I've given Skype workshop, whatever it was like, we gave those workshops and then it was never used. And now all of a sudden it was game time in March, you know, like everybody was like, had to use these things. So I think it was nice to see for us that teachers were really able to leverage all these different tools that they had and lean on each other to find out what was working well. you know, we had, you know, even simple tools like, like Cami which digitized PDFs and allowed kids to, to go back and forth with that made so many teachers lives and students lives easy during this time. So I think, you know, that's really opened up our eyes to the possibility of like, wow, we can really push further with this. Like we can, we can put things in the hands of teachers and see what happens. You know, because as much as we, you know, we, we love this tool or we love that tool to see how it's actually applied and used. You need someone that's a practitioner that's in the, in the trenches doing that work. And so it was great for us to see the creativity that occurred from our staff.
Julia
That's great and, and Vanessa to that point because you're like on the ground working with these teachers hands on. Do you have examples of things that the teachers are doing using technolog. in a different way that's been very successful with their students? A again, just from the lens of perspective of students having more opportunity for choice an. supporting students across diversity and, and accessibility.
Vanessa
It's actually really interesting. So over the summer, the big emoji craze happened, right? Everyone has these big emoji classrooms and oh my gosh, they take forever to load. So if the kids try to like open up a Google slide deck that a teacher created, there's like 1000 items in there that are just lagging, right? So I have to tell you, like, first and foremost, that's what I see. A lot of the choice boards coming from, from our teachers. A lot of them have gotten rid of the title toe board if you will of like what we used to send home for the first spelling work, right? You would send home a spelling choice board and you would say, you know, do your rainbow words, do your three times each, you know, cut out and make a ransom letter with magazine letters and all that kind of stuff. I've seen a lot of transition in terms of technology being a more digitized experience. So it might be a Google slide and it'll say, like go to this room and pick like these four books or pick two books an. those kind of things. I see a lot in the elementary. I have to tell you too, in our middle school, we're a K to eight district. There's a lot of the teachers using those bit emoji classroom kind of experiences for their kids as well. And I think it's interesting because their choices have changed. So it might be create a video or use flip grid to, you know, engage with another student or to share your perspective on this novel or this character, right? And then you might see the, the other side of it being, you know, just comment on someone else's work and I think what we're seeing a lot more of, in terms of choice too, is a lot o. digital etiquette and digital citizenship built in without even realizing that they're teaching it. You know, when you talk about responding to a, a peer. especially if you're using like flip grid or if you're making a comment within Google Classroom, I think there's a lot of that happening as well in terms of, you know, are you choosing to engage this way or choosing to engage this way? Not even so much the activity, but just the platform. you know, if they're, if they're having the choice of using like an Ed puzzle or they're having a choice of using a Google slide deck or a Google doc old school typing. You know. I'm seeing a lot of that and it's interesting because as Patrick said, I mean, if I looked up my like resume all the PDF ever taught in my life, I've had the same things I could do them with my eyes closed, right? Like this is how you open a calendar event and this is how you do this and this is how you form on it, like you can do it in your sleep. And I think there's a lot of teachers who might use some of these tools on a daily because administrators or COTES share it out. But they, they weren't always owning it themselves and they're seeing a lot more owning and then they're being creative in their own, in their own way. So, like someone might want the Bito classroom and it's just too much for them. But, you know, they made a Google drawing that had, you know, three items for the kids to click on just because that was enough for them, you know. So I think there's a lot of that going on.
Julia
Yeah, it's interesting. I feel like we've seen this as a company over the past couple of years, our user base, our customers, clients. administrators of our platform have helped kind of push us and mature us into features and functionality and things that we might not even have dreamed up because the users that are using our platform are are sharing these ideas. Does it do this? And can we can we have it do this? Patrick, you said, hey, I want that algebra game. Well, now we have a feature where Jay can just share the algebra game and, and we made that easy because of you. I feel like what you were sharing, Vanessa is very similar in that you have students that are maturin. the use of this technology and the teachers are observing it and a lot of it might be coming from choice because the more opportunities you give them to pick from the different technologies and the use and what they do with it, the further they're going to which is exciting. So Jay, if you would, you like to comment on that because you're seeing high schoolers. So I'm sure they're taking it to a completely different level.
Jay
Well, so first I'll say I've had multiple teachers that have come up to me especially early on in, in distance learning. And they said, you know, I have to say because of Alludo, I'm like, I feel like I'm ready for this. Like I'm ready for now because they've been exposed to all these different tools and they've been experimenting with these different ones. So that was cool to hear. I think also again, the exposure to, you know, Gamification, personalized learning, voice and choice and all that really helped them in sort of designing how, what they wanted their lessons to look like when we first went into distance learning. We did like weekly assignments. We didn't have, you know, the, any sort of daily requirement. So we did weekly assignments and so teachers would assign something on a Monday. And so so many teachers went to those choice boards or playlists o. you know, virtual station rotation or something, but something that allowed for some, some voice and choice and that really fit their environment at that time. It's been a little bit different. in the in this fall semester that we've started because there now is like a state requirement of some sort of daily live interaction. So it's not just like chunked in a week. But we still have teachers using a lot of those same types of thing. to provide. choice to their students.
Damon
I have a question here. I have a few questions and just thought I'd bring one in here because I think it ties into equity, ties into choice. Nyree is asking, how are you managing culturally responsive teaching? How are you bringing that into, into your, your, your games or, or, or into your teaching practice in this time of distance learning and all those things that again, kind of ties it a little bit into equity there.
Jay
I'll say, yeah, we're still in the process of that. That's something, we want to build in to our teacher game, directly. That's something that we're, we're still working on at a district level. Exactly what that's going to look like.
Damon
What are some of the challenges at the district level that you're, I mean, it's obviously it can be, it can be, you know, a sensitive topic and, and those sorts of things. I'm assuming. What, what are some of the questions that you're wrestling with right now?
Jay
I mean, yeah, it, what does that look like? You know? I mean, it, yeah, that's a, it's a big one. and as far as you know, how do we, what PD are we providing teachers that they are then implementing in their classrooms with their students.
Patrick
And I think for us too we just last year and this is maybe we were a little late to the party, but just in terms of overall equity, we switched from a numbers based, an average based grading system in K5 to a standards based grading system. And I think one of the changes that we saw with that was maybe not culturally responsive, but more, there was definitely more equity in how teachers looked and, and objectivity and how teachers looked at work to what Jay was saying before too about front loading standards into things like Alludo or front loading standards into, into what you're doing. It allowed our teachers to really see very clearly at this point in the year. We expect kids to be at this point and if they're not, this is very, this is very clearly what. what we need to do to get them there an. the types of grading that they could give. Whereas before I always found like traditional grading systems were so odd in that, like, you know, looking, you know, like, let's say it's like our marking period ends next week, let's say. And so I'm, I have ad right now because my average of all the work I've done is ad but like tomorrow I come in and I just knock it out of the park. Like I know this stuff now. Like I've figured it out and now I've learned it. But my report card, like the grade you're going to give me is going to be ad because consistently I showed you, I didn't know it. But now I do so with standards based grading, like for us, that was a big equity, an equity switch for us. Like, and that allowed our kids to and our teachers to see if a kid knows though, if the kids met the standard, it doesn't matter when they met the standard, they get that, they get the symbol. That's, that, that shows that they've met that standard. So for us equity in terms of that. that's, that's really made the switch for us in our K-5.
Jay
I wanna add one thing to Nyree's question. So. we actually recently applied for a gran. based on that and our whole grant focus was basically to put money into training for teachers that would all be done through Alludo. So whether we get the grant or we're kind of on hold on building it out in Alludo right now. But whether we get the grant or not, we still want to make that a part of a part of the game where essentially teachers can then earn that equity badge or whatever it's called. Bu. we're going to essentially build it into the game.
Damon
So stay tuned, stay tuned and they'll share that wonderful content for you to be able to take and use.
Julia
And I did comment on that question as well in the chat. We have districts right now currently working with us that's one of their top topics in their programs that they've been building out just recently. So we have maybe three or four districts that just rolled out in the last month or two. And they have an entire mission dedicated toward teaching a tolerance culture to being responsive all of those things. And so it's great to see that content is building up in the catalog and sharing. We're able to share it with other districts. So from a time. do we have any other questions, Damon?
Julia
Yes there's another question here that I think is kind of good and, and touches on distance learning, not just, certainly not just a but for the kids that are remote, for the kids that are distance and that are hesitating. W do you have some tips for bringing them in bringing increasing their engagement, making them feel more welcome, that sort of thing.
Patrick
I can jump in really quick and just tell you two things that, that we did. So during the, the spring last year, when everybody was remote, we are our counselors in each of our six schools. Uh, they rotated every day with a lunch group where every day they would ask, kids would take a break at 11 and they would meet with these kids from 11 to 12 in a virtual meeting. And they would rotate that group every single day of the week. A lot of it was students they knew were possibly in, in distress or in trouble that they would give a place for them to meet every single da. with a, a group of peers. And so that was really helpful and we had a lot of parent feedback on that, thanking us for doing that. The other thing our middle school did, which I thought was fantastic. We had a professional day on October 12th or whatever it was. And so, they did their professional work in the morning in the afternoon, they had . I guess it was called a virtual Street Fair. Essentially that any student that was virtual, full virtual was invited to come and so be socially distanced outside the school at like an event that they held for those students. So they could come and be part of the community once again in this, you know, in a saf. outdoor environment. So that was really helpful. That was a big hit with the students who were fully virtual. which is for us, about 16% of our population. So it's not a huge group, but still. that was a big success and really helped them remain part of the community.
Julia
Thank you. So, we've, we've got about 10 minutes or so left an. I wanted to allow you to share just a little bit of details abou. the program. So you've, you've touched a lot on what you've built with Alludo. Vanessa, what I'd, I'd love to have you share with the audience i. kind of how you dreamed up this Election Day game. And you'd mentioned that, you know, had been taught before and not always the easiest topi. or one that teachers wanted to teach. So maybe share with us what your program's about that yo. built on Alludo. And then how did, how is the rollout launch of it and, and how it's worked thus far compared to how maybe that's been delivered in prior years.
Vanessa
So I work part of what I do is I work with teachers to kind of, I don't wanna say recreate their teaching style or their lessons, but essentially that's what I end up doing with them. So there's one teacher who last year she never wanted to bother me. I was a cote with her for years in another school, but same grade and she asked me to do something and I turned one of her like her in her words, boring document into something really fun and exciting. So, over the summer she reached out and she was like, so I've gotten together with the fifth grade teachers and I'm going to use you this year. Like, this year I've decided that, like, all bets are off. I can ask you to do things because I get it now. And I said, ok, so what is it? And she's like, I, we, none of us not that we don't want to teach the election. Like we're never going to tell our administrators, we don't want to teach the election. And of course, I went running right to Patrick when I had, when this came up. But, we don't want to teach it. This is like a scary topic for us to teach. And you have to understand like our town is, as Patrick mentioned, it's very diverse in terms of socioeconomic. There's a lot of blue collar, there's a lot of, you know, more business, you know, driven people. It, it's just very mixed and it's, it's definitely like, you don't want to give off what you believe in terms of politics in this town as a teacher. And so I was like, all right. So I sat on it for a little while. I was like, I got, you don't worry about it. And she would message me and I was like, listen, just tell me where are the bullets that you feel like you need to teach, I will build your game. I will build your thing and didn't know it was a game at the time and I was like, this is perfect. We had just got off the phone, Patrick had just wrapped up with you Julia and we're like, ok, we're going with Alludo and I'm like this, this is it. So Patrick, we've got this idea, let's go with it and he's like, I'm on board, let's do it together. So we took all the content that the teachers want to make sure they taught and then we kind of went above and beyond to where we thought it should be. And I have to say going back just a little bit for us, this was really hard. So for anyone who's trying to build a game, it is a mindset like no other, but it comes really easily. So I have to tell you. So I started this idea and I came up with, I spent hours making like editable PDF documents in Google and then making them backgrounds and then this whole project and Julia is like, no, you need choice, Vanessa, that's the whole process behind this is you need choice. And I was like, I have choice. They could do this or they could do this and she's like, no, no, no. So, you know, Patrick and I sat there and then we had a lot of sidebar conversations of like, OK, what are we going to do? What are we going to do, what are we going to do? And that's where we built in all like that kind of boring stuff that we made fun about like indentations and doing all that like word processing stuff. But so what we did is we took the basics, you know, you need to know that there are three branches of government, you need to go through the next step. So, ok, so there's three branches and what does each branch do? And what is the role? And then like Patrick would come in and be like, or like the top like 25 crazy things that happened in an election or, you know, someone like, give me a cool fact about this, like just different ways to kind of approach the topic that if you were in class, you might kind of diverge into an off topic conversation that's still on topic if that makes sense. So that's kind of how it was built and we, we did it, we rolled it out one and I'm going to say it wrong one level at a time, like our missions within the level were correct. And then after the first week we built the sec, we were in the process of building the second. So like the first was like your overview and then your second level would have been, you know, let's deep dive in. So now you know that there's three branches. So what does the legislative branch actually do and what is the actual role of, you know, the judicial branch? And, where does that go in? And, and, you know, and then our final level was getting to know the candidates which of course is, you know, you don't want to sway anyone anyway. So we just went to, like, scholastic, to the scholastic news where the kid reporters reported about each candidate. And I think, like, for us it was very tricky because this is a hard topic to throw at our fifth graders. Both because they're fifth graders and like, you know, like electoral college, like, what is that. But also because of the nature of the politica. environment right now. And so Patrick and I would talk and he's like, is this OK, do we think this is clean? Like, are we, are we swaying one way or the other? Because we're really trying to stay with like these are the facts. And then obviously, if you built like a grammar game or something, you're not going to have this stress. And then we finally, the, the last activity now was to was my old school activity where they have to actually apply for a role in government. So now that they've done all these choices and they deep dove into different layers. Now, they have like an old school assignment where they have to like present who they are, why they should be in that role. And then you know, their three line essay. but I think this is a really interesting experience and I think the teachers and the kids, really bought into it and like it and I like Patrick and I watched the, the kids finish and I saw like a bunch of kids finish. Level one today. A couple were into the level two. but it gave them that excitement and that onus on their learning. And it's funny to watch because we had to sit and figure out the point vAlludoes and we had to figure out like, well, this is like a, like a mindless activity, you know, take a screenshot, like, or, you know how to put bullets in a word doc and then transfer that skill of bullets into a slide deck. Like, how do you do that? And we watched some kids do, like all the non required activities because they were lots more for like, less points and then you watch other kids just do the big required ones. And then if you go back, like, I've watched a couple of kids, I've been kind of tracking, they went back because they wanted to, like, beat the other kid, you know, like it, it's really a strategy. Right. Yeah, it's really interesting. I'm like, this kid didn't do anything but we asked them to do it. so it was very cool to kind of watch that whole experience unfold and for the kids too. And I am personally very curious to see what like the end is. And I think part of it too is like that teacher mindset, like I did throw in that like end unit project kind of activity like a closing activity because you're not going to necessarily assess them on, like, did they read about, you know, Trump versus Biden? You know, like we put that in there, but you're not going to assess them on that. But it's funny because our teachers reached out to us a few of them maybe last week, I wanna say, and they were like, so what's the final project for this? Like, where does this go? And like, we got it, like, we're actually going to throw it a final project. But I do think that, you know, the, the whole experience for them definitely makes them want more. I think both kids and teachers, I know our teachers were like, we're going to beat that school. Like, come on kids, you gotta like, because we're five elementary schools battling against this game, right. They all want to, to build up their, their stamina and their, their points and, you know, you can kind of, you just see it and I think that, you know, this kind of ties into like one of the questions earlier, but like, how do you bring your virtual kids in? Like, it doesn't matter. You don't have to be in person, you don't have to do this at school, you can do it at home, you can do it on the weekend. Like, you're not saying you have to sit here for 20 minutes and just do it, you know. And I, there was one teacher I spoke with, and she actually said to me that one of her kids wasn't doing some of the, the, the extra things like the formatting but that either a sibling or a parent I forget but brought up about like, how do you do something? And the kids like, oh, I can do it and like went to one of the not required activities that said, like here's how you bold a text or, you know, whatever it was and like they learned and they had that like onus of themselves to kind of boost their own morale and stamina through it. Yeah. So it, it's been, it's been really interesting and, you know, we have a couple of other games that we want to start doing and I think that it's going to be really well received.
Julia
That's really cool to hear. You know, it, it, it's going back a few years when we started working with adult learners. One of the things that wasn't necessarily deliberate in design but wa. feedback that we received from adult learners was thanks so much for providing me in an environment where I could fail safely. Like I don't feel like I'm exposed in front of a classroom of 20 or 30 other people. And I have an opportunity to try this out at my own pace and experiment with it. And I loved hearing that because it boosts their confidence and kind of removes some of those insecurities that they might have had in certain topic areas coming into it when they can get it done and then go yay and of course, badges and points. So, so ju you've been using the Alludo platform for quite a bit longer on the student side. And what I love is so what Patrick and Vanessa have done is they've built this awesome program for their fifth grade classes and rolled it out and the teachers have been brought into it. Whether you're coming from a different perspective you have district wide initiatives, but your teachers are also like, all right, how do, how do I do this myself, build my own adventure within potentially my own classroom or across grade. So talk about what you're doing?
Jay
Last year, we made the decision that we were going to start doing digital citizenship for student through Alludo. which meant we were adding all all of the students to Alludo, which made teachers who wanted, who've been asking for that for a while. very excited because then they could start building out their own games. So last year we ha. one school that built a freshman game. And then. we were, and then another school that did their three academies game or started the first year of tha. four year game for each, for freshman. And then we were going to roll out our district wide digital citizenship game. But then COVID and things changed. So. we switched that up a little bit but than our plan to roll it out for this year. My initial thought was to roll it out at the beginning of the year. But then we had all of these schools that jumped on with their own freshman games, as I mentioned before. So we didn't wanna overwhelm students and confuse it with all these different games. So we're, we've pushed it back a little bit, bu. starting later this year, I think we're going to roll it out now in, in January. we're going to have a district wide game. It's called smarter things. So play on stranger things. It's got that fu. theme to it. And so we will have it. We'll, we'll do it by a class of, so we'll have a, a game for all of our each class, you know, starting each year, starting fresh in, in a game. That'll be across the district. So for those competitive ones that can compete by school. But we're going to have the main focus of it is digital citizenship. That's something that we have to do every year. We're required to do these, you know, digital citizenship lessons. But in addition to that, we're going to have two othe. missions which are focused on tech. So just optional things that students if they don't know how to, how to take a screenshot or make it bold or, you know, do the formatting or a L A format or whatever, we can put that kind of stuff in there to help them with, with the tech side of things. which is something that teachers have been asking for, especially in distance learning, like I can't teach them all these things. I'm, I'm learning it myself. So. that'll be really handy and then we're going to have just sort of a general life life skills. So it will have some things like, you know, applying for the FA FS A, you know, getting financial aid type of thing. related to college related to careers. But in addition to that. you know, like you're learning about your credit score or just things that will be helpful to know moving forward. So we're going to sort of chunk it year by year, you know, what are the types of things that we want that might be helpful for freshmen moving up all the way to seniors. I saw also there was a question earlier about the badges. Yeah, for the, for teachers, we have digital badges for most things, but then we purchase stickers for the, the level badges. So that's kind of a, a fun thing that also adds to the whole community because you see on their laptops, they have their stickers of, you know, the badges they've earned same for the students. We got stickers for one just for joining the game. So sort of the smarter things logo, that'll be fun to see around the district when we get to go back into classrooms and visit. But then we'll also have level level badges, level stickers that the students will get. I think it just sort of adds again to sort of that community and you know, see them around and see the, the different badges they've earned. So people will do a lot for a little sticker.
Julia
They do do a lot for a little sticker and you have awesome stickers for sure. I'm glad. Any other questions we want to answer from the audience, Damon?
Damon
No, our guests here have just done a wonderful job of answering questions and taking away the job that I had to do. I appreciate all three of you for doing that.
Julia
Yeah. Well, it's, it's been great. I'm very excited by all of the ideas and the contribution that you're making, we've alluded to this notion of a catalog and sharing content. And so for those of you that aren't familiar with Alludo. I think one of the best features that we have is that as educators are building out programs for their students and for their teachers, they can opt in to share a lot of that content, all of that content that they want with other educators. And so, in addition to Patrick and Vanessa's Election Game, I know they've got a ton of other ideas and things that they're thinking about a grammar game and others. Jay has a smarter things game. He's going to be rolling out in January. We are working with some other districts. right now that are launching in the next week ipad training device games for their students and Macbook training for their students and advisory period type training. So back to what we talked about earlier, the teachers are doing all these other things and if they can do some training and some instruction with a tool like Alludo or others that it's been really helpful. So just a little bit o. information there. Thank you everyone for joining us. It's been an awesome conversation and we're looking forward to seeing what you're going to do next.