9 min read
The Scoop | February 2022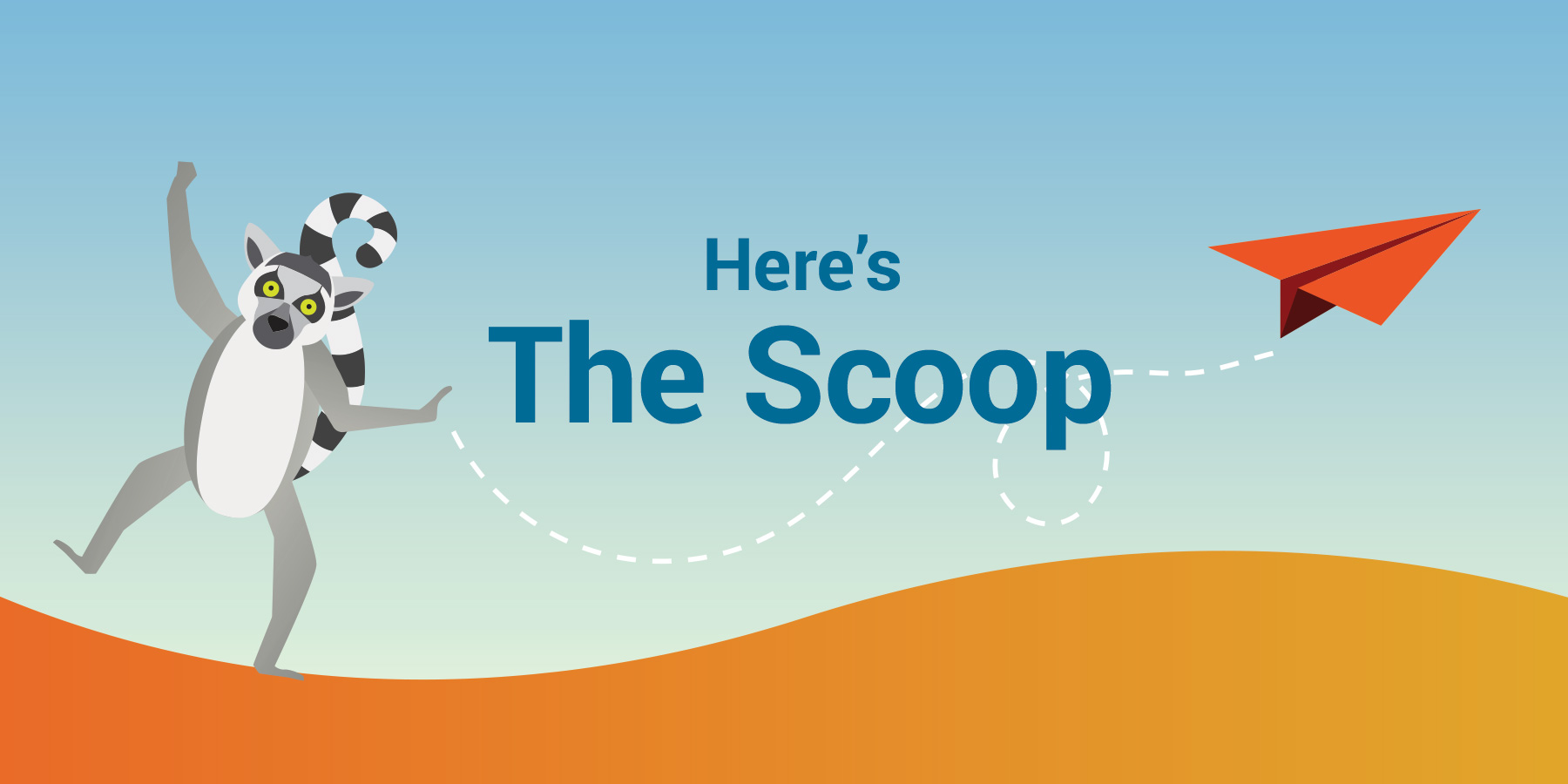 So you can stay in the loop!

You haven't heard from us in a little while, because we've been tucked away in the Alludo rainforest working hard on some of your requests and creating some things we hope you'll be excited about.


Table of Contents
---
March Wellness

Teachers and Staff Matter!
At Alludo, we understand the value of teachers and staff in a student's life. That's why we're hosting our annual "March Wellness!" Every weekday during the month of March we will raffle off amazing giveaways!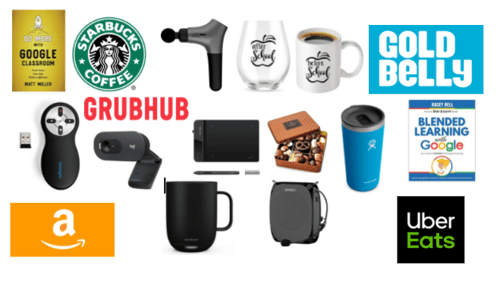 ---

Meet Jamie, our new customer success manager!

West coast hockey and lacrosse player. Master STEAMer. Teacher who uses technology to individualize learning.
Hi, Alludo community! My name is Jamie Bridgman. I grew up in the LA area playing hockey and lacrosse. I earned my B.S. in Biology from UCSB and my M.Ed. in STEAM Curriculum and Instruction from Concordia University - Portland. I moved to New Orleans and started teaching elementary school science. When I transitioned to teaching middle school and high school science, I started integrating technology into my classroom. Technology allowed me to individualize student learning and create engaging tailored science lessons.
Alludo is a natural fit for me because its unique platform is engaging, individualized, and can be accessed at one's convenience. I look forward to supporting teachers and district success in my role at Alludo, and I look forward to meeting you all!
---

Introducing Rainforest, Student Learning, & Content Catalog Subscriptions

Rainforest
The Alludo Content Catalog now features student content
Engage students with self-paced, online learning for grades 3-12, curated by top educators focused on student outcomes! Roll out off-the-shelf e-learning content on technology and devices, SEL, counseling, career readiness, and school health and wellness in minutes.
Content Catalog Subscriptions
Real-time content updates… automagically!
You can now subscribe to activities for easier content management! Each time the author of the content you subscribed to makes an update, you receive a notification of the update and have an opportunity to accept or decline the update. Set your activities to auto-update, and your activities are automagically kept up to date!
To get started…
---

New Features and Enhancements
Share, save time, and better enjoy the Alludo experience!
Automatic assignment for "Groups"
Admins, A few months ago we rolled out Groups to allow you to segment people into customer-defined groups rather than limiting grouping people to a single school site. Now we've taken it a step further and added Automatic Assignment, so you can automatically assign people into groups based on either their domain address or via game invitation. This should save you time!
To start using, either specify the domain when defining a Group for domain-based assignment or specify the Group you want to assign when creating the game invitation.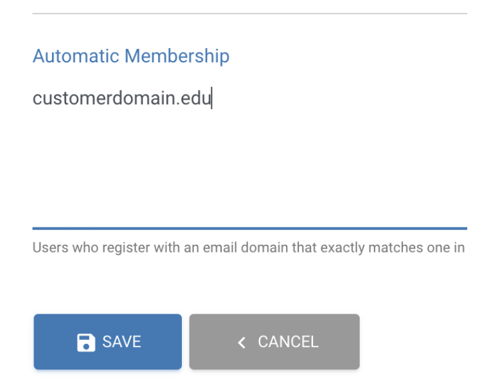 Group Automatic Assignment via domain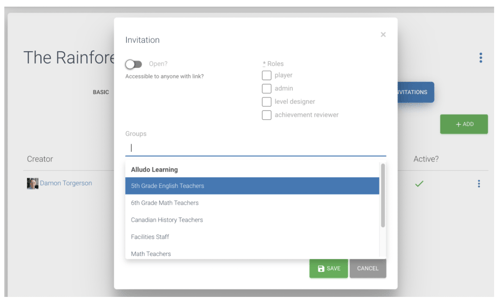 Group Automatic Assignment via game invitation
Rostering
Admins, Alludo now supports importing rosters of people and school sites as defined by the One Roster 1.2 open standard. This means you can quickly import people you wish to grant access to Alludo and automatically assign them to the appropriate school site.
Contact support@alludolearning to participate in this beta program.
Small Bites
Shareable Activities, Missions, Levels
Admins, you can now share links to specific activities, missions, and levels in your marketing emails to players, so they get to the right spot in an instant. This should decrease any unnecessary back and forth between you and the players and help you increase engagement!
Just click the share link icon in Activities, Missions, or Levels in the Game Builder to get started!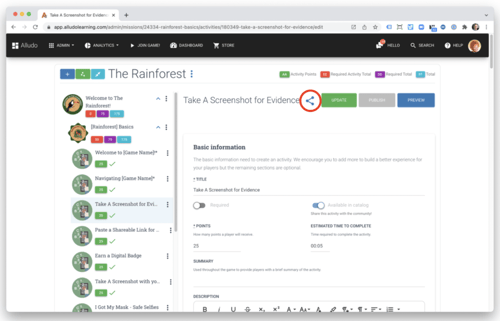 Other UX Enhancements
Admins, Gamebuilders, and Achievement Reviewers, We've worked on a number of improvements that you've been asking for to make game building and administration easier and provide you and your learners with a better experience.
Here they are…
Editor size consistency – The editor for activity descriptions, resources, and custom text now has a consistent editor size – even when editing HTML.

Edit an activity to start using!

Clearer default feedback responses – This allows reviewers to select default approval or pause responses more quickly.

Review an achievement to start using!

Time in Report Exports is now presented in HH:MI format – Admins can now quickly determine the amount of hours and minutes players have spent completing activities.

Export a report to either Google Sheets or to a CSV to begin seeing this data!

Evidence Type Formatting – Admins can now apply formatting to evidence type descriptions, so you can better describe the evidence requirements for players.

Edit an evidence type to start using!

Evidence Type Requirements Prompt – Learners are now prompted to complete all evidence type requirements when an admin creates an activity that requires all evidence types be completed. This helps learners have clarity on what's expected of them and saves admins time of needing to clarify and learners' time having to resubmit!

To start using, admins will require necessary evidence types and learners will see what's required of them!

Top Weekly Schools and Top Schools "PPL" Label – The Top Weekly Schools and Top Schools leaderboards have always been measured on a per capita basis so that large schools can be measured against small schools. We've labeled this with "PPL" (Points Per Learner) to make this clear and easy to understand!

Look at the leaderboard for a game to start using!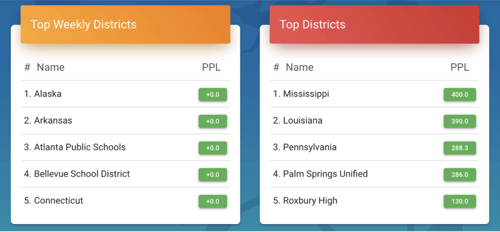 ---
Welcome to our new Alludo schools and districts!

We are so excited to have you join the community!





---

Did you hear the news?

Just in! Here are some updates on news and events you won't want to miss.
2022 Teacher Happiness Report
800+ K-12 teachers told us what would make them happy
Finding and keeping great teachers is hard. That's why we set out to find out what gives K-12 teachers in the U.S. job satisfaction and how professional learning factors in. Our hope is that you could use this to plan for 2022-23 and beyond!
Spring CUE 2022
Game, Giveaways, Gathering!
Spring CUE is back in person March 17-19, in Palm Springs! We're hosting a game, "CUE Celebrate!" and we are also hosting a lunch on Friday for Alludo customers. We hope to see you there!
Space is limited. RSVP to save a spot for lunch with Alludo at CUE >


CA "Educator Effectiveness 2021-26" Grant
We are so happy to see funding that recognizes educators are the key to improving student outcomes, and an effective professional learning program is the way to get them there.
For California school districts who've secured this funding, Alludo can help you manage every "Allowable Use of Funds" in one place!
(For everyone else, if you have similar funding you need to secure or manage, Alludo can help!)
---

Share & Subscribe
We hope you find The Scoop useful. If you do, please subscribe, so you can make sure not to miss any upcoming scoop! We'd love it if you can share it with your colleagues by forwarding this email or clicking on the social media channel you use most!